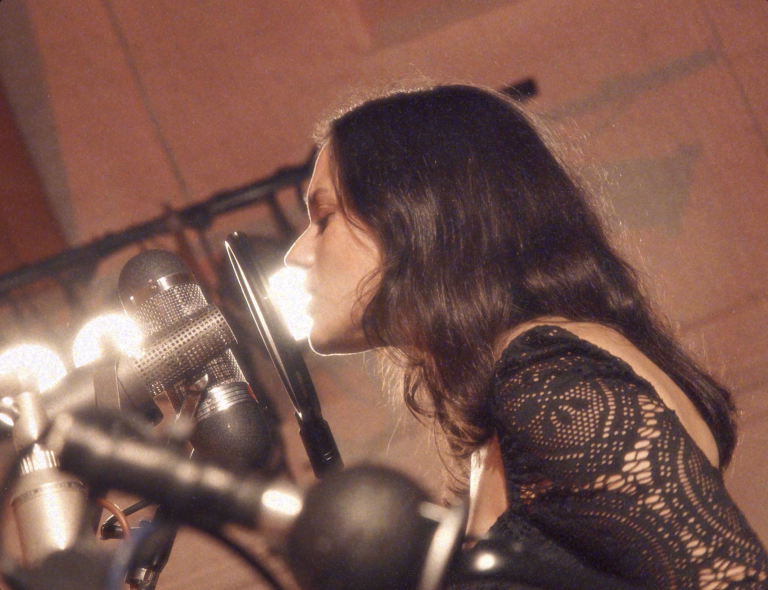 Malena Zavala Brings 'La Yarará' to Life at Abbey Road Studios
17 August, 2020
Malena Zavala has released a series of live performance videos captured at the famous Abbey Road Studios, contextualising her recent album, La Yarará. "My blood runs red like the Paraná / From Chaco up to Posadas … The strength of language that flows through my tribe / Although I can't speak it so well / These lexicon rivers will still collide", the Argentine-British musician sings over echoed congas and whispered affirmations in "Paraná".
This recent series of live performances gives an insight into the inner world of Malena Zavala, whose second album La Yarará was released earlier this year. The album explores dual identity and belonging, reconciling parts of the musician's self she was searching for on her self-made home-studio debut Aliso. A self-taught producer, it seems Zavala has found her tools for expression.
Performing with a full band at Abbey Road studios, she plays seemingly effortlessly, grooving into the textured range of percussion and singing with closed eyes and red lips into the studio mic. A multi-instrumentalist, Zavala plays guitar and keyboard, glides between English and Spanish lyrics and guides the rhythm with palmas.
La Yarará marked a new era for the Argentine-born, British-based artist. Aliso, Zavala's debut album delved into dream pop and shoegaze as she looked into herself and learned production techniques off YouTube. After spending time in Argentina, Spain and LA – where she joined her brother to make music and 'leave home', as the third track on the album recounts – Zavala reconciled her feelings of not belonging and found her place in music. The result is a vibrant record which melds her cathartic, introspective songwriting with cumbia, bolero, folk, pop and psychedelic sounds, creating a journeyed and colourful album.
In "Identity", backing vocals are understated, complementing Zavala's soft, tonal voice and uplifting her lyrics to a place of increased clarity. In the live session, Zavala bops in a layered skirt and black lace top, easing into a funked-up guitar solo supported by a full range of percussion and soulful brass notes. "Everywhere I go I take a little bit along with me / And then I realise I'm from nowhere specifically / The way I look doesn't mean I belong to one country / When you accept that you feel freedom in identity", she sings. Another breakdown sees the whole band picking up wind and Zavala singing freely without lyrics, expressing the parts of oneself that don't show themselves through language.
"En La Noche", Zavala's first track written in Spanish, is upbeat, dreamy and rhythmically cathartic, with a feverish drum solo included in the live version, and "Leaving Home" traces Zavala's musical and personal journey towards this sound. It harks back to a softer, shyer sound as it investigates belonging and identity, and the track is complemented by a recording of Zavala's mother describing the Diaguita tribe they descend from, in the Northern Chaco region of Argentina. Tactile bonbar percussion grounds the dreamy strings and weaved into the track are recordings Zavala's grandmother made of women from the Toba Qom and Wichi tribes of Chaco reading a poem of what it's like to be a woman in their province.
Natural imagery is present throughout the album, which culminates, in the final track, with cicadas ringing out their textured bleats and piercing hum. The bewitching harmonies in "Naturaleza" reflect both natural symmetry and contrast. "La Yarará", a rhythmic, electric reggaeton track which the album is named after, takes its inspiration in a venomous snake. Her live performance of this title track is assured and commanding. The Yarará energy Zavala summons here marks a distinct step away from the distorted indie sounds of Aliso and into a vibrant new territory she's carved out for herself.
Listen to La Yarará here and read back our interview with Malena Zavela from November.

Follow Sounds and Colours: Facebook / Twitter / Instagram / Mixcloud / Soundcloud / Bandcamp

Subscribe to the Sounds and Colours Newsletter for regular updates, news and competitions bringing the best of Latin American culture direct to your Inbox.
Share: