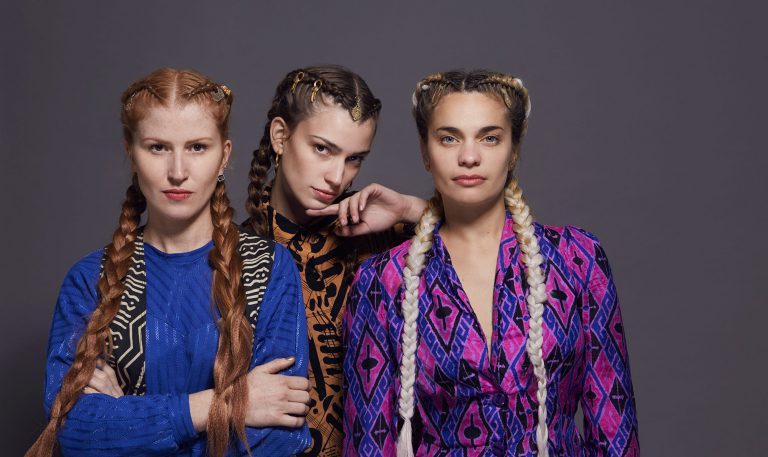 Put Your Art in Front of Your Ego: An Interview with Femina
20 November, 2019
It's been a great year for Argentine trio Femina, who released their latest album Perlas Y Conchas earlier this year, and have been the recipients of much acclaim ever since. Produced by Quantic, and featuring guest vocals by Iggy Pop, the album marked a change in the group's sound towards a more beat-orientated work.
We spoke to sisters Sofía and Clara Trucco from the group about their ideas of categorising music, their latest album and its change in sound, what it was like working with Quantic and Iggy Pop, and pick out some of the amazing women making music at the moment.
How do you feel about the genre "world music"?
Sofía: We understand world music as styles that are representative of different places, an artistic ground to reflect the diversity of culture.
Clara: There's also an element of folk to it. Cultures from all over, ranging from Peru to Japan, practice their own musical traditions honouring and illustrating their lineage and it's not uncommon to find similar sounds among them.
How do you then relate this to "indie" music?
S: Indie music comes from the idea of 'independent', as in non-commercial.
C: Indie also wanted to separate itself from pop music as well. I suppose there are elements of world music that can be included in indie music. Or not. Regardless, 'world music' is an uneasy term anyway.
S: When it comes to our music, we're often asked how we define our music and we never truly know what to answer. Cause our aesthetic is all over the place. Rap, folk, indie… Femina is its own genre, its own aesthetic.
So about Perlas y Conchas. How does Fémina post-Quantic compare to Fémina pre-Quantic…?
S: A gauge, at least…
C: I think it's something totally different. I think we evolved a lot as artists and singers, and he found the way to capitalize on that potential. Our sound shifted shape, both in melody and harmony. His take on electronic beats meshed with our acoustic sound blended neatly. It was two weeks of intense work inthe studio… We learned a lot. It was beautiful to just focus on our sound and leave the rest of it in his hands.
S: It was the first time we were actually confined in a studio, dedicated exclusively to make the best out of the album. At first, all we had were a couple of drafts… And to work with Quantic was a new and enriching experience.
Did you notice a different reception for the album inside Argentina and out?
C: When you come out with new material, you're always at the edge of gaining or losing listeners. We've had both. Some listeners like the electronic twist on Perlas y Conchas better and others enjoy our previous acoustic work.
S: But this album specifically is one to listen to carefully. It has a layered narrative that is both engaging but also demanding at times. We've gotten feedback from friends totally allured by it, they slowly dive deep into it…
Where did the aesthetic for the art come from?
C: We took on elements of Renaissance paintings, tarot, surrealism, [Hieronymus] Bosch, Venus de Milo, arcane archetypes.
S:  We love symbolism so… We took on Breton and Buñuel too. [Also, see Iggy re-enacting Georges Méliès's A Trip to the Moon in the video below at 3:17]. It's stuff that we always liked and we kind of wanted to play with. And it's also pretty fun to just leave a trace of hints for the fans to sort of discover the album through its art too. Besides that, the people we work with are people we know [and] they put all their heart and soul into their craft too. 
C: I also feel like sometimes you can tell when something is done with care and nurtured from an honest place. What we're looking for is to put our art in front of our ego.. at all costs, that's where the magic starts.
You've said that on this album the three of you collaborated in the making of the songs instead of doing so separately…
S: In previous albums, we had some songs that were played separately and some played by three of us. With this album, the difference was that there are more tracks where the three of us are singing together, there's much more vocal unison.
How did that change the creative process?
C: The clearest difference was when we approached digital sounds to see if we could incorporate it into our aesthetic. It forced us to look for congruence in each song to convey an album we'd be satisfied with. Instead of doing (like we previously did) one chacarera, one rap, one bolero, one cumbia… Perlas y Conchas is a wholesome sound, we found our style here.
S: … And the vocal harmonizing of our voices was also something we went all in for, not only sound-wise but as an underlying symbolism.
Any knowledge you would like to share from Iggy Pop or Quantic?
S: What I learned from Iggy is that beyond his years of experience and incessant success, his humbleness is intact and is exceptional. An indescribable generosity and absolute openness to seek for new sounds. An artistic mastermind and full of knowledge when it comes to self-preservation and integrity. It's an example.
Quantic as well. We got along before actually speaking about working together. It eventually became much more of a friendly exchange of thoughts than a bitter artist/producer type of relationship.
Women in the industry you'd suggest listening to…
S: There are several. For starters, there's Sofia Viola. I think she's a trooper, a great storyteller, a hardworking and beautiful singer. There's Dat García too. Like we mentioned just now, you can tell when the art comes first and that's what I get from her. I also admire Marilina Bertoldi too, she's hardworking too, she's brilliant and I care for her a lot. And from the international scene Tash Sultana, I see her and my mind is blown… Hiatus Kaiyote, Her, Solange, Loli Molina. All of them give their music an extreme twist.
C: Juana (Molina) is the Queen, by far…60 years in it and still crushing it.
Any advice for women taking their first steps in the industry?
C: Seek the truth.
S: More now than ever. Today being a woman is a benefit, against the past when it seemed to be a disadvantage, today it's a benefit. Here the paths are absolutely open, with a lot of women already opening doors and opportunities for the future. It's our moment, more than ever…
Listen to Femina below:

Follow Sounds and Colours: Facebook / Twitter / Instagram / Mixcloud / Soundcloud / Bandcamp

Subscribe to the Sounds and Colours Newsletter for regular updates, news and competitions bringing the best of Latin American culture direct to your Inbox.
Share: