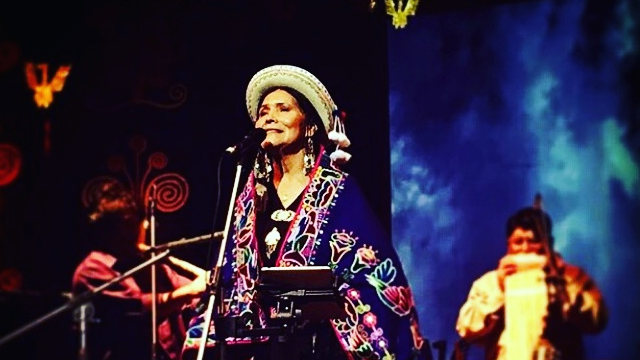 Falling In Love With Pachamama: Review of Luzmila Carpio in La Paz
02 February, 2016
Legendary Bolivian songbird Luzmila Carpio gave an astonishing concert last Friday in La Paz's Teatro Municipal, marvelling the crowd with a set of classic and new compositions.
It was the third of three sold out shows to a packed and majestic republican theatre. Filled with tears and laughter, the show proved Luzmila's unique talent to dig deep into the heart of the audience and bring them into her universe of Andean chants.
Luzmila started the show with "Pachamama Mamay", a tale that carried the crowd into a realm of veneration of mother earth and the most honest and pure Weltschmerz. Her sweet yet nostalgic chants were soon accompanied by satellite images of the planet, the beauty of nature and the human-generated decay of the latter. Luzmila evoked a sense of consciousness and love for Pachamama mother earth which would be channelled throughout the show. "Montañas Sagradas" followed, as projections of both mountains around the world and elderly humans evoked the Aymara analogy of the mountain as the father or grandfather, someone we need to value, honour and protect.
A state of magical realism was evoked when "La Danza De Los Niños" was performed, and animated Incan animal figures played around her. While her reputation in the music community is often attributed to the minimalist melancholia of her high pitch singing, here she managed to move the crowds with folklore classics such as "Al Cautiverio" and "Acaciomanta". Traditional dances from the northern Potosí región, where she is from, reinforced this festive picture. The audience clapped and sang along in Quechua. Her band as well, left nothing to be desired. Composed of both western and indigenous instruments, the sound was as eclectic and sophisticated as possible.
A clear statement of her political activism came to full blossom with "Chillchi Paritay" (Chant To The Water), which reconstructed the Cochabamba Water War of 2000, a milestone in the region's fight against resource inequality and poverty. Yet her message was of hope and solidarity, as can be seen in the lovely animation that accompanied the song.
Luzmila also sent out a clear message on climate change mitigation activism, when projecting imagery from Fondo Clima during her mind-blowing performance of "Wipay Pacha Mama".
Her intimate conversations with mother nature reached a peak with "Dialogando Con Los Animales", where the singer imitated the sounds and chants of animals from the Bolivian highlands (alpacas, storks, eagles and hummingbirds, culminating in the powerful song of a seagull), which filled every centimetre of the theatre hall with a high pitch euphoria.
While Luzmilla´s petite figure swung her mantilla over to symbolize the birds wings in flight, a projected banner expressed Bolivia´s nostalgia to reclaim the love of mother sea (Madre Mar).
Less a call for resentment towards the coast that the country lost in a war against Chile, Luzmila´s voice calls for a reunification of the people in Americas, with mother earth and with mother sea, as she has previously said during her performance at the La Moneda palace in Santiago. Luzmila is one of those very few artists that can touch your heart and bring you back to your roots, make you reflect on the essential and fall back in love with Pachamama.

Follow Sounds and Colours: Facebook / Twitter / Instagram / Mixcloud / Soundcloud / Bandcamp

Subscribe to the Sounds and Colours Newsletter for regular updates, news and competitions bringing the best of Latin American culture direct to your Inbox.
Share: