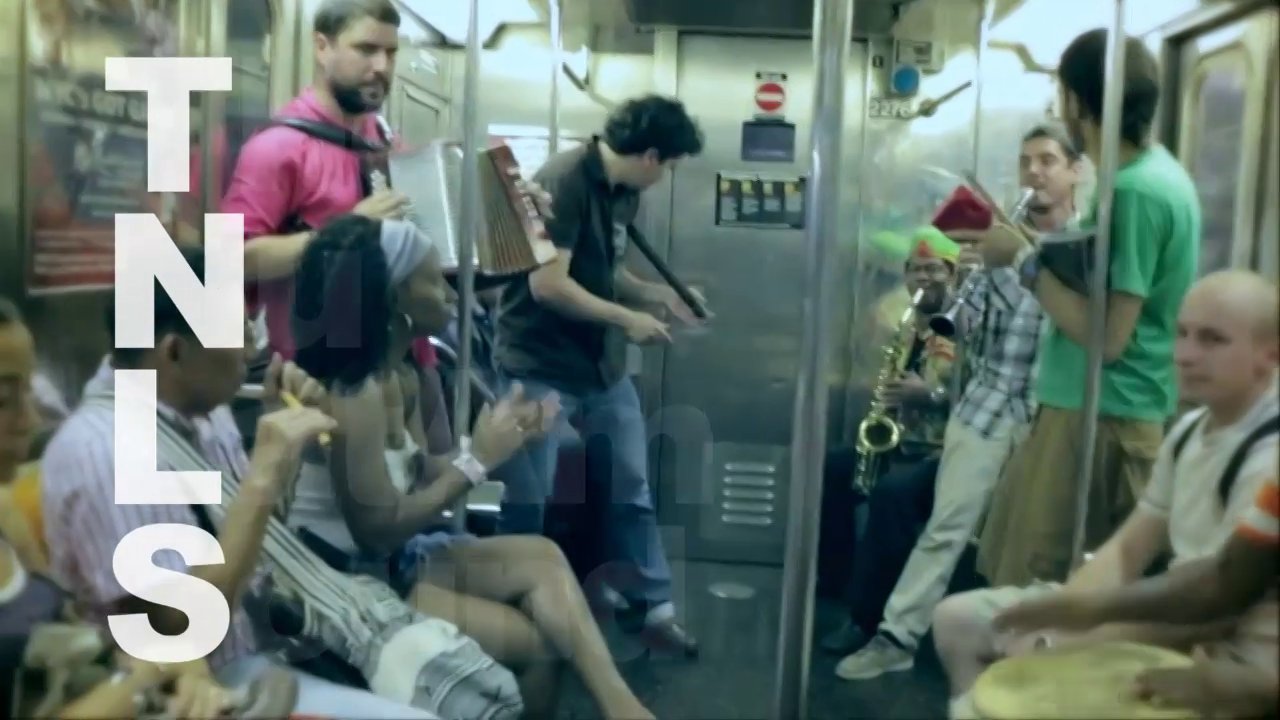 An Interview with Pablo Mensi, Argentinean Film-maker and Director of Forthcoming Series The Nu LatAm Soun
27 March, 2014
Pablo Mensi is a documentary and music video director from Buenos Aires. His films look at contemporary musical and social movements in Latin America. He is the director of forthcoming series The Nu LatAm Sound, which features Bomba Estéreo, Ondatrópica, Meridan Brothers, King Coya, Dengue Dengue Dengue, Frente Cumbiero, Quantic and many other musicians currently at the forefront of the regional music scene. Sounds and Colours tracked him to his current home in Brixton, London to chat to him about film, music and what it means to be young in Latin America. 
Why did you decide to make this series?
We were making A Musical Journey with Grant C. Dull from (Buenos Aires record label) ZZK Records as the producer and Puppa, aka Jonathon Magario, on camera. We had the desire to do something else and Grant suggested making a documentary series on the musical and cultural scene in Latin America. It obviously seemed like a great idea and so we started the project.
How did musicians react when you approached them to make the series?
This was Grant's role due to his experience at ZZK Records and because he travels all over the world. He is friends with all of the interviewees (from the film). They all liked the idea and agreed to the proposals.
How did you find making the series? Did you have to travel a lot?
Actually, now that the teaser trailer is already available, we are in production, recording episode one which will focus on Buenos Aires. Then we begin a series of trips to various Latin American cities, including Bogota, Lima, Mexico City and Rio de Janeiro, among others.
Where there any musicians who you wanted to appear in the series but who couldn't or didn't want to for any reason?
We've had an excellent reception from the musicians. All those that we contacted gave us their support and were very generous with their time. We're very grateful.
When did you first realize that South American was experiencing a new music movement?
Back in 2003, following the (economic) crisis of 2001, we started to note that Argentina was rediscovering its roots without denying new connections to Europe and the United States. In a short time, first with (experimental cumbia festivals) Festicumex and then with the Zizek parties, people started coming together when previously they'd been dispersed. I think that the internet was key to revitalising this experience.
I'm speaking from my experience in Buenos Aires, but I think that there were parallel processes all over Latin America, with their own movements and characteristics.
How does this movement differ from previous ones? In other words, why is it 'new'?
To me, it seems that there are two significant ingredients. One is the possibility of visiting any part of the world through its music. Before the internet, this was much more difficult and the movements of the 80s and 90s had less impact as so many international markets were inaccessible.
The other important aspect is that in the 80s and 90s Latin America was producing its own rock and pop whereas this new movement has much more of a direct relationship with its roots. The music sounds modern but it always has a very strong ingredient of the musical folklore from each region. This is something completely new.
The Nu LatAm Sound looks at the contemporary cumbia scene in South America. What other musical styles do you think are important to the movement? Does cumbia form the basis of it all?
Every musical movement has labels. Sometimes this is useful for promoting it but there is also a risk of reducing it to just one sound. In the case of nu-cumbia, digital cumbia or electro cumbia, these are labels which facilitate its accessibility but which refer to a greater variety of rhythms than in normal cumbia. Even though the trailer addresses the topic of cumbia, this works over a much wider spectrum which includes chicha, porro, huayno, chacarera, salsa, champeta, coplas, malambo, vallenato, tinku and more.
The trailer features English subtitles and the likes of Miss Bolivia and Bomba Estéreo's Li Saumet describing the characteristics and contexts of the modern music scene. Does that mean you are aiming the film at audiences who are maybe less familiar with contemporary music in South America?
In the sense that Grant broadcasts a lot of Latin music around the world, I try to generate a product which can also reach people everywhere. Today's public is global and we have to speak to people who might live in Alaska, Paris or Istanbul. This is always our aim.
From my perspective, however, the musical and cultural movement in Latin America is a little dispersed by country, region or record label and I hope that The Nu LatAm Sound can serve as a link to build greater unity and projection.
Do you think South American music receives the recognition it deserves, both regionally and globally?
I think that sometimes, as Latin Americans, we don't realise the cultural richness we have and it can be difficult to give the same recognition to our music as to music from other regions. I think that this has changed over the last ten years, but it's a process which will take time.
In Europe and the United States people are paying more attention to Latin American music but there's still a long way to go before it achieves the recognition it deserves. The Nu LatAm Sound looks to open doors so that this happens.
We are in a process of continuous growth and, for example, in London, where I live, I can go and see a Peruvian chicha band whereas five years ago this would have been unusual.
In the trailer, Li Saumet talks about globalization and the internet. Having spoken to several musicians, do you think the modern world supports South American music?
The world today is much more complex than before. With a click of the internet, you can listen to music from anywhere. I don't think that there is direct support for Latin American music but there are many possible ways to listen to it, as well as many more voices to listen to.
The particularity of Latin music is that it contains 500 years of 'melting-pot' influences, whereas it seems to be only North American music which defines 20th Century culture. It seems to me that this potentiality of African rhythms fused with indigenous spirituality and Iberian melodies which are as much European as Arabic is key to understanding it on a global level. Perhaps it is the music of the 21st Century.
Unlike the rest of the world which still fights over borders and immigration, this is a region which continues receiving people from everywhere with open arms. Our music expresses this and I think its success is built on that.
Could you explain a little about The Nu LatAm Sound? We know it is a series, but where and when will it be shown, how many episodes are there, will each episode focus on different countries or styles, how long will the episodes be? etc.
As I said before, at the moment we are in production, but we are speaking to various TV and internet channels to see where it will be screened.
The principal idea is that the first series will feature thirteen half-hour episodes. Each episode will focus on a city and its music. There will be a lot of music, interviews and important places to visit. We will also look at the roots of each musical style.
The Nu LatAm Sound looks like it is a lot of fun to work on. What is the most enjoyable aspect of making the series?
It's always interesting to travel, to go to new places, to be in contact with great bands and artists but I think that the most important and enjoyable thing is the cultural exchange. Learn something about the culture of the land that you visit. It is the best possible way of keeping your mind open.
You are working on, or have worked on, several other musical and political documentaries. One of these is entitled A Musical Journey. Could you tell us about this?
A Musical Journey follows the life of an Argentinean band (La Yegros) on their first tour of Europe and also explores the origins of nu-cumbia in Buenos Aires.
It's a documentary which looks at the cultural clash between Latin America and Europe as well examining how cultural and artistic links are constructed. Since the founding of the ZZK record label, its artists have toured all over the world, from musicians of the stature of (King Coya's) Gaby Kerpel and Daniel Martin to amazing artists like Mariana Yegros, and have managed to break into competitive markets such as France.
This is told from the dynamic of a road movie with La Yegros and her band, who are lovely people.
In 2013, you directed the socially-focused La Juventud del Bicentenario (The Bicentenary Youth) series, which looked at the situation for young people in Argentina today. What are the main challenges faced by young generations in Latin America?
La Juventud del Bicentenario was a documentary which I finished in early 2013 but which took almost three years of work. It focused on political militancy as thousands of young people found a new form of expression through politics, something which hadn't occurred in Argentina in more than 35 years.
Latin America is a dynamic region which has always experienced many changes, positive and negative. Today, we have a situation of over ten years of unprecedented economic growth across the region. This has allowed many young people to access social and cultural mediums that weren't possible before. The question is what they are going to do with these possibilities, and in what direction they are going to construct and create something which, without doubt, will be completely new.
Follow Pablo on his official website.

Follow Sounds and Colours: Facebook / Twitter / Instagram / Mixcloud / Soundcloud / Bandcamp

Subscribe to the Sounds and Colours Newsletter for regular updates, news and competitions bringing the best of Latin American culture direct to your Inbox.
Share: