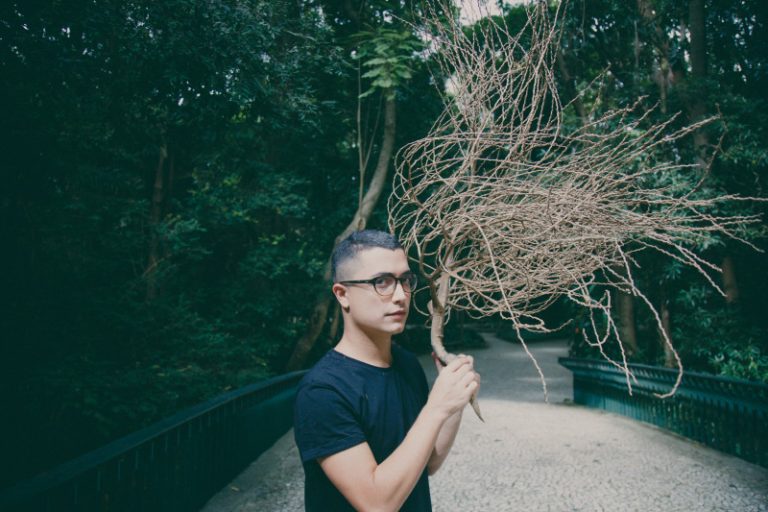 Ana Alexandrino
Arthur Nogueira's Favourite Brazilian Songs Playlist
01 November, 2019
Currently in Europe, between a concert in Paris and getting ready to perform in London on Saturday 2nd November at Servant Jazz Quarters, Arthur Nogueira has exclusively curated a list of Brazilian songs with outstanding lyrics for Sounds and Colours. Following our recent interview with Arthur, this is a great opportunity to learn a bit more about his tastes, as well as delving into the music made by some of Brazil's finest lyricists and performers.
Listen to the playlist on Spotify below and keep reading for Arthur's comments on why these songs are so important to him. Bom proveito!
01. Marcha da Quarta-Feira de Cinzas (Carlos Lyra / Vinicius de Moraes) – by Nara Leão
Vinicius de Moraes was the poet who dismantled the borders between poetry and popular song in Brazil. About his experience as a poet and lyricist, there are two quotes that I find enlightening. On a statement about Vinicius, Antonio Carlos Jobim, one of his greatest partners, explained that "Vinicius de Moraes is a great poet. However, this is not a premise for doing beautiful lyrics. A word, besides the verbal sense, has a sonority and a rhythm. Only an individual like Vinicius, who knows the song of the word, who could have been a professional musician, could have done lyrics as he did" (in Eucanaã Ferraz's Folha Explica Vinicius de Moraes, 2006, p. 48). Zé Miguel Wisnik explains that Vinicius did not literalize the song, but discovered for it instead "a diction in which the subtleties of the poet, his cultural and existential repertoire, his sharp knowledge of the métier, passing by his domain over syllable and rhythm, service the colloquial interaction of the sung word and the immediacy of popular themes." (Wisnik in Sem Receita, 2011, p. 94). I've included the song '"Marcha da Quarta-Feira de Cinzas" in my new show, Coragem de Poeta, because, in addition to it being one of the most beautiful of Vinicius's lyrics, it now offers me inspiration and strength to face the shadows of intolerance that are taking over Brazil.
02. Mal Secreto (Jards Macalé / Waly Salomão) – by Gal Costa
My first astonishment with poetry was with Waly Salomão, a great poet from [the state of Bahia]. In addition to composing, Waly was the director of Gal Costa's FA-TAL (1971) tour, one of the greatest events in Brazilian music of all time. "Mal Secreto" made me feel for the first time, as a teenager, the potencial of popular music in Brazil and determined many artistic choices I have made since then.
03. As Caravanas (Chico Buarque) – by Chico Buarque
I hadn't been born to be stupefied by the release of Construcão in 1971. However, I'm glad that in 2017 I was around when this song was released, "As Caravanas", which sheds light on the [social] disease that affects much of Brazilian society. "The fault must be of the sun," as in Camus's The Stranger, when the sweat blurs his "eyes and reason" and Mersault fires the shot that opens to him "the doors of doom." Hail, Chico Buarque, at all times!
04. Sangue Frio (Karina Buhr) – by Karina Buhr
Karina Buhr's sharp poetics always sounds original and pertinent. I often say that her albums are lessons to my generation of how to build a musical legacy after the end of the record industry.
05. Trilhos Urbanos (Caetano Veloso) – by Caetano Veloso
All of Caetano's discography is a reference for any creative artist in Brazil. That's why it's hard to pick only one song of his. However, I always remember "Trilhos Urbanos", because, besides being very beautiful, it has one of the richest rhymes in Brazilian music: "Krishna" with "Vixe Maria" (a widely used variation in north-eastern Brazil for Virgem Maria — Virgin Mary in English).
06. Baião do Tomás (Luiz Tatit) – by Luiz Tatit
Right now, Luiz Tatit is not only one of our greatest lyricists but also one of the most important thinkers of popular song in Brazil. What I admire a lot about his work is the perky and daring way with which he builds his lyrics, always intelligent and sophisticated, in similarly complex melodies, of his own or of partners like Dante Ozzetti and Zé Miguel Wisnik.
07. Memória (Lira) – by Lira
Lira is one of the most important artists to have arisen in late twentieth century Brazil. A great lyricist and poet who is, at the same time, the drought and the drizzle, Guimarães Rosa's heat and Virginia Woolf's cold, the cordel and literate poetry of João Cabral de Melo Neto, rock and maracatu, organic and electronic…
08. Beijo na Boca (Itamar Assumpção) – by Itamar Assumpção
Unfortunately, Itamar Assumpção's body of work is still a treasure to be discovered by many Brazilians. A great composer and performer, Itamar fought prejudices and challenges in the [music] market, having received, as happened with several exceptional artists in Brazil, pejorative titles such as "cursed" or "marginal". The originality and swing of his melodies and lyrics are impressive. Whenever I listen to Itamar, I remember the following words by Zé Miguel Wisnik: "Itamar had a partnership with the word-turned-into-music demon: he would only start singing and the music would go on by itself in the air."
09. Inclassificáveis (Arnaldo Antunes) – by Arnaldo Antunes and Chico Science
The sociologist and historian Gilberto Freyre, in his book Casa Grande & Senzala (1933), explains how "the antagonisms, their imbalances and disharmonies" translate the very special character of the social constitution in Brazil. Arnaldo Antunes' great song uses neologisms, blending words like "crioulos" [crioles] and "loiros" [laurels] to illustrate the crossings between the peoples who passed through here and who formed a nation, in Freyre's words, "without any concern for unity or purity".
10. Inverno (Adriana Calcanhotto / Antonio Cicero) – by Arthur Nogueira
"Inverno" connected me forever to Antonio Cicero's poetry. Adriana Calcanhotto's album, A Fábrica do Poema (1994), [that included] this song, was one of the records that blew my mind during adolescence. There are some quotes that I love in these lyrics. For example, Cicero's version of the title of Rimbaud's famous poem "Le bateau ivre".
11. Era Pra Ser (Adriana Calcanhotto) – by Adriana Calcanhotto
The track is from Adriana Calcanhotto's latest album, Margem (2019). Perhaps because of her deep admiration of Roberto Carlos, Adriana seems to increasingly dominate this kind of song, which is so beautiful, direct and, at the same time, inventive. When I first heard "Era Pra Ser" I wrote her an e-mail saying, "I have to tell you… today there is no one like you in the craftmanship of love ballads!"
12. Mais Que a Lei da Gravidade (Paulinho da Viola / Capinam) – by Cida Moreira
José Carlos Capinam also belongs to the list of poets in the service of popular song in Brazil. From this author of classics such as "Ponteio" (with Edu Lobo) and "Papel Marchê" (with João Bosco), I consider "Mais Que a Lei da Gravidade", a partnership with Paulinho da Viola – the most modern sambista of Brazil -, his masterpiece.
13. Augusta, Angélica e Consolação (Tom Zé) – by Tom Zé
"Augusta, Angélica e Consolação" are three emblematic streets of the city of São Paulo, which Tom Zé transforms into characters of his beautiful musical chronicle. I am always moved by the following excerpt, which speaks for me (and I imagine that for many people who came from different regions of Brazil to live in São Paulo): "I went to live at Estação da Luz [Light Train Station] because everything was dark inside my heart."
14. Ninguém Perguntou por Você (Letrux / Arthur Braganti) – by Letrux
I like to say that Letrux is to my generation what Marina Lima and Rita Lee were to previous ones. Still, she doesn't look like any of them: Letrux is new not only because she has something to say, but because it makes a difference, even when it comes to feelings we all know very well, performing the feat of sounding baffling and seductive in joy or sadness, truth or irony, density or lightness.
15. Flagra (Rita Lee / Roberto de Carvalho) – by Rita Lee
Much is said of Rita Lee, but little is spoken of the great lyricist she is. I chose "Flagra" because it has this genius excerpt, which for me is the synthesis of her irresistible personality and humor: "Se a Deborah Kerr que o Gregory Peck, não vou bancar o santinho" [If Deborah Kerr that Gregory Peck, I will not play the little angel]. Here there is a joke with the sounds in Portuguese: "Kerr" has the same pronunciation as "wants", conjugation of the verb "want", and Peck has the same pronunciation as "sins", conjugation of the verb "sin".
Arthur Nogueira will be performing at London's Servant Jazz Quarters on Saturday 2nd November. Tickets available here.

Follow Sounds and Colours: Facebook / Twitter / Instagram / Mixcloud / Soundcloud / Bandcamp

Subscribe to the Sounds and Colours Newsletter for regular updates, news and competitions bringing the best of Latin American culture direct to your Inbox.
Share: