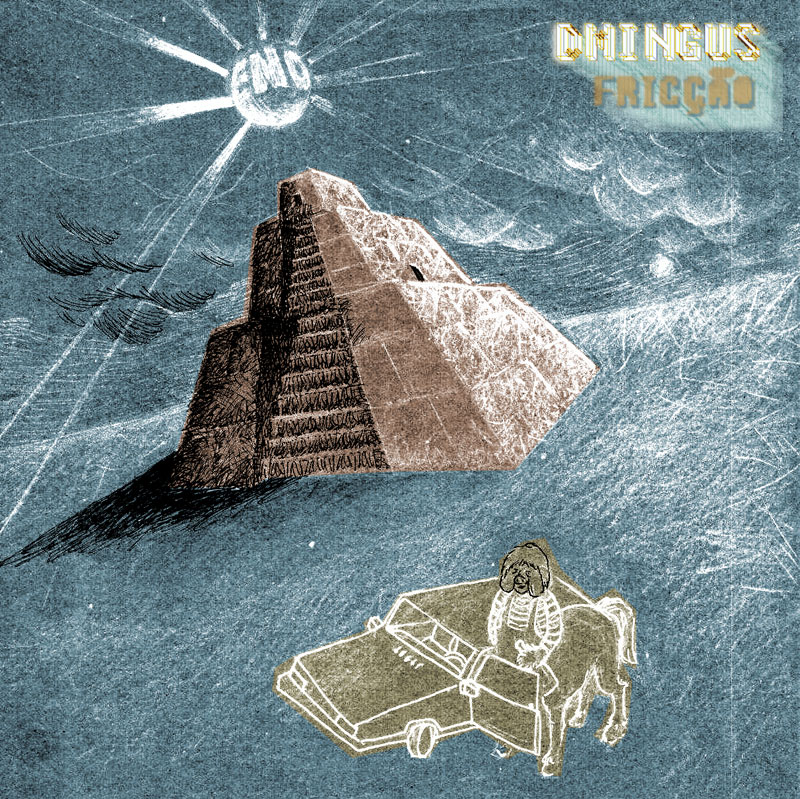 Review
D MinGus – Fricçao
Even though this is the age of remixing, repurposing, rescuing lost sounds and re-contextualizing old popular ones, it's still quite hard for musicians to create a coherent intersection between the elements of each genre or style without sounding like a mess or worse, a bad copy. This has never been a problem for Arcoverde-via-Recife musician D MinGus, whose last two efforts, 2010's Filmes e Quadrinhos and 2012's Canções do Quarto de Trás did exactly that: flirt with a vast array of sounds and genres until he found a comfortable place to insert his music and style. In his third album, Fricçao, released earlier this year, he widens his musical territory and ventures into the psychedelic realm.
It took me a couple of listens to fully capture what D MinGus was trying to accomplish with Fricçao. That doesn't mean the record is bad; actually, quite the opposite. With complex sonic textures reminiscent of 60s folk psychedelia mixed with 70s ballads, 80s synth pop and new wave, and 90s Brit pop invasion, Fricçao sounds like what would happen if Magical Mystery Tour were made in 2013, with a wider array of influences. The album opener itself, "Frágil Penugem Nos Ares Gelados", is a mixture of the electronic doom ballad sound, but with more organic elements from folk, including the musician's soft, harmonic voice. It's a daze-inducing track, until he pulls you out of the daze with an abrupt, distorted guitar solo.
Through the rest of the album, D MinGus plays on these types of dichotomies within the sound and the order of the tracks. A hard edged banger like "Frágil Penugem Nos Ares Gelados" is followed by the ballad "De Corpo Presente" – a weighty, psychedelic rock tune – and its quasi reprise "Buraco no Espaço e Tempo". The mellow guitar riffs and synthesizers, and the dragging percussion of the tracks are perfectly fitting for the song's themes about the passage of time. The way the song is composed, it really does makes you feel like the protagonist of the track, who suggests that time, is unimportant.
Moving away from psychedelic rock, D MinGus also revels in the dimly-lit dance floor on tracks like "Estroboscópico" and "Autossabotagem", two of my favourites from the record. The whole album features heavy use of vocoders, but in these two tracks, along with the amazing "Eno", you can hear echoes of Kraftwerk, Tangerine Dream and Depeche Mode. It's amazing how D MinGus has managed to borrow elements from each of the band's styles, and mix them to create songs that are equal parts vintage and unique, and with that human touch that Kraftwerk purposefully lacked.
He doesn't stay too long with these styles, returning rapidly to the folk rock that characterizes him. But genre jumping notwithstanding, the themes on Fricçao revolve around the same preoccupations: the consequences of time, love and the perils of automation; universal themes that D MinGus makes incredibly personal with often-cryptic lyrics that read like poetry. That's what makes Fricçao great, the fact that D MinGus (as he has done with other albums) takes on his influences, boldly decontextualizes them and makes them feel as local and as relevant as ever. It's a record you'll want to listen to again and again to notice the subtleties and nuances of D MinGus' music…or maybe to give you a much needed break from the world.
You can download Fricçao for free on his Soundcloud.

Follow Sounds and Colours: Facebook / Twitter / Instagram / Mixcloud / Soundcloud / Bandcamp

Subscribe to the Sounds and Colours Newsletter for regular updates, news and competitions bringing the best of Latin American culture direct to your Inbox.
Share: