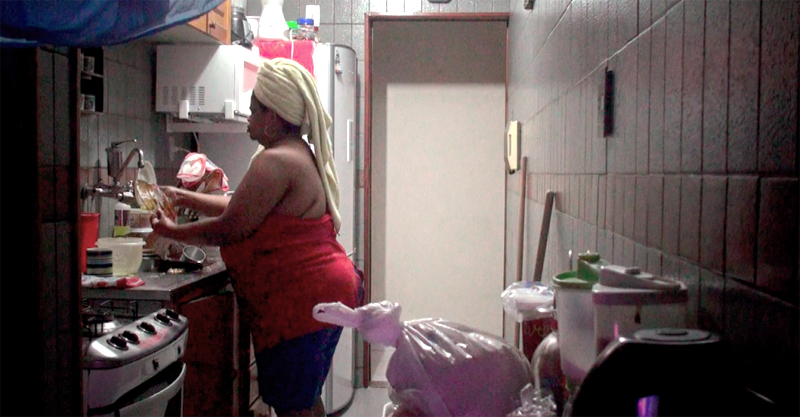 Doméstica (Housemaids)
27 November, 2013
Few films have felt as timely as Doméstica (Housemaids), a full-length experimental documentary about domestic workers ("empregadas") in Brazil by Gabriel Mascaro. Considering that Brazil has been in the midst of evaluating and regulating this most intimate sphere of labour with minimum wages and accompanying rights, this film brings human faces to the debate. The result is powerful and difficult with the film's overall tone often shifting on a dime from the jovial to the tragic.
To achieve this end, Mascaro gave digital cameras to seven teenagers from varying economic backgrounds, religions and geographic locales for a week. What emerges across all seven segments is a portrait of the genuine and complicated affection between families and the women who work for them. In one example, a nanny explains how she adjusted to working for a Jewish family. At first, she hated the food and had serious difficulty with that aspect of working there; over time, however, she came to love Jewish food and now makes it for herself. There is a scene of her kneading the dough for Challah followed by a scene of her joining the family for a Shabbat dinner. In another example, the teenage guest director explains how important her relationship is with her empregada, and how much she loves her empregada's small child. The woman of the house then explains how complicated it is for her to know that her daughter has such a close relationship with her nanny. For many of the households featured in this film, these women are both part of the family and separate from it too.
Due to the the guerrilla nature of the direction (hand-held cameras add a palpable realism), there are also some stolen moments when the audience gets to view these women in their working environments when they do not necessarily realize that they are being watched. They react to the radio and TV, they dance, they get excited about their favourite football team and at one moment, they cry as they sing along to their favourite song when they think they are alone. The film was clearly intended to push the conversation about social policy in a progressive direction; towards the end, one of the teenagers performs Bob Dylan's "Blowin' In the Wind," a song that expresses an impatience with slow-moving social reform and change. Whatever changes that come to this sphere of domestic labour will clearly cut to the heart of the domestic sphere in Brazil.
Doméstica will appeal to viewers who care about the role of nannies and maids in other parts of the Western Hemisphere, not just those in Brazil. Some of the scenes in this film recalled the tension between intimacy and distance that permeate The Help (2011), except in this case, there is no happy ending and audiences are left with more questions than answers. There is nothing easy about watching this film, but that should not deter cinema lovers from seeing it. It is a powerful artistic statement about the state of domestic labour, intimacy, and privilege at the roots of Brazilian society that extend back to colonial times. Rape Hentai https://hentai-moon.com/categories/rape/ 720p and 1080p videos porn hentai.
Doméstica is being screened at the UK Portuguese Film Festival on 1st December, 6:30pm, at Genesis Cinema.

Follow Sounds and Colours: Facebook / Twitter / Instagram / Mixcloud / Soundcloud / Bandcamp

Subscribe to the Sounds and Colours Newsletter for regular updates, news and competitions bringing the best of Latin American culture direct to your Inbox.
Share: