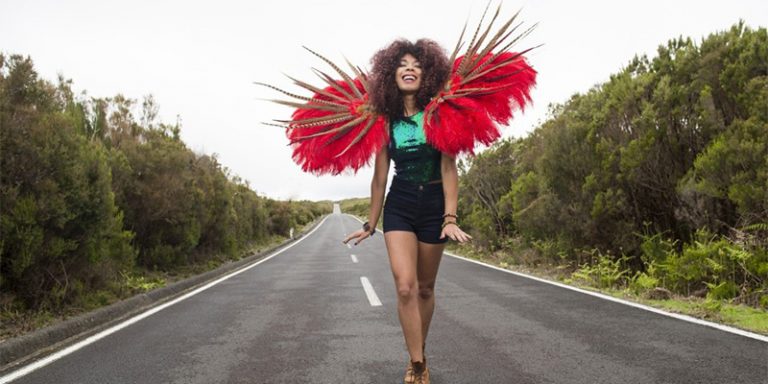 Youri Lenquette
A Flower of Hope: An Interview with Flávia Coelho
16 March, 2017
In 2012, after the release of her first album, Bossa Muffin, the Brazilian-born, Paris-based, self-professed citizen of the world Flavia Coelho was touted as one to watch as she captivated us with her infectious, inventive and very Brazilian recontextualisation of music and sounds from all corners of the globe. Two albums, an appearance on Later…with Jools Holland and an acclaimed performance at WOMAD later, she has indisputably surpassed the status of promising newcomer after fortifying her worth on both sides of the Channel with praise and recognition from The Guardian, Le Monde and a plethora of publications in between.
We managed to intercept Flavia after her performance at the BBC for Radio 4's Loose Ends and discussed everything from cultural identity, happiness and the political situation in Brazil, to (eventually) her new album, Sonho Real.
So first of all, welcome back to London, Flávia! You have said you were initially attracted to Paris because of its music culture, do you feel a similar connection to London at all?
Of course I would absolutely love to spend a lot of time here! The diversity here in the UK is incredible, but not only the musical diversity, the diversity you have in your society too. I don't just mean all the languages, cultures and ethnicities, but also the diversity in your literature, music and art. Also the culture of acceptance here too is wonderful – I feel like everything and everyone mixes a lot more here than they do in France or Brazil.
Also, Brixton is one of the reggae capitals of the world so I feel a great connection to that. I'm friends with a lot of people involved in reggae and dub in the UK. I know Prince Fatty really well for example and we've done projects together. I'd love to work with more British reggae artists in the future and eventually maybe even set up my own sound system.
Dub and reggae culture is obviously really important to you. What are the origins of your love of this music and culture?
My first experience with reggae was when I was eight years old and lived in Maranhão. There was a lot of Jamaican and Caribbean influence there. I lived in a tiny town of barely 300 people in the interior of the state, and these sound system trucks would come into the town and start playing roots, Bob Marley, Pete Tosh and Barrington Levy off enormous speakers.
I didn't think about becoming a singer before, but I grew up in this reggae environment, raised on roots and Bob Marley, and so when I first starting making music properly, reggae naturally played a big part in my music and outlook.
Did you identify with the cohesive spirit of reggae and sound system culture then, and the importance it holds as a movement within the African diaspora?
Of course, it's natural that we took to reggae so eagerly in the favela, it's community music, that brings people together, just like rap and hip hop, it's wholesome music.
It's interesting to think of it in terms of the African diaspora because I feel like in Brazil we don't quite have this notion of Afro-Caribbean culture yet, there's just this attitude of "everything comes from Brazil": reggae comes from Brazil, batuque comes from Brazil, accordion comes from Brazil. We don't directly appreciate the contributions of international diasporas and how their cultures have transformed Brazil.
It was only after leaving Brazil that I realised, Caribbean music comes from the Caribbean. A lot of Brazilians don't realise or appreciate that lots of the things we celebrate as Brazilian come from other places.
Juan Gabriel Vásquez said that he needed to leave Colombia to truly understand his country and what it means to be Colombian. Did you have a similar experience with Brazil?
I feel exactly the same! I've always felt very Brazilian, but now my Brazilianness is based on trying to understand the roots of what Brazil is. We talk about 'Afro-Brazilians' but where in Africa? Africa is a huge place. We talk about 'Afro-Brazilian music' like pagode and samba, but what region in Africa do they come from? They come partly from Congo, Nigeria, Angola and Cape Verde, but we're not taught this.
And so the search for my roots began when I left Brazil, like when I went to Turkey and realised some of the things they eat there are the same as some of the things we eat in Brazil. Immigration from that part of the world to Brazil is a huge part of our history. Just think of the great author Jorge Amado for example, who has Lebanese roots.
The issue in Brazil is that we sometimes lack a sense of cultural awareness: Asians for example have migrated to Brazil for centuries, but no one seems to care about their cultures, they just call them 'Brazilians'.
It's complicated. We don't have this idea of 'identity' quite like we have it here in Europe. I mean that can be a good thing, accepting everyone as Brazilian. But the issue is that it means we don't bother searching for or appreciating our roots. And so I felt I needed to leave Brazil to make my music, otherwise I'd just end up making something that wasn't authentic or true to myself. I also felt I needed to leave Brazil to truly understand my music and understand myself.
What impact does ignoring the complexity of Brazil's diversity and history have on society?
We're taught very little about indigenous groups in school in Brazil. You've also got to remember that slavery in Brazil ended very late. It was the last country in the world to abolish slavery and, unfortunately, much of the racism that is still prevalent in Brazil comes from this system our country was built on. Many indigenous groups have been oppressed and massacred throughout the history of Brazil and the world, such as the Kanak people (who I sing about in "Ilha de Mare" in Mundo Meu). Ignoring history condemns us to repeat it and furthers a vicious cycle of racism and ignorance. Social change starts with education, and a lack of education – inside and outside the classroom – can fuel ignorance and lead to oppression and even violence.
[soundcloud url="https://api.soundcloud.com/tracks/203081928″ params="color=ff5500&auto_play=false&hide_related=false&show_comments=true&show_user=true&show_reposts=false" width="100%" height="166″ iframe="true" /]
Let's talk about the new album, Sonho Real. How have you evolved as a person and as an artist since your first album, Bossa Muffin? How is the new album different?
This album is really about what it means to be a human being – the state of the human being. Bossa Muffin talked a lot about travelling, Mundo Meu talked a lot about Brazil, and this album Sonho Real refers to my dream, which is no longer a dream, but a reality: to travel the world as a musician, learning new things, meeting new people and making music. I realised that I'm incredibly privileged to be living my dream – making albums, playing shows, doing interviews like this, because a lot of people don't have this privilege of being able to do what they love for a living, and aren't happy.
And this is because we are part of a system, a capitalism, that forces us to do certain things: buy a car, buy a house, accumulate, without time to focus on our own well-being. It's this vicious cycle of capitalism that creates unhappy people, and when you're unhappy you spread that unhappiness, and spread blame, onto other people, whether it's your neighbours, colleagues, immigrants, whoever.
So on this album I speak about this and about making good choices. This album came about because I love what I'm doing in life. Of course, sometimes I have bad days, bad shows, difficult times, but overall everything's great.
In today's world, solidarity with one another needs to be the basis of everything. But to achieve that solidarity, we need to create happy individuals.
Do you think that now, in the world of Trump and the refugee crisis, it's more important than ever to travel and learn about different cultures?
Definitely, without a doubt, because when we travel, and when we meet people from different places and cultures, we no longer fear one another. We fear what we don't understand. We experience and learn new things and different ways of approaching situations by travelling. Meeting people from different cultures helps to dispel fears and misunderstandings we have about them. For this reason, travelling and talking to people from different parts of the world, with different ways of life is importantíssimo and an extremely valuable experience. And I'm not just talking about travelling outside your own country, but outside your neighbourhood, outside your comfort zone.
So what role do you think your music can play in combating the politics of division? Do you think it has the ability to make people more conscious?
What I try to do with my music – which is something extremely South American – is try and dance through the difficult times and embrace the melancholy, but in a constructive way. We should never stop trying to make the world a better place.
I always try to tell a story through my music, to tell people what's going on. I especially try to tell stories of my own country, to my own people, through my music. Such as in the opening track of the new album, "Se Ligue", which is the story of a well-known woman from São Paulo who writes a column for one of the big newspapers there. She's from a privileged, aristocratic background and speaks badly of nordestinos and marginalised Brazilians, criticising them – even though the newspaper is supposedly left-leaning. So my words for her are: "Shut your mouth, se ligue (pay attention/inform yourself)."
What are the biggest challenges you've faced as a black woman from the North East, on your way to becoming a professional musician?
When you're a woman in Brazil, there are certain negative stereotypes and expectations of you: you go to school, get married, look after your husband, and have children. And I chose a completely different path: I decided I wanted to be a musician and travel the world – and there's a lot of prejudice against a woman doing that in Brazil. I was judged a lot because of this choice I made. Some people even said I was prostituting myself because I wasn't getting married, having a family and settling down.
And here in Europe, being a woman has its difficulties too. I had to work really hard to earn my space and build my career, probably harder than a man would have to, sadly. This gender bias is the same in the music industry as it is in all other professions. There are loads of male lead singers but nowhere near as many female ones. If you look at festival line-ups, the majority are male groups, barely any female artists are band leaders. But I don't let that get me down.
So you broke the stereotypes and expectations of a black Brazilian woman in this sense? What other stereotypes are you trying to break through your career and your music?
Yes! I want to show people that Brazil isn't just the country of palm trees and football, but that we're rock, funk and hip hop too. I want to demystify the Brazil of "The Girl from Ipanema". Of course, that Brazil is beautiful and it has value, but it's time for a new Brazil, the Brazil of artists like Emicida and Criolo.
When I first came to Europe, the world's expectations of a female Brazilian singer were bound by these stereotypes. A Brazilian singer should sing quietly, baixinha, and play bossa nova. Well I completely broke that rule!
What is the true nature of Brazil and Brazilians then?
Brazilians suffer a lot. People think of us as happy but really, culturally, historically, this happiness is just a front. The greatest skill that Brazilians have is the ability to smile through the suffering. Out of this embrace of melancholy, grows a flower of hope. I see my music as that flower and I try to water it every day.
Flavia Coelho will be playing at Omeara London on Tuesday 21st March. More details at serious.org.uk/brazil. Sonho Real is available from Amazon UK, Amazon US and iTunes. 

Follow Sounds and Colours: Facebook / Twitter / Instagram / Mixcloud / Soundcloud / Bandcamp

Subscribe to the Sounds and Colours Newsletter for regular updates, news and competitions bringing the best of Latin American culture direct to your Inbox.
Share: