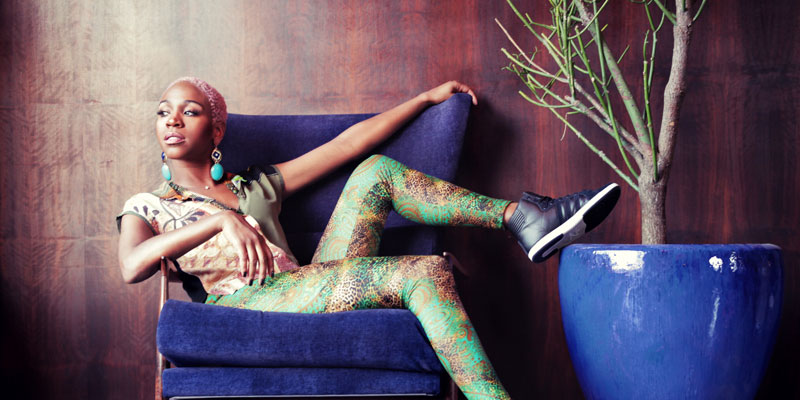 Mariana Zarpellon
Freakily Gifted With Groove: An Interview with Karol Conka
19 March, 2014
"Eu vou torcer pela paz, pela alegria, pelo amor e pelas moças bonitas, eu vou torcer!" (I'm rooting for peace, happiness, love and beautiful girls, I'm rooting!" The first lines of Jorge Ben Jor's lyrics to "Vou Torcer" describe well one of the current revelations in Brazilian music: Karol Conka.
The rapper, singer, songwriter and also a fan of Jorge Ben Jor, is debuting her thrilling first album, Batuk Freak, internationally, a result of a bubbling mix of beats and diverse Brazilian elements produced by the well-known and respected producer, Nave.
Karol Conka is one of the few female voices from the Brazilian hip hop scene to break out of the underground and she is about to land in Europe for a brace of gigs in Paris and London. Full of energy and focused on her career, Karol Conka is also a very confident MC. Just the kind of moça bonita (talented and gifted) that the Brazilian rap scene was looking for.
When did your interest in rap, hip hop and music start?
Since I was very young. I don't remember exactly when, but I always enjoyed music. Unfortunately, my mother could not afford to put me into a music school to study music, but I grew up listening to samba and MPB and after a while, when I was 16, nearly 17, I was introduced to rap through my first boyfriend. I used to write a lot of stuff at that time, things like poetry. I liked to rhyme but I thought the melody I was doing was MPB… it was actually rap. Then when I bought the CD of Fugges and Lauryn Hill, it started to inspire me and make me want to be what I am today.
Your mother used to write poetry. Was it an influence for you to start to rhyme?
Yes, because my mom reads a lot and I have never been a big fan of reading. But she always said that I used to write things that made sense.
Curitiba, as with all of the south of Brazil, has a strong and prominent music scene. Is this also the case for the hip hop scene? Did this encourage you to pursue a career as an MC too?
Pretty much! I used to go to these parties organised by DJ Bass [who works with Karol now], events involving the four elements of hip hop and I became very interested in one of them: rap. I just felt it was brilliant to get together on weekends and listen to songs that our parents didn't want us to listen to at home [laughs].
I used to introduce myself as an MC, but no one took me very seriously that time. All I knew was that I wanted to sing, but the first show I did was with GOG, a rapper from Brasilia. I was 17 that time.
In Brazil is it still a challenge for female MC's to gain some space and become known. How was that process for you? Did you find it difficult to sing, play gigs and some respect as a MC?
To be honest, I didn't feel much difficulty. For me, things were a bit smoother and I don't know the reason for this. There is a lot of sexism in rap but I didn't feel a lack of space, but more a lack of better treatment. Sometimes they forget that I can rhyme and I am strong on stage but I am still a woman, gentle, romantic sometimes. And the treatment has to be different. I mean, it needs to be more professional. The female MC's have to be taken more seriously. It has to be an understatement: it is not a question of weakness but professionalism.
Ten years ago, you stepped up on stage for the first time. Since then, you have received an award from MTV Brasil, another award from the Multishow channel, one of your songs is in a very popular video game, FIFA 14, and now you are about to release your album, Batuk Freak, internationally. How do you see all these steps in your career?
I see it as an achievement, a thing that I focus on every day. I always wanted to have international recognition. I wanted to represent Brazil, my city and above all, to represent the women in rap music. But I have always kept my feet on the ground. Sometimes one of my friends makes a comment about something new that is in the media about me, but I don't let it go to my head. I see them as achievements, as a reward, for working hard. I bring the influence of my parents and a lot of determination, because the worst thing in life for an artist is dealing with the fame. So I always focus on working hard.
Talking about music influences. You like MPB, Lauryn Hill and even Beyoncé. Do you think your taste of music is eclectic?
Yes, indeed. I love the Mykki Blanko, for example. And I follow Beyoncé since the Destiny Child's' days. Some people do not even imagine that I like her music. [Laughs]. Her stage presence was always something that caught my attention. Since I used to do contemporary dance, I always identified myself a lot with her.
What are your main influences and what have you been listening to lately?
I listen to Brazilian things like Céu and Criolo. I also like Mykki Blanco and M.I.A, for example.
I am curious to know more about the influence of repente [a kind of rhythm, very popular in the north-east of Brazil, usually made by duos improvising rhymes] in your music.
I talked with Nave [producer of Batuk Freak] at the beginning of recording the album, we were working on the song "Boa Noite" and I made a comment about having a song that would make my grandmother, who is from Bahia, think of the album. He used some north-eastern Brazilian beats on that track and I started to like those references. We owe a lot to north-eastern music. As Nave does a lot of research, the album has a lot of Brazilian elements. In fact, Batuk Freak is pretty much a simple thing: rap beats with lots of Brazilian elements. That makes my album very colourful and also beautiful.
And how about your lyrics, are they more personal? What inspires you to compose?
I don't have a kind of routine when I compose. My daily life inspires me. I never realised that my music was not a rap of protest, for example. In my songs, the protest is different. I protest against unhappiness and self-esteem. I want to show we can be stronger. I like to think that this is a form of protest anyway [Laughs].
You have had the opportunity to share the stage with musicians like Luiz Melodia, Criolo and Marcelo D2. If you had to pick an idol, someone in music to play a gig together with, who it would to be?
Jorge Ben Jor.
Any particular reason or just because he is Jorge Ben Jor and that's enough reason…
Well, the name of my son is Jorge. And when I used to live in my mother's house, she had only CDs of Jorge Aragão, Seu Jorge and Jorge Vercilo, for example [laughs]. Then I thought, 'Wow, it's a lot of Jorge in this house. I will call my son Jorge'. And when he was born, I was listening to A Tábua de Esmeralda, and it was non-stop. And I got this crazy thing about starting to listen to the same album for months and months. This one, I was actually listening for almost a year. It helped me at a time when I had postnatal depression and when I recovered from this, I kept listening. I am crazy about it.
Tell me a little about Batuk Freak. Why this name and how was it working with Nave?
The name came from a joke when Nave told me I was very crazy. He suggested Batuk Freak as the name for the album and I liked the idea. I chose Nave because he was always a very interesting producer and a fantastic artist. I loved the fact that he made beats exactly the way I asked. We worked on the album for a year and the beats were all created especially for me.
Your version of "Caxambu" [a song by Almir Guineto] is very curious to say the least. Was it your idea to put it in the album?
Yes, it was. This is a song from my childhood. It reminds me of my parents, and also of barbecues at my grandmother's house. During the recording I was always singing this song, trying to fit it into any beat that Nave was making. Then he had the idea of using a funk carioca beat and it fit with "Caxumbu". My only concern was achieving the right tone of voice for this song, but in the end I had a few brandies and it gave me the courage to sing it my own way [laughs]. When my mother heard the result she told me that 'now I was a real singer'.
You have some gigs now in Paris and London. What are your expectations for these performances? Will it be the first time you have performed outside of Brazil?
Yeah, I'm very happy and cannot stop talking about it [the tour]. I'm also pretty confident. I want to do the work that I do here and take the Brazilian swing abroad. I have no idea how the European public is, but I feel good about it!
Besides the release of Batuk Freak, what are your other future projects?
As the album is being released now abroad, we are just working on that. But I'm already writing new songs for a new CD to be released in 2015.
Karol Conka is performing in London on 3rd April 2014 as part of La Linea 14. She will also be touring around France. See facebook.com/karolconka/events for more details of her French shows.
Batuk Freak is released on 7th April 2014 on Mr Bongo Records. The album is available from Amazon and iTunes.

Follow Sounds and Colours: Facebook / Twitter / Instagram / Mixcloud / Soundcloud / Bandcamp

Subscribe to the Sounds and Colours Newsletter for regular updates, news and competitions bringing the best of Latin American culture direct to your Inbox.
Share: