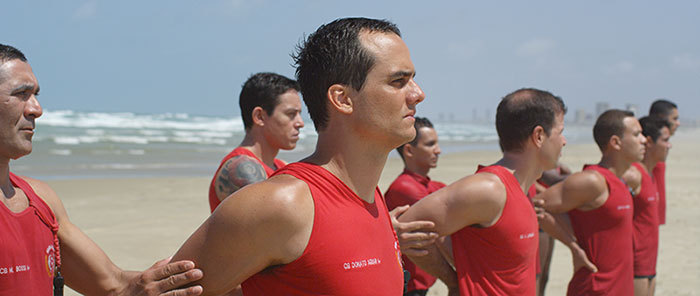 Futuro Beach
24 August, 2015
An emotionally intense and disorientating film, Futuro Beach (Praia do Futuro) is part love story and part coming of age tale, divided between Brazil and Germany and told in three chapters.
The film premièred in Europe last year at the annual Berlinale film festival, in the same city where two of the film's three chapters take place. Director Karim Aïnouz, originally from Fortaleza, Brazil, has himself spent some time living in the German capital and it should therefore come as no surprise that he presents us with a film that plays heavily on the visual and cultural differences between the two countries.
The story follows two men; Brazilian lifeguard Donato (Wagner Moura, best known for his role José Padilha's 2008 film Elite Squad) and German ex-military man Konrad (Clemens Schick). The two first cross paths when Donato saves Konrad from the waters of the vaguely dystopian Futuro Beach, as Konrad's companion dies in the treacherous ocean. The circumstances of the characters' first encounter set the melancholy tone of the rest of the film. Almost immediately the two men become romantically involved, which soon leads Donato to the significantly rainier Berlin, leaving his family behind in search of a home and an identity. The third chapter takes place eight years later, when Ayrton (Jesuita Barbosa) arrives in Berlin out of the blue to seek answers about his older brother's new life, and his reasons for leaving his old life behind.
The narrative pace of Futuro Beach might be off-putting to some viewers; each scene moves slowly and quietly, but the film as a whole moves in leaps, as though the director is rushing to show us the next chapter of the story. Each chapter arrives suddenly and with little explanation, which has a disorientating effect which ultimately allows the viewer to appreciate the disorientation of the characters, and to invest themselves in understanding each new stage of these characters' confused lives.
The film relies far more heavily on visual metaphors and visible emotion from the characters than it does on spoken language and narrative structure. Actors Schick and Moura manage to portray the emotional relationship of their characters with a remarkable intensity that doesn't rely on language. Aïnouz has explained that neither actor spoke each other's language – Moura cannot speak or understand a word of German and Schick not a word of Portuguese. This possibly goes some way to explaining the long, intense silences in the film completely devoid of dialogue, but more importantly allows an emotional connection between the two characters to be incredibly striking. Unfortunately what little dialogue there is can seem a little mechanical, as there was no room for improvisation or alterations to a script which each actor had learnt by heart in a language they didn't understand. Nevertheless, the silent emotional depth of both actors' performances more than makes up for this.
Even for those who might find the pace of the film and the lack of dialogue off-putting, there is no denying that Aïnouz's film is a beautiful one, and a thought provoking look into themes of identity and isolation.
Futuro Beach is available on DVD from August 24th, 2015. See peccapics.com/product/futurobeach for more details.

Follow Sounds and Colours: Facebook / Twitter / Instagram / Mixcloud / Soundcloud / Bandcamp

Subscribe to the Sounds and Colours Newsletter for regular updates, news and competitions bringing the best of Latin American culture direct to your Inbox.
Share: