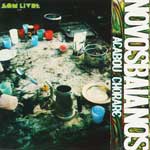 How Joao Gilberto turned Os Novos Baianos from Hendrix worship to recording the greatest Brazilian album of all time
19 April, 2010
In 1972 Os Novos Baianos were preparing to record their second album for the third time when João Gilberto turned up on their doorstep. It's not known Gilberto's motives for coming to see them but it is certain that following his visit Os Novos Baianos went on to record an album now thought of as one of Brazil's finest.

Formed in Salvador in the late 60s, the band was a mixture of personalities. Luiz Galvao was the poet and mentor. Moraes Moreira was in many way's Galvao's partner, giving deadpan delivery and delicate guitar to his lyrics. Baby Consuelo was the only member not from Salvador, she had stuck around after a holiday from her native Niteroi, following her dream to achieve stardom. Paulinho Boca de Cantor was the 'lucifer' of the group, able to add the rock 'n' roll and carnival to their more upbeat numbers. Pepeu Gomez was the musician, a virtuoso guitarist in thrall to Hendrix.
It was Gomez's love for Hendrix which was having a massive effect on the recording of their second album. Their earlier record, É Ferro na Boneca, despite being loved by critics for it's mix of rock, samba and humour, had not sold well, and now the group had relocated from Sao Paulo to the Botafogo neighbourhood of Rio de Janeiro in hope of a change in fortune.
Their new home had become something of a hippie commune, perenially surrounded by a cloud of smoke, friends and musicians would come and go throughout the day. It was no surprise then that when a smart bespectacled man knocked on their door they thought the worst – the police were after them. Upon discovering that the man was in fact Joao Gilberto, one of Brazil's biggest stars and the progenitor of bossa nova, the worry then turned to joy. It was midnight when he arrived. He wouldn't leave 'til eight in the morning. They played guitar through the night, and then the next night, he returned.
These sessions with Gilberto would have a profound effect on the music. Up to this point the songs they had been working on had been even more rock-influenced than their first album. Now, they had learnt the power of bossa nova, of a style that was purely Brazilian. Gilberto had also introduced them to the song 'Brasil Pandeiro' by Assis Valente, telling them it was the perfect fit for the group.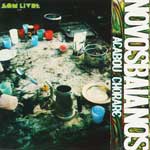 The release of Acabou Chorare in 1972 finally saw the group gain popularity. The album featured many hit songs including 'Preta Pretinha', 'Mistério do Planeta' and 'Besta é tú.' The month's residency that they had in Number One, a club in Rio, would now last for two years. The album would later be voted by Rolling Stone magazine as being the best album in Brazilian music.
Os Novos Baianos would go on to record a number of albums before breaking up in 1978 and then reuniting later at various times for shows and new albums.
A new documentary by Henrique Dantas looks at the story of Os Novos Baianos in further detail and with plenty of mention of that knock on the door. Entitled Filhos de João – Admirável  Mundo Novo Baiano (Sons of João – the wonderful new Baiano world), it has just featured at the Fest É Tudo Verdade (It's all True) festival in Sao Paulo. Visit the film website for further details.

Follow Sounds and Colours: Facebook / Twitter / Instagram / Mixcloud / Soundcloud / Bandcamp

Subscribe to the Sounds and Colours Newsletter for regular updates, news and competitions bringing the best of Latin American culture direct to your Inbox.
Share: