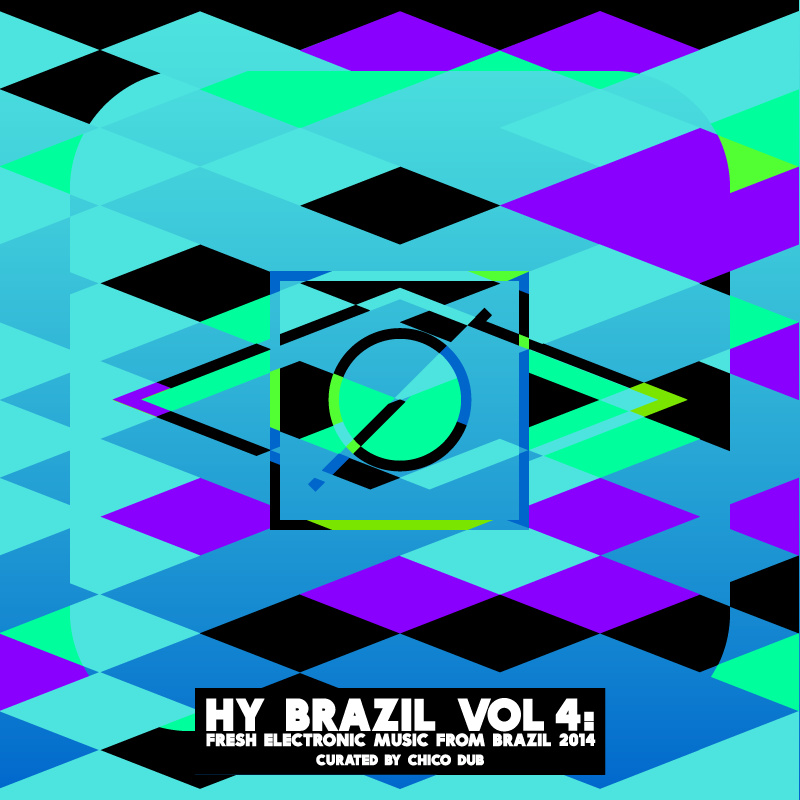 Review
Hy Brazil Vol 4: Fresh Electronic Music From Brazil
The expansive landscapes of Brazilian electronic music are once again championed by producer/DJ Chico Dub on Hy Brazil: Vol. 4, the latest on a rapidly-growing series of albums charting the scene's growing influence (Vol. 1 was released last year and number 5 is around the corner). The format remains the same: fourteen unreleased tunes from fourteen different artists. I've long imagined Brazilian electro compilations to be like zebras in that no two are the same, and Chico Dub, clearly well-versed in clubland, has enough contacts in his black book to ensure that Vol. 4 is fresh and exploratory, introducing the casual listener to several new and worthy names. Sr. Dub also gets extra kudos for being the main researcher on Dub Echoes, one of my favourite music documentaries of recent times, which looked at dub's origins and its impact on other genres.
The Hy Brazil series was conceived as a means of promoting national electronica and building a promotional platform for the music. Like many countries, but particularly those with large populations, the underground scene resembles something of an anthill, with the multitudes performing functional roles all over the place but only a select few making it to the top. The series looks to the horizon to open a portal into the national sound.
It begins with Rio-resident Manara's 'Man, Mytho', a skittish cut in the St. Germain vein. Carrot Green's 'Itajam' features a very tidy bass melody and is one of the album's sweetest moments. That is brushed aside by the unsubtle 'Bluffing', from ARCO, an electro-pop stomper most notable for the rudimentary English (I appreciate it's not a first language but there are times when you have to say something, and "So many shit in my hand" is one such occasion).
We are treated to a fine display of swirling tech-savvy on Bruno Belluomini's 'P95G', a tune which brings to mind the late-90s Northern Exposure compilations of experimental chill-tronica, while 'Make a Wish', by Sao Paulo producer Ney Faustini, crosses similar downbeat territory. Another sign of Hy Brazil's reflective nature can be heard in the tribal beats of No Step's 'The Borly Dossier'.
It's no surprise that a producer named Asshake makes renegade electro baile-funk, and Picolé is certainly one of the most buttock-wobbling things you'll have heard in a while. Som Pemba's 'Pagadao Porra' plays with afro-Braziliam rhythms to close the album with a nod to Brazil's own musical traditions. The distance travelled between opening and closing tracks may only be an hour or so, but the shifting musical tones create the illusion of having crossed dimensions.
As a sampler of what Brazilian producers are coming up with, Hy Brazil Vol. 4 is impressively insightful, while the sonic variety speaks of an iron-strong national underground. Not every tune will be equally well-received ('The Dig' from Missiles at a Wedding was one that didn't do much for me, nor did Hill Sax's 'ESC_00'), but that ought to be the case with such sampler albums: to give a feel for what's out there and provide guidance, allowing the listener to then do some digging themselves. You get the feeling there's a lot to discover.
[soundcloud url="https://api.soundcloud.com/playlists/34176935″ params="auto_play=false&hide_related=false&show_comments=true&show_user=true&show_reposts=false&visual=true" width="100%" height="450″ iframe="true" /]

Follow Sounds and Colours: Facebook / Twitter / Instagram / Mixcloud / Soundcloud / Bandcamp

Subscribe to the Sounds and Colours Newsletter for regular updates, news and competitions bringing the best of Latin American culture direct to your Inbox.
Share: