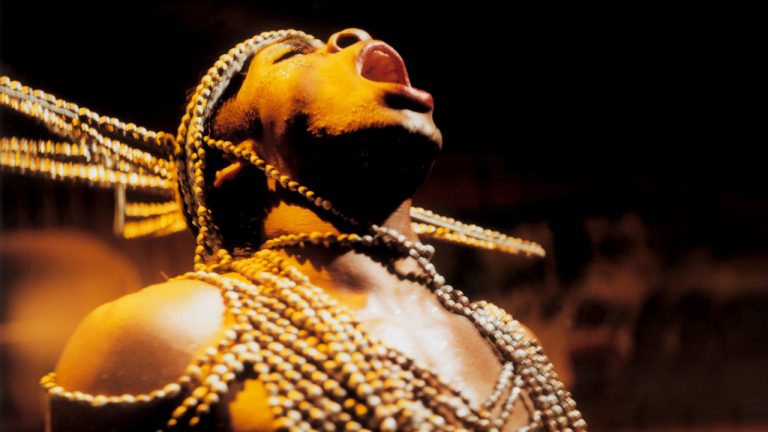 Karin Ainouz's Madame Satã ('courtesy of MUBI)
Iconic Brazilian Queer Film 'Madame Satã' Celebrates Twenty Years
28 May, 2022
Karim Aïnouz's vibrant biopic Madame Satã' brought energy to a sunny Sunday afternoon at this year's BFI Flare: London's LGBTQIA+ Festival. Screened in the BFI's main auditorium to an audience of four hundred, twenty years after its initial release, the feature film was followed by a Q&A with Karim himself and his star Lázaro Ramos zooming in live from Rio. Sounds and Colours were thrilled to be part of this epic celebration of the film, writer/director Karim Ainouz and iconic queer legend of Brazil's nightlife: Madame Satã.
Karim's first feature film tells the tale of João Francisco dos Santos' life, opening with a monologue setting the scene for his story of how he wound up in and out of Rio's prisons. João moved to the Lapa district of downtown Rio de Janeiro in the 1930s and circumstances drove him to criminality. He was a hustler, working in nightclubs teeming with pimps, sex workers and brutal customers, of which he both exploited and fought off when necessary. Within these clubs he found his passion in performing drag, and the film traces his journey into becoming a queen who is now widely regarded as a revolutionary within the Brazilian queer community.
João's upbringing was rooted in corruption. Born shortly after the abolition of the slave-trade in Northern Brazil to a family of seventeen siblings, later living within the economic struggles within Lapa, he was continually brutalised because of his race and sexuality. As a highly masculine Black transvestite, his subversion of gender expectations at the time threw those around him. Throughout the film, instances of the violent homosexuality and racism he faced are portrayed, and each met with acts of fiery defiance and a strong sense of self protection and worth. João was both a fighter and a hero, merging capoeira into his moments of rage and samba into moments of joy, of which there are many. His twenty-seven years spent in and out of prison gained him notoriety, but it's his legendary embrace of drag culture that really crowns his status today.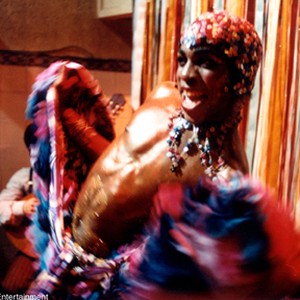 Karim shed light on some important issues surrounding the film at the screening, thrilled to be watching it twenty years' later at the BFI itself. He explained how he began writing the film when he was in London, though it took over ten years to make due to difficulties sourcing funding. 'Nobody wanted to touch it', Karim stated, speaking about the film's themes at the time. No queer films had been made in Brazil and he wanted to make this film for representation. Madame Satã was selected as part of Flare's first time collaboration with African Odysseys; Karim and Lázaro (who plays João) discussed the film's place in reflecting the diversity of people in Brazil, as a country with a majority of Black people. Importantly, it has reflected a pride in Brazil's histories through Black queer representation.   

Twenty years on, the film has gained even more importance when considering cinema's changing role and restraints under Bolsonaro's government. The discussion traced Madame Satã's influence on Brazilian cinema during these last two decades and how despite limitations from wherever they may come in the future, there is a huge importance in continuing to tell stories. Karim's latest film Mariner of the Mountains is streaming now on MUBI and it is a joy to see his dedication to Brazillian cinema continue

Follow Sounds and Colours: Facebook / Twitter / Instagram / Mixcloud / Soundcloud / Bandcamp

Subscribe to the Sounds and Colours Newsletter for regular updates, news and competitions bringing the best of Latin American culture direct to your Inbox.
Share: