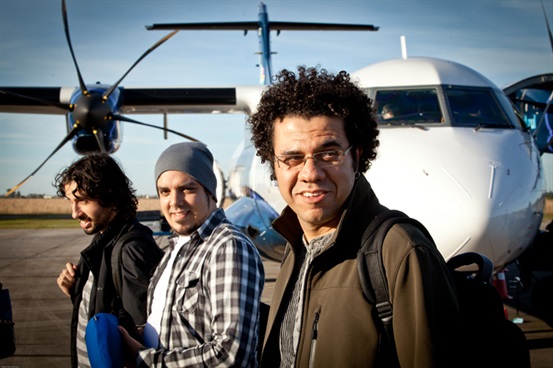 Felipe Estrela Campal
Improvisation Is Originality and Language Without Repetition: An Interview with Hamilton de Holanda
03 May, 2016
Not many musicians manage to bridge the Brazilian musical origins of bossa, samba and choro with modern jazz, pop and baroque classical music as Hamilton de Holanda does. Last week he released his new album Samba de Chico, a homage to Brazilian samba-legend Chico Buarque and to samba in general. For the production Hamilton collaborated with artists such as Italian pianist Stefano Bollani, Catalan singer Sílvia Pérez Cruz, percussionist Thiago da Serrinha, contrabassist Andre Vasconcellos and even Chico Buarque himself.
After his performance at the Vienna Konzerthaus, I spoke to Hamilton about his path to the mandolin, Chico Buarque and the influence of samba and choro on Brazilian identity.
Hamilton, how do you feel performing in Europe?
I love playing in Europe. I feel that the audience enjoys Brazilian music tremendously and is aware of its rhythms and sounds. Music is a very important part of life for people here, and so going to concerts is a common form of entertainment. When I play here, I see the excitement in new musical styles and that's great.
You were born in Rio and started to play mandolin at an early age. Did you always want to make this into your profession?
When I started to play mandolin at home with my father and brother it was only a hobby. I learned mandolin before being able to read and write. So when I finished high school and turned 17 I was not sure what to do. For a short period of time I enrolled at university studying accounting, but dropped out after one and a half years. I then went on to study composition in Brasilia, but always continued to play mandolin on the side. Playing music and composing songs was extremely important for me, and even supported me a little financially – I started giving lessons when I was 16 years old. So I decided to make my hobby into my work as well, to do the one thing I enjoy every day. Overall I never imagined the career I have now. Music was always something related to friendship and family, meeting with people, this was important for me.
How important is improvisation for your music?
Improvisation is an essential part of my music. It's part of my freedom to communicate my thoughts and expressing this with music is an objective. Improvisation for me means liberty with responsibility, as I believe that liberty alone does not exist. And through improvising comes the spirit of creativity. You don't get tired, you don't repeat yourself. That's music, its originality and language without repetition. So improvisation helps me to find new melodies and to concentrate.
You are currently touring as a trio. How did you come together?
I don't remember what year [laughs], but back then Thiago da Serrinha (percussionist) was recording an album with a friend of mine. Bridging the mandolin with samba rhythms and different Brazilian pop music to create a cool experience was always something I wanted to try. So I called Thiago and Andre Vasconcellos (contrabass), who was already playing in other formations, and got this amazing sharing of creativity together. It was wonderful!
Tell us more about your new album Samba de Chico. Why did you decide to make this album?
This year is the centenary of samba and I wanted to do a homage. Chico Buarque is an integral part of Brazilian samba. I already play some of his music and always wanted to produce an album with Chico's compositions. Taking advantage of the centenary I compiled his music into this album together as a trio. Chico himself participated in the production, as well as Italian pianist Stefano Bollani and Catalan singer Sílvia Pérez Cruz.
Who came up with the piano arrangements for this album?
Stefano is a partner of mine for quite a time now. We performed together and recorded a song that Chico Buarque sang with Tom Jobim called Piano na Mangueira, telling the story of when he took his grand piano up the hill of Rio's favela Mangueira. And I wanted the sound and soul of the piano on the album. In fact, when I told Stefano that I was going to record Samba de Chico, he asked me to participate, so I said: let's do it.
The album is partly a homage to Chico Buarque. How did you both meet for the first time?
A friend of mine, composer Márcio Faraco, introduced us in Paris. Chico has a football field and I will soon play there against Chico. I'm an attacker and Chico a midfielder, but the game will be difficult – we are both good players [laughs].
You collaborated with several international artists. How do they influence your music?
I collaborated with artists of many different musical backgrounds, such as Cesária Évora, John Paul Jones (Led Zeppelin), Chucho Valdes and Buena Vista Social Club.
I always have an open ear and heart prepared to learn with the artists I make music with. So maybe the best thing in life for me is to experience, get to know and live other musics and cultures, so that influences me in a definitive manner. Every time I play I with different musicians I transform better, because I accept this influence. My essence will never disappear, because after all my roots are strongly based on Brazilian music, principally choro. So I'm not scared of letting myself be influenced and not scared to dive into a different culture and to learn more, I dive with open minds and the same free soul I do with improvisation.
I also love performing in Europe because of the mixture between the rhythmic choro and samba together with the classical and more serious music styles here. You have to consider, the choro actually hails from these roots. Some of the melodies and harmonies in the choro are similar to classical music. Pixinguinha has this almost baroque-style harmony. So I identify myself quite a lot with the music from this region.
The current political situation in Brazil is difficult. How do you think samba and choro can bring people together and act against the polarization of the population?
Samba and choro always did it: it expresses the feelings of the people. Samba has the capacity of opening up the feelings of the people. This is very strong in Brazil, Samba has an incredible force coming from the roots and the people. Music doesn't solve any situation, but helps you find the identity and roots of Brazilians.
Samba de Chico was released by label Rio-based label Biscoito Fino and is available from MPS Music in Europe.

Follow Sounds and Colours: Facebook / Twitter / Instagram / Mixcloud / Soundcloud / Bandcamp

Subscribe to the Sounds and Colours Newsletter for regular updates, news and competitions bringing the best of Latin American culture direct to your Inbox.
Share: