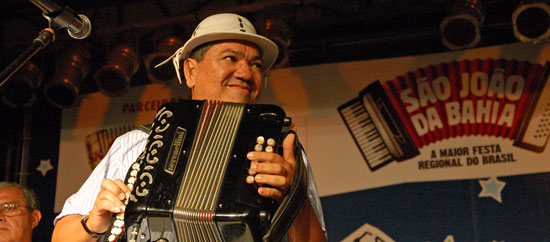 In a Nutshell: Forró
08 May, 2010
Forró is music for dancing! Developed in the North-east of Brazil, it is characterised by its weaving accordion and insistent rhythms and is one of the most popular forms of music in Brazil. In fact, although samba is thought as being the main musical exponent of Brazil, music from the North-east actually accounts for 40% of all sales. Forró's humble origins as a folk music in the 40s and 50s saw it labelled as 'hick' or 'country' music by some, but forro-inspired albums by Gilberto Gil and Gal Costa saw it gain many new fans during the seventies, leading to its current popular status.

What's it like?
Only three instruments are required to play forró, an accordion, a bass drum and a triangle (occasionally also with added percussion.) Forró has a syncopated rhythm in a similar vein to samba, and a swing similar to cumbia (from Colombia), but also has a rootsy quality that comes from its origins in the Northeast, a dry, place that seems years behind the South of the country.
This is a really great eccentric video of Luiz Gonzaga playing Asa Branca (with another legend Hermeto Pascoal on second accordion):

Where can I find it?
In Northeastern regions of Brazil such as Pernambuco, Alagoas and Paraiba it is possible to see very good live forró and get the opportunity to enjoy/endure it's endless dance. The bands and nights here tend to stick more to its folk roots, this is opposed to the commercial end of forró which has spread across the South, South-east and East of Brazil, where it is very popular. Any live forró in these places will tend to be targeted more at the pop end of the market, but is still thoroughly enjoyable.
What else should I know?
The allure of forró is in its ability to get couples on the dancefloor. Its accompanying dance is like a two-step shuffle, with partners staying very close. It's far less showy than samba, with a more traditional feel. When watching couples dance forró you get the sense of its rural origins in the cattle-herding north where all the townsfolk would head out to dance on a Saturday evening to these sounds of forró. [NB: when going to a forró night in the North-east be aware that you will have no chance but to dance – there is normally nothing more to a forró evening than a dancefloor and a band.]
Recommended listening
There are two accepted geniuses in the world of forró. Luiz Gonzaga was its pioneer, fusing different styles of music together into what we know now as forró. His 1950s and 60s records for RCA are highly recommended. 50 Anos de Chão (1996), compiled by Gonzaga himself is a good collection of this material. Jackson do Pandeiro added clarinet to his music, creating a sound closer to Jewish klezmer music at times. His records, which are poppier than Gonzaga's, are notoriously hard-to-find. Forro do Jackson (1958) has recently been reissued and shows him at the height of its powers. His most famous song, "Chiclete com Banana" ("Chewing Gum with Bananas") can be found on Brazil Classics Vol. 3: Forro, an excellent collection compiled by David Byrne. Gilberto Gil's Eu, tu, eles (2000) is also recommended.
This is a David Byrne version of Asa Branca with very nice video:


Follow Sounds and Colours: Facebook / Twitter / Instagram / Mixcloud / Soundcloud / Bandcamp

Subscribe to the Sounds and Colours Newsletter for regular updates, news and competitions bringing the best of Latin American culture direct to your Inbox.
Share: