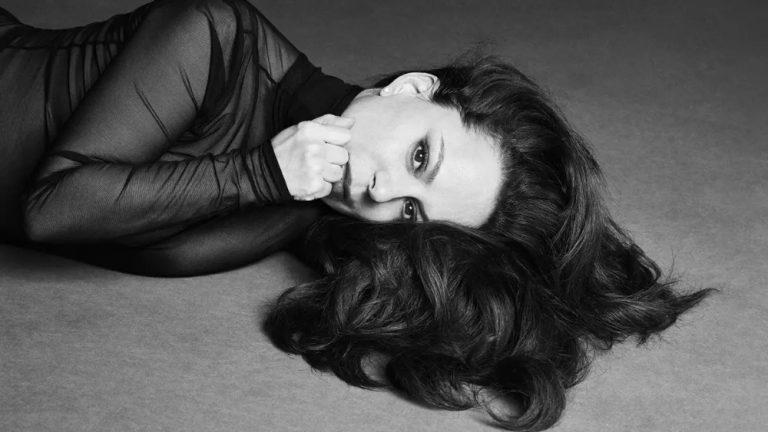 It's Like A Catharsis That I Don't Want To Revisit: An Interview with Bebel Gilberto
21 March, 2022
It's Monday 7th March and I have a Zoom interview scheduled with Bebel Gilberto. As I go through my notes, I keep imagining what her life as a child must have been like, being the daughter of João Gilberto, one of the masterminds behind bossa nova, and of Miúcha, a very talented singer from a family of no-less-impressive artists and intellectuals. At the age of 10 Bebel had already performed at Carnegie Hall with her mum and American jazz saxophonist Stan Getz, and was going in the studio to take part with her cousins in the recording of the album Os Saltimbancos (1977), which would become a classic album for kids in Brazil.
Bebel Gilberto is in New York, the city where she was born and where she has made a name for herself since she moved back there from Brazil in 1990. Her first solo album, Tanto Tempo (2000), would become the third biggest selling Brazilian album in US chart history. Bebel's electronic bossa nova and sultry vocals have led her to sell over two and a half million copies worldwide of her six studio albums. She's currently getting ready to perform a few voice-and-acoustic-guitar concerts in Europe and has agreed to give interviews to a few news outlets over a couple of days.
I wait for ten minutes before finally seeing her smiley face: "Sorry, I got a little distracted. Let me show you: this is my dog, Ella Fitzgerald. Today is the first spring day and we're enjoying the backyard. There are two cats at the back of the house and she keeps bothering them. She's staring at the window and barking at the poor cats… ah nature!" I try to communicate with Ella, a very cute and fluffy Shih Tzu, but to no success as her owner is using headphones. "I'm wearing sandals without socks in New York for the first time [this year]. I didn't have to look for clean socks, I only had to put on my sandals today – it's wonderful!"
I thank Bebel Gilberto for the interview, mentioning that I'm also Brazilian. She then suggests we carry on in Portuguese, but we end up switching to and from English during our conversation. From the West Village apartment where she's spending a few days, you can see what is considered the narrowest home in New York, an 1873 construction which was once owned by poet Edna St. Vincent Millay. The place is conveniently close to a Brazilian restaurant owned by one of Bebel's friends. "When Brazilians meet they become friends in two minutes", she would later tell me in the interview, as she excused herself to eat some leftover pasta strategically kept from the night before. The "shared" lunch took place because Bebel was kind enough to give us ten more minutes than we had been allocated. During our chat, she reminisced about her childhood, the process of becoming a composer, what experiences led to her first album, what it felt like to return as an established artist to perform in Rio, and what we can expect from her upcoming shows.
---
You are the daughter of João Gilberto and Miúcha, and you come from a family of artists. Do you have a first memory of music or of being musical with them as a family?
I guess when they were playing together. When I was born I was always listening to his guitar but then my father and my mother kept living abroad, and my grandmother took me to Brazil. So I was apart [from them] for almost three years, and that was a big hole in my heart. When I came back to New York to live with them, they were recording the album The Best of Two Worlds [with Stan Getz, released in 1976]. That album was very touching and important to me because I first heard it from afar – sometimes he'd send us a cassette over the mail; I'd listen to the mixes and to the whole project. It was the first time that I heard about the importance of the mix: "the mix isn't ready"; "the mix isn't good" – what did I know about mixing? [laughs] But when they mentioned [the release of the album] was pending because of it, I knew the bloody thing could last for one more year – even more so with daddy! I suffered with this album, and I'm so in love with it. I have really wonderful memories [from the time of its recording]. [However], sometimes I could be a little bit bored because they were not talking to me and I had to be watching them – because that's how it was. Here's a joke you might get from when I was older: I remember when I went to see my dad and he would start playing, [and] I'd say "oh no daddy, don't start the concert in F major" – because I wanted to chat and that would mean two hours in silence listening to the repetition of the same song for nine times, which sometimes made me a bit upset. [laughs] But, without a doubt, this album of Stan Getz and João Gilberto that my mum participated in is the one that brings me the best memories.
You would then go on to perform with Getz and Miúcha in Carnegie Hall at a very early age.
My father wasn't in the concert. He sent me because he couldn't go. My dad was like "you'll be great, you just go, you do it yourself with Stan and your mum." So I did it. I even got a mention in The New York Times, [where] they said I had a very nice phrasing. Another word that at that time didn't make any sense to me. [laughs] All of this was very important to me. This is a very special memory also because of Stan Getz. I saw Louis Armstrong, who was there as well, playing and showing his [puffed trumpet player's] cheeks to me in the backyard. Not backyard, backstage!
This mention from The New York Times is very pertinent. Listening to your earlier recordings – songs like "Alô, Liberdade" (1981), and "Lindo Balão Azul" (1982), which were done respectively for a film and a TV special – the "colour" of your voice is already there. What a beautiful thing!
How great that you're mentioning this. "Alô, Liberdade" is cute; I sometimes sing it to Ella. I sing a lot for my dog, we have a whole communication in music. [During our chat, Bebel would make percussive sounds with her voice and mouth whenever she wanted to get Ella's attention.] She responds to these rhythmic sounds that I make. I will still do a project for her with dog songs! [laughs]
You had a very organic experience with music, since your mum and dad were musicians. Was there a moment in which you decided to follow a career in music?
It happened and it continued to happen. I actually didn't want to do much… only whatever I fancied. I never thought that singing and doing concerts would be such hard work – it's very important to measure things well. Even though I became a singer and it is hard work, this is what I know how to do best. So from then on I started to improve myself [as a musician], so to say.
Was your friendship with Cazuza [one of Brazil's greatest rock stars of the 80s, who passed away in 1990] part of this process?
That's exactly what I was going to say. You stole my idea, so you can pretend I said this naturally! [laughs] What happened was that Cazuza put his foot down saying I should become a composer. He really insisted on it. I always joke with my friends that his greatest revenge was turning me into a composer, since sometimes my dad was hard work in his monopolisation, so to say. Cazuza told me I'd become a famous singer because I had such ease to compose. So this composer side came way more strongly in my early 20s and I learned a lot more because of Cazuza, what he made me learn with music, and the trust he put in me.
Amongst other songs, you wrote "Eu Preciso Dizer Que Te Amo" with Cazuza and Dé Palmeira [which won the 1988 Sharp award for best pop-rock song for its rendition by Marina Lima]. How did the process of composing this song take place?
We were writing songs for my EP, which came out via Warner [Bebel Gilberto, 1986]. The recording was coming to an end when we composed it. I always say that in my albums there's always one song that is born at the end [of the recording process]. Despite having won that award at the time, little did we know how much this song would grow. It was amazing to see what's happened to it. [The song would become a hit by Marina Lima, and go on to be recorded by many singers, including Cássia Eller in 1997 and Zizi Possi in 2001. A delightful demo version of the song, with vocals by Cazuza and Bebel Gilberto, was included in the album Red Hot + Rio (1996), which was produced to raise awareness and funds to fight the HIV/AIDS epidemic in South America. It was the disease which took Cazuza's life at the early age of thirty-two.]
In 2000 you released your first album, Tanto Tempo, ten years after Cazuza's passing. During that time, amongst other things, you sang and appeared in the video of Caetano Veloso's "Fora da Ordem". What happened in those ten years which culminated with Tanto Tempo?
I moved to the USA right after Cazuza's passing. Soon I performed in a tribute concert for Carmen Miranda, which was directed by Arto Lindsay in BAM, Brooklyn Academy of Music, with avant-garde artists such as Laurie Anderson, Gal Costa and even [actress and TV presenter] Regina Casé. There I met a producer that fell in love with me and took me to sing in Ballroom, where I played for one week. Liza Minnelli and Tony Bennett came to see me, and I met [music producer] Béco Dranoff, who opened many doors for me. "Eu Preciso Dizer Que Te Amo" ended up being chosen for Red Hot + Rio, and I went on tour with Crystal Waters to promote the album. At the same time I met [Japanese musician] Towa Tei, whilst I was singing at the top of The World Trade Center, which I used to do every Wednesday. That place opened many paths for me: I met my husband at the time, the people from Crammed [Discs], the guys from Thievery Corporation, and I wrote [the song] "Sem Contenção". I had already recorded "Technova" with Towa Tei [in 1994] and went on to record "Private Eyes" with him [in 1998]. I went on tour in Japan, where I lived for two months, then I returned there for a second time with [Brazilian musician] Vinicius Cantuária. A lot happened in those years that many people don't know [in Brazil] as I was here [in the USA], but I was doing concerts all the time, studying music theory and English. When I finally recoded "Sem Contenção", which was chosen by Crammed Discs to be the single of a compilation they were releasing called Brazil 2000, I got my contract [with them]. I then met [music producer] Suba, and we ended up recording Tanto Tempo.
Let's do one more jump in time. In 2013 you released the stunning audiovisual recording Bebel Gilberto in Rio, which was filmed with Ipanema beach and Pão de Açucar (Sugarloaf Mountain) in the background, after having had released four studio albums. What did that event represent in your career?
I went to Rio specially to record it, as I was still living in the USA. It was a gorgeous project. [Director and set designer] Gringo Cardia was an absolute visionary, who fought a lot for this project with me, in order to get the money and then make it happen. The DVD was released via Biscoito Fino. It was very gratifying to do this work. I think it is untouchable. When someone suggests I do another DVD, I say no because nobody watches them anymore but also because this one is it. This was a gorgeous project. Gringo's direction was wonderful, as well as the participation of [music producers] Kassin and Liminha. Also the fact that I could bring my whole band who had been with me for many years [Masa Shimizu on acoustic guitar and electric bass, Magrus Borges on drums, and John Roggie on keyboards] – people who were also very grateful to be crystalised in that beautiful project.
Your last album Agora was released in 2020 and got a Best Global Music Album nomination at the 63rd Annual Grammy Awards. How does it feel to perform it live two years after its release?
I started recording this album in the end of 2017, during unimaginable losses: a great friend, my mum and my dad in a very short period. Doing this album amidst these events was very hard for me. Nowadays, when I'm sort of paying homage to this album, it feels like a catharsis that I don't want to revisit. It will be a challenge to perform the songs of the album with their original arrangements because it's a voice-and-acoustic-guitar concert. So there will be hits and some new songs, but it won't be the concert that we had originally planned to do, which was cancelled [due to the pandemic]. Now it's a different story, which is the way we found to minimise risks by having less people in the band. This is the type of concert I can't go out for drinks afterwards – it's one drink, if at all! But it's great, I love it. As someone who's done so many crazy things on the stage and felt ecstasy in so many situations, a controlled concert like this can give me very different sensations. I did a concert with this [band] formation in Casa da Música in Porto, and I remember feeling shivers from beginning to end – also for speaking Portuguese with the audience and for being in Portugal. It's a very different type of emotion and there's no question that it represents a musical and age maturity, a coming to terms with yourself, without so many fears of performing on stage practically nude. It will be great!
***
Bebel Gilberto is performing in Portugal, Switzerland, France and the UK. She will perform in London on 27th March at the Southbank Centre's Royal Festival Hall, a prelaunch event for La Linea 22.

Follow Sounds and Colours: Facebook / Twitter / Instagram / Mixcloud / Soundcloud / Bandcamp

Subscribe to the Sounds and Colours Newsletter for regular updates, news and competitions bringing the best of Latin American culture direct to your Inbox.
Share: