Review
Karina Buhr – Longe de Onde
The choice of "Carapalavra" as first track on Longe de Onde instantly marks this out as a different album to Karina Buhr's debut Eu Mentí Pra Voce. The screeching guitars and twisted wordplay of this opening song signal that Buhr is not a conventional Brazilian cantora. Far from it, it's clear after listening to this album that Buhr is one of the most interesting artists working in Brazil right now.
That debut album Eu Mentí Pra Voce fused many different styles but was most notable for Buhr as a singer and lyricist: her voice veered between sweet and fiery on lyrics that showed real craft and an ability to phrase words that marked her out as a truly unique voice. These characteristics all remain on Longe de Onde and combine with a greater confidence from her band, which is largely the same as on that first record. In particular, Fernando Catatau appears to have found a place within the set-up where he can offer the kind of distinctive guitar lines that make Cidadão Instigado so much fun.
Evidence of this new confidence and fluidity in the group can be heard clearly on "Não Me Ame Tanto", a song that matches the wry qualities of Buhr's previous signature tune "Eu Mentí Pra Voce", but with an extra musical muscularity. Here's the opening triplet, sung by Buhr as if a romantic plea:
Não me ame tanto / Don't love me so much
Eu tenho algum problema com amor demais / I have a problem with too much love
Eu jogo tudo no lixo sempre / I throw it all away forever
As well as Fernando Catatau (guitar), the album features Edgard Scandurra (guitar), André Lima (keys), Guizado (trumpet). Bruno Buarque (bass) and Mau (drums), the latter two assisting Buhr in the album's production. They have now been playing together for the last couple of years, and this familiarity has resulted in some terrific compositions here. "The War's Dancing Floor" starts off with shades of Goldfrapp until a clavinet spikes in to give it a dash of Sly & The Family Stone, resulting in a slightly deranged funk track that may well be the highlight of the album.
However, it's in close competition with "Copo de Veneno", a track which incorporates a harder electronic sound, with trumpets, manic drums, programmed beats and brutal guitars augmenting Buhr's meditation on death:
Me dê um copo de veneno, pelo menos / Give me a glass of poison, at least
Pra eu morrer / So that I can die
Por não gostar de viver / For I don't like to live
E nem de ter medo de morrer / And I'm not afraid to die
Whereas those lyrics reflect a detached side to Buhr and the earlier ones for "Não Me Ame Tanto" represented her sardonic side, there is also real heart on this album, as evinced by "Amor Brando", one of the least adorned songs on the album, just Buhr's voice and Scandurra's guitar. It's opening lines:
Eu já sinto um calor de amor / I already feel a warmth of love
Quando você chega aqui / When you arrive here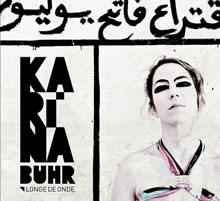 With lyrics that can show warmth, humour, anger, intellect, and so much more, and a band that can amplify these emotions and take them off in new directions at will, there is very little doubt here at Sounds and Colours that Karina Buhr is right now the most interesting artist working within the Brazilian popular music milieu. If you haven't listened to Karina Buhr yet, then sort it out!
Longe de Onde is available as a free download from karinabuhr.com.br
Watch the video for "Carapalavra" here.

Follow Sounds and Colours: Facebook / Twitter / Instagram / Mixcloud / Soundcloud / Bandcamp

Subscribe to the Sounds and Colours Newsletter for regular updates, news and competitions bringing the best of Latin American culture direct to your Inbox.
Share: