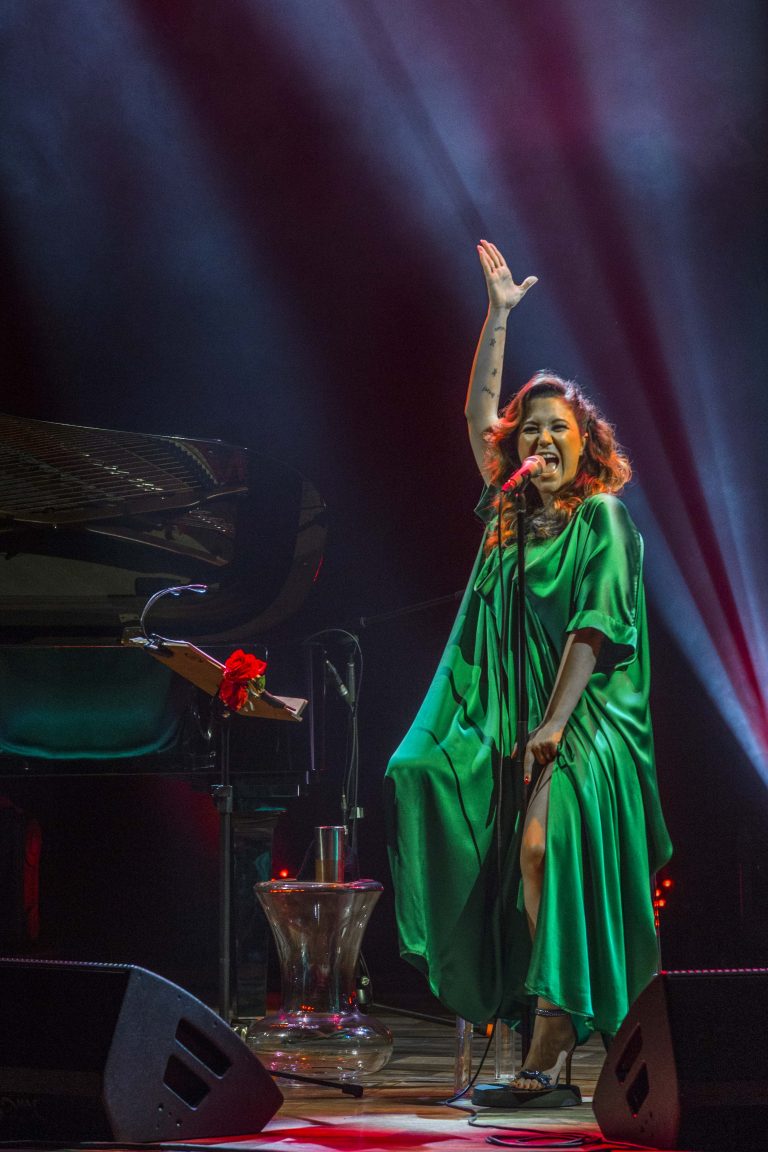 Love and Music: 10 Essential Tracks from Maria Rita's Family Tree
31 August, 2018
With Maria Rita set to play at London's Union Chapel on Tuesday September 4th – her first visit to London in eight years – we decided the time was right to pick out some of the classic tracks from not only Maria's career but also her family's, as they're not bad either. Known for her contemporary take on MPB, Maria's been selling out shows and having hit records since her debut came out in 2003. What's remarkable is how she has both musically and in success terms been able to emulate her parents, Elis Regina and César Camargo Mariano, music royalty in Brazil, but it does seem like it runs in the family. Her brothers Pedro Mariano and João Bôscoli have both had musical successes along the way (and there's a bass playing brother Marcelo and producer sister Luísa too).
In this list, top Brazilian music authority and DJ John Armstrong (whose recent Afrobeat Brasil compilation on BBE Music is a must) picks out some of his favourite tracks by Maria Rita and her illustrious family.
MARIA RITA "O Que É O Amor"
This Arlindo Cruz composition showcases Maria Rita's great talent for intimacy and communication with a live audience.
PEDRO MARIANO "Miragem"
Pedro hasn't recorded too much lately but this was my favourite from his 2011 album 8.
ELIS REGINA "Águas de Março"
Almost impossible to mention the wonderful Elis without also mentioning 'O Tom', Tom Jobim. Here they are together in undoubtedly the most magical ever performance of Jobim's masterpiece.
MARIA RITA "Rumo Ao Infinito"
Another Arlindo Cruz composition. Cruz' work is the perfect fit for Maria Rita's contrasting style: now dramatic and conclusive, now quiet and introspective…
ELIS REGINA "Tiro Ao Álvaro"
It's often said that Elis was at her very best when singing duets, having someone to interact with, bounce off. This was originally recorded by the king of paulista samba, Adoniran Barbosa, in 1960 with his group Demônios da Garoa. Here he regales it with Elis some years later. It has all the humour and self-deprecation that you expect from Adoniran: "After receiving so many arrow-shots from your gaze / My chest looks like a target board.." I also love this photo of Elis!
SAMBALANÇO TRIO (feat. CESAR MARIANO) "Menino Das Laranjas"
Bit of a left-fielder here! Pianist Cesar started off with Sambalanço Trio as a teenager. The 'straight' Sambalanco recordings are good but not essential. Cesar's famous left hand needed a great scat voice to flex against, and he found it here with Lennie Dale. One of the greatest bossa jazz LPs of all time?
CESAR MARIANO & CIA "Futebol de Bar (Heavy Üsker Mix)"
Never one to stay in the past, Mariano developed an inimitable jazz-funk-samba style in the 70s, of which the pictured LP here is the finest memento. A highly sought-after LP, shortly to be reissued by the excellent Mr Bongo label… although I can't resist this Rob Smith remix from a few years ago. THE track for the jazz dancers back in the day!
JOÃO MARCELLO BÔSCOLI w/ WILSON SIMONINHA & CLÁUDIO ZOLI "Flor do Futuro"
Maria Rita's, and Pedro Mariano's, brother João Marcello Bôscoli helped set up the 2000s most forward-looking Brazilian record label Trama. More of a 'motivator' than an actual performer, he nevertheless had a reasonable 1995 hit with this tune, featuring the vocals of Wilson Simonal's son Simoninha, and soul vocalist Cláudio Zoli. In many ways, this track (and the whole CD album from which it's taken) foreshadowed the later Trama 'sound' by several years. He also organised an excellent concert tribute to his mother's memory, featuring several members of the family, at the Teatro Tuca in 1995, which can be found on YouTube.
MARIA RITA & SEU JORGE "Vento de Maio"
Just like her mother, Maria Rita has a genius for duetting and somehow making the song bigger than it was before. Who better than Seu Jorge, one of MPB's great shaker-uppers of recent years? To clear a little confusion; there were two songs called "Vento De Miao", the first being composed by Gilberto Gil and Tropicalista pioneer Torquato Neto, in 1966. But this one is the work of the mineiro singer-songwriter Lô Borges, who originally recorded his own composition in 1979. It's a work of sheer poetry – please look for a translation online if you don't understand Portuguese!
ELIS REGINA & MARIA RITA "Essa Mulher"
Finally a little fun: "Both together? Historically impossible!", we hear you say. Well, yes, except this is a homage to the two voices, carefully edited.
Maria Rita will play at London's Union Chapel on September 4th. She will be accompanied by pianist Rannieri Oliveira as part of an 8 date European tour. Expect many of her classics plus some acoustic renditions of her mother's songs.

Follow Sounds and Colours: Facebook / Twitter / Instagram / Mixcloud / Soundcloud / Bandcamp

Subscribe to the Sounds and Colours Newsletter for regular updates, news and competitions bringing the best of Latin American culture direct to your Inbox.
Share: