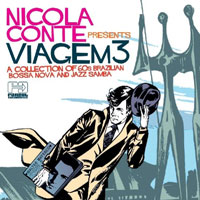 Review
Nicola Conte Presents Viagem 3: A Collection of 60s Brazilian Bossa Nova and Jazz Samba
Italian DJ and producer Nicola Conte is a great enthusiast of Brazilian bossa nova. That becomes clear after listening to Viagem 3 – A Collection of 60's Brazilian Bossa Nova and Jazz Samba, the third CD in his Viagem series. Filled with rarities and undiscovered tunes from Brazilian music, this CD is an invitation to a viagem (or a trip) to the soothing rhythm of bossa nova.
However, it must be said that the eighteen tracks are not exclusively dedicated to bossa nova. Nicola Conte has also incorporated some Afro rhythms and chosen songs which are highly influenced by jazz. It's easy listening at its best!
Even for those who are well acquainted with Brazilian music – including native Brazilians – most of the names of the artists featured in this compilation are not very well-known. Most of them have never recorded a full album, only EP's. That is exactly what gives more value to Nicola Conte's work of researching and finding these rare artists and recordings.
The period of time researched by Conte is between the 60's and 70's, probably the most interesting time for Brazilian music production. It was in this decade that Brazil went through a violent period of military dictatorship and censorship over music.
Although this "momentum" of Brazilian music has been previously researched and revisited, Conte went to find other music expressions that were going on at that time. The songs featured in this album are almost naive, only talking about love, samba dancing and general aspects of Brazilian everyday life. That is to show that some artists had other ways of "protesting" against the censorship and the military government.
This album is an eclectic compilation of different music genres, all related to samba in a certain way. All the songs feature a big range of typical Brazilian instruments, great arrangements, poetic lyrics and a general "being in Brazil feeling". The first track, "Fora de hora" by Dalmo Castello, is a great samba song with a typical "Brazilian relaxing on a beach" style rhythm. It is just a start for a great musical trip provided by this amazing Viagem 3. The ambitious combination of funky afro-sambas like "Canto do Quilombo" and "Samba de Negro" with jazzy bossa nova songs such as Copa 70 make this compilation a must listen for anyone who is interested in Brazilian music, from experts to beginners. Moreover, the sun is out, British spring finally has arrived, and I am sure that this great selection of Brazilian music will make the skies look bluer and the sun seem warmer!
Sample the tracks here:
[soundcloud url="http://api.soundcloud.com/playlists/570279″ params="show_comments=true&auto_play=false&show_playcount=true&show_artwork=true&color=ff7700″ width="100%" height="360″ ]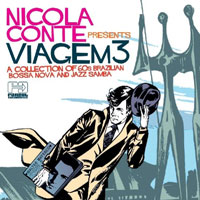 Tracklisting:
01. Dalmo Castello – Fora de Hora
02. O Triangulo – Vocé Que Nao Vem
03. Luiz Carlos Sá – Canto Do Quilombo
04. Aizita – Faz De Conta
05. Octons – Tokyo Blues
06. Vera Brasil – Vai Joao
07. Walter Matesco – Mar Amar
08. Marisa Barroso – Sem Fim
09. Marcio Diniz – Mulata Dengosa
10. Carlos Sodre – Samba De Negro
11. Bossa Trio – Tema em Do
12. Kazinho – O Samba Ta Ficando Bom
13. Henrique Benny & JT Meirelles – Chegar De Brigar
14. Wan Trio – Selvagem
15. Eliana Pittman – Batucada Negro
16. Claudia – Macumba
17. Brasil 40 Graus – Copa 70
18. Werther – Litoral
Nicola Conte Presents Viagem 3 is released on March 28th by Far Out Recordings. You can buy this album from Amazon and iTunes

Follow Sounds and Colours: Facebook / Twitter / Instagram / Mixcloud / Soundcloud / Bandcamp

Subscribe to the Sounds and Colours Newsletter for regular updates, news and competitions bringing the best of Latin American culture direct to your Inbox.
Share: