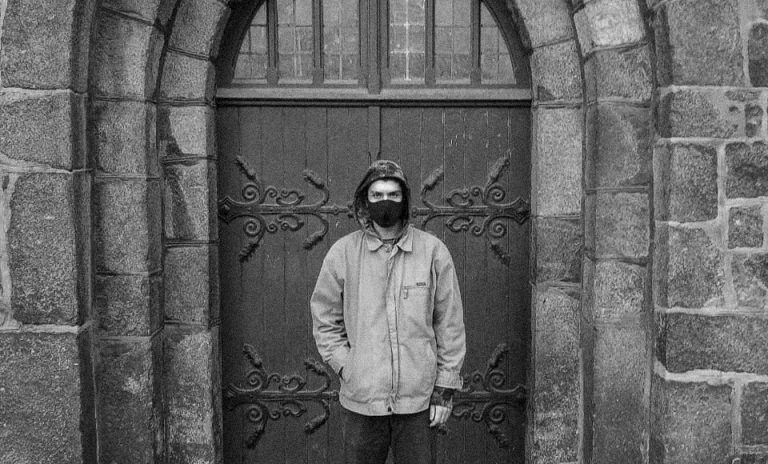 On The Margins – Brazilian Music Round-Up (Gimu, Black Snake 808, Nalesca Mantega, Hanni Palecter, J G B, Akira Umeda and more)
18 February, 2021
Hey, guess what? It's really fucked up here at the moment. I mean it's so disorganised and confusing that there's almost a surreal hilarity to it all. Only the other day my wife was reading out some news to me and just became so exasperated at what she heard herself saying that she gave up and went to find the most inane piece of pap possible on Netflix to massage her stressed out brain muscles. The fact that, due to obvious reasons, there has been no carnival this year means that in the last few days an eerie despondent lull has been hanging over the country making way for the ultimate existential Brazilian question, how on earth will we actually begin the year? I'll leave you with the words of the legend Maria Bethânia who, in her interview for El Pais, said "I don't like to talk about Brazil anymore, it makes me want to cry".
Gimu – The Realm of Higher Things (The Committee for Sonic Research)
Despite the foreboding sounds on offer here, Gimu is a sensitive soul. After hearing the album on Bandcamp, I sent off a message asking for some details, and I got a long personal email filling me in on his musical career. Starting with the indie band Primitive Painters (named after the Felt song, I imagine) in the 80s/90s, he subsequently formed Terrorturbo, a half electronic/half guitar noise band at the beginning of the 2000s. Now working on his own, and based in Rio Grande do Sul, this is his solo noise/drone project. He claims that Soundcloud has been his salvation, allowing him access to a whole new world of people interested in his music. This release is from a fascinating small London label that puts out an array of experimental works and some nicely produced limited boutique CD-Rs.
Following up from 2019's more ambient Finally Free, Gravity this is a more abrasive affair. "Higher Things" sounds like black metal put through a mangle, coming out the other end like a flattened Burzum but with added twisted, distant growls. There's depth and layers in this droning, moaning mess of a sound. I wouldn't say the track "Anti-existence" is exactly anti-music but listened to really loud, it clears out any cobwebs left over from new year with its pummelling layers of noise. More drones abound in "Spanning the Chasm", interspersed with high pitched screeches and cracks at regular intervals; it's industrial to the core. The delightful sounding "Aging Aches" actually offers a slight respite with it's echoing rolling tones but there's still a feeling of dread underlying the whole track. 
It's been quite a journey for Gilmar Monte that has taken him from buzzing guitar cassette indie to this challenging densely-layered noise music, or maybe it's just how he is reacting to the pandemic.
Black Snake 808 – Incal (Submarine Records)
I remember The Incal well from the 1980s, it was a graphic novel drawn by the masterful Moebius and written by film director Alejandro Jodorowsky (El Topo, Santa Sangre), and it was the project they worked on together after Jodorowsky's Dune fell through. It looked beautiful but didn't make a whole lot of sense. I worked for the publisher that put it out at the time; unsurprisingly it was one of our worst sellers, but we loved it all the same. Jodorowsky said the idea came to him when he was dreaming that he was in intergalactic space and he met and submerged with a being made of two superimposed pyramids and they exploded together – classic Jodorowsky!
Black Snake 808 is Ricardo Pereira, part of the Submarine Records crew and has been releasing albums, cassettes and mixtapes for the São Paulo label for a few years now with his basic setup of a Roland Groovebox and some effects pedals. Last year he released "Friends and Plants", a gorgeous slab of cosmic house that was criminally ignored, perhaps it just needed a dancefloor to love it back.
This is Submarine's first release of the year and it will soon be released on cassette tape. It begins cautiously in an uncomplicated manner with a relaxed beat and simple synth line, but it soon gets weird with "Brunão skit/ Classe R", a monotone disembodied voice raps into what becomes an 8-bit breakbeat.
These tracks may come across as sketches at first, short extracts of experimental electronics, or house tracks with leftfield elements being gradually added (or taken away), but after a few listens each piece shows its individual quirks and their charms shine through. "Exotic" is a classic example of this, a rolling breakbeat with ascending and descending chords and then some intriguing bleeps enter the picture. "Partes de Você" is with Chankas who plays guitar with post-rockers Hurtmold. The guitarist follows the synth line until he starts veering off with some effective wailing. This is lo-fi DIY-made with limited resources and is all the better for it, a solid start for Submarine this year and anything that references Jodorowsky should be supported.
Nalesca Mantega – Hospedeiro (Desmonta)
Guarulhos label Desmonta begin the new year with another fascinating release of five instrumental pieces of experimental post-rock and abstract electronics. Nalesca Mantega are Marco Nalesso and Luciano Valério who specialise in soundscapes that take you to the low grasses of the Andean Alps. "Entre Passos" recalls a stampeding herd of huge beasts with its slabs of distortion and heavy break. "Prato Médio" is a brief respite with its Merry Christmas Mr Lawrence-like chimes blowing a cool breeze on your face, and "Solto e Contínuo" is the sound of shifting arctic glaciers and an icy tundra wind summoned by electronics and effects. The whole thing is set to a hypnotic computer animation by video artist, Ninguém.
Various Artists – Kengaral Eletrohits Vols I and II (Mamba Rec)
These are the first volumes of this series of raw electronics from the record label arm of the scuzzily creative Mamba Negra parties. These collections are aimed to highlight the talent of the Brazilian underground; "ready to topple the right wing state" as they succinctly put it. Volume one has dependable names such as Rakta, Objeto Amarelo, Podeserdesligado and Tantão e os fita. However, Badsista's take on dancefloor ecstasy with "Hoje Tem Trance" takes baile de favela and turns it into an absolute trance monster and thus shows the enormous talent that she has at her disposal to play around with any genre (see also last year's ferocious "Acid Aperto"). Volume Two has names that are less familiar to me, but the acid rains down with Entropia-Entralpia's "Fica Ligeiro", I.C.G serves up some solid tech-step and label founder Cashu & Mari Herzer offer a lengthy lushly-building slice of electro goodness. The collections are dedicated to the entire network of independent culture professionals: women and LGBTQIA+ who never give up fighting, keeping alive the spaces of freedom, recognition, protagonism and celebration of the true engines of Brazil. Is there anything more Brazilian than this glorious mess they ask.
Hanni Palecter – Volume 1 (Hominis Canidae Recs)
The dystopian isolationist hits keep coming, this time from Hanni Palecter, a musician from Recife, who prefers to remain anonymous and mixes experimental rap and lo-fi electronic music with noise and pop. This rowdy stew of a sound was born in the midst of the neurosis of the worldwide pandemic and highlights the lack of rap in his (or her) native language and maybe shouldn't be taken too seriously.
"Frai" sets the scene with the dense layering of synths, guitars and a guttural vocal filled with total indignation. "Alala" is perhaps the most playful track, and features low tempo percussion in addition to trap hi-hats and guitar noises. There's references to new metal and reggae in "Renguinau". "Olaboa" seems to be an evocation of the villains of Japanese anime, it's trap-like cymbal splashes punctuated with distorted brassy stabs. The death metal guttural vocal returns in "Uirouoi", a track that gurgles and splutters with it's crushed up samples. "Peipei" features (distant) elements of funk and R&B, and "Uotxurai", the last song on the album, evokes what it's like to live with almost no government, i.e. utter indignation and chaos.
J G B – Ossos de Ofício (Domina)
More excellent sounding strident techno from the Domina label with this follow up from last year's Ananda album Retratos de Comutação. J G B is João Braga currently living in Rio de Janeiro; he focuses on using sound as a way of creating a sense of space through intense and dark soundscapes. This is tense and highly frayed techno that seems to portray life in the currently politically abandoned city of Rio de Janeiro.
The booming electrodynamics and tense noise bursts that dominate the album are present and correct in opener "BAC". "Ainda" is crisp sounding sequencing, heavily reverbed snares and an overtly pounding bass drum. "O Futuro do Passado" stutters into existence, with it's distorted percussion and wailing sirens. A calm two-note Detroit synth tone underlays the complex percussion patterns of "Burka", while "Zov" has an Eastern chant underpinning its rolling sequenced synths over an electro break. "Ofício" starts with an incessant buzzing accompanied by a breakbeat and then develops into heavily processed slabs of synth chords. More leftfield warehouse techno like this please.
Akira Umeda – passagem / sjc / dlidlo / em rolo laranja (quem?)
This is a selection from the eighteen plus albums that have been uploaded this month by this understated musician from São José dos Campos. Much of the material was recorded on cassette during the 80s and 90s and has only now been made available on Bandcamp; the use of lowercase for all the titles perhaps emphasising the understatement present. This is fascinating stuff, with each of the releases I have listened to having a very distinct personality and sound and indicates the level of creativity and talent on display here. passagem are tracks that were used for a piece of performance art and are based on the sound of a heart beat. It is extremely minimalistic, basically consisting of a single electronic pulse that is reminiscent of something from the Raster-Noton label. sjc is acoustic guitar with voice and field recordings. Many of the tracks open with the sound of deadened strings strummed and then develop into delightful folk-indie with touches of electronics. Case in point is "sjc 01" a charming melodic lament with an added texture of intriguing harmonium that only highlights its romanticism. dlidlo is minimal electronics, long repetitive tracks but again showing masterful control of simple melody. And then Akira throws a curveball with em rolo laranja (quem) which is lo-fi distorted cassette electronic experiments from 1988. There's a lot there to investigate, you're sure to find something that sticks.
Take your pick at akiraumeda1.bandcamp.com

Follow Sounds and Colours: Facebook / Twitter / Instagram / Mixcloud / Soundcloud / Bandcamp

Subscribe to the Sounds and Colours Newsletter for regular updates, news and competitions bringing the best of Latin American culture direct to your Inbox.
Share: