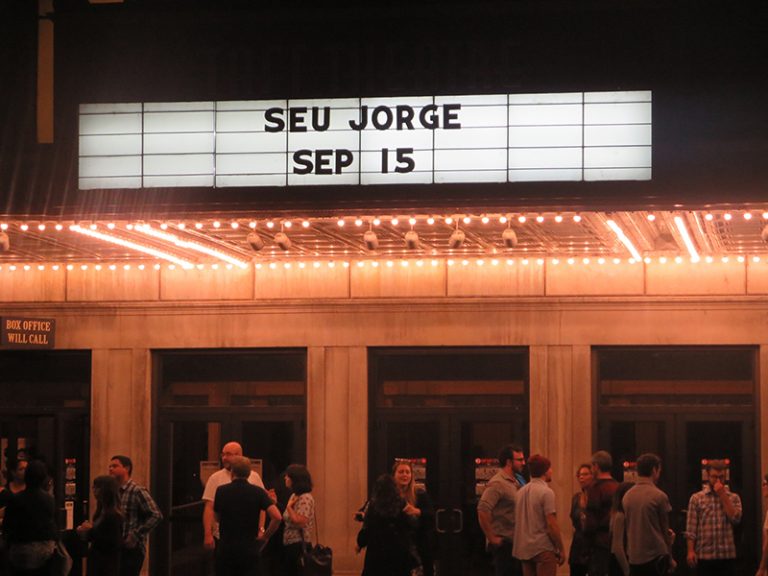 Pelé Played Guitar: An Evening with Seu Jorge in Cincinatti
26 October, 2017
On Friday September 15th, musician, actor and composer Seu Jorge performed at the Taft Theatre in Cincinnati, playing versions of David Bowie songs that originally featured in Wes Anderson's film The Life Aquatic with Steve Zissou. The night began with a stage hand coming to the microphone to explain the evening's performance, part homage to David Bowie, part finally getting to tour the record The Life Aquatic Studio Sessions featuring Seu Jorge, an album released one year after the film. As the stage hand left, the curtain opened and Jorge appeared, entering from the unlit backstage and stepping onto a platform lit with a string of white lights on the floor and that featured a chair, a microphone and a small table on which he set his tea. Flanking this platform and towards the front of the stage were some stage props, including wooden panels, a steering wheel and some rope to give the sense of a ship.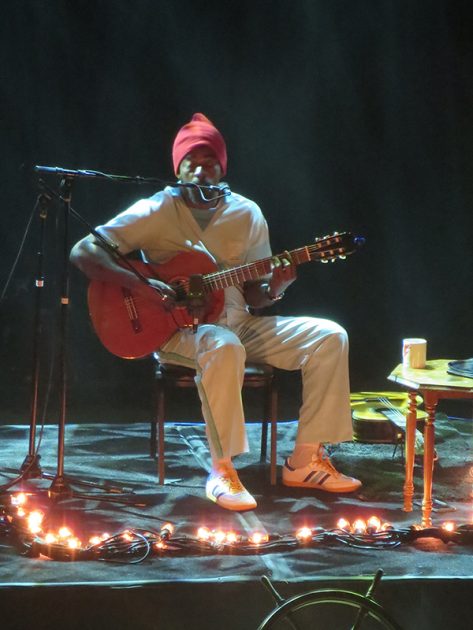 The singer greeted everyone, and began with a brief but beautiful improvisation on his guitar that led to his version of "Ziggy Stardust." Afterwards, he explained how he had been sitting in his house playing Playstation on his day off when the phone rang. He ignored it, saying that after ten phone calls his ex-wife picked up. "You should talk to this American director," she said. "He wants you to play Pelé." Seu Jorge, a native of Rio de Janeiro, explained that while he was great at playing FIFA on his Playstation, he did not play football. But he spoke with Wes Anderson, who wanted him to play the character called Pelé dos Santos. Anderson sang the clips of David Bowie's classic hits over the phone. Jorge had admitted to not knowing them, telling the Taft Theater crowd, "Ya know, I'm a black guy from the favela, we don't listen to rock music."
Alas, two weeks later, Jorge flew to Italy to meet Anderson and the crew. Having readied three songs by then, Anderson asked Jorge to begin with "Rebel, Rebel," a song he had not yet prepared. Anderson needed to attend to something, giving Jorge a 15-minute window to run to his trailer, listen to the song, panic at the iconic guitar riff that opens the tune, and then upon asking for divine intervention realize that bossa nova held the secret to this transculturation. Indeed, the groovy, bouncy bass line style of bossa sets a pace that allows Seu Jorge to sing the guitar part from Bowie's song in between the verses. It's one of many charming elements to Jorge's approach to the songs, which beyond being versions of Bowie's classics, are in some ways Jorge's own songs, his lyrics in Portuguese often telling different stories and creating different images than Bowie's words. Another nice explanation of the process came when Jorge played a minute of the classic "O Samba da Minha Terra" to illustrate the sound of samba and how he wanted some type of Brazilian influence for the song "Changes," which he then launched into.
The show at the Taft was packed with fans of varying ages and backgrounds, including Brazilians, lovers of great music, and a noticeable number that had dressed in similar clothing to Jorge's character Pelé dos Santos, wearing sky blue dresses or jumpsuits with a red knit cap. The energy was highly enthusiastic as Jorge performed around 10 of the 14 songs from the album, including "Rebel, Rebel" twice. It was unusual to not hear the entire album given the theme of homage of the night, but Jorge played well to the crowd, which was endeared by the great stories about the filming of the movie, Seu Jorge losing his father just three days after David Bowie's death, the singer's imitations of Anderson, and shouts of "Cincinnat- City" during "Suffragette City."
While the evening was essentially one 70-80 minute set, at about an hour into the evening Seu Jorge thanked the adoring crowd and took a two minute break off stage, returning to chants of "Jorge! Jorge! Jorge!" and an immense uproar as he walked back on. This second portion featured clips from the film, edited in varying ways to offer some new presentation, for example with mirror image features or in some moments David Bowie's or Bill Murray's (as the main character Steve Sizzou) face or silhouette scrolling over a scene from the movie. A great moment occurred when the volume came up on the clip and we got to hear Jorge on film while Jorge himself played for us. The credits were rolling as he performed "Team Zissou," the final song on the album, in the film, and that Seu Jorge played that night.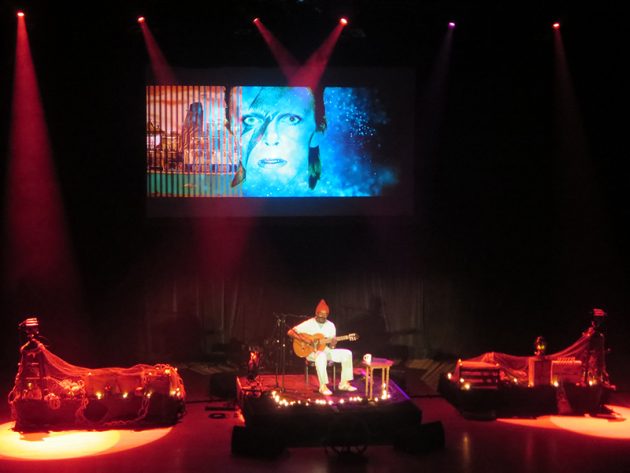 Other standout songs for the evening included "Changes," "O Astronauta de Mármore (Starman)," "Lady Stardust," and "Life on Mars?" He told the crowd how he was struck by how intensely Cate Blanchett worked while four-months pregnant. She inspired him, as such, to write "Lady Stardust." And while the evening was dedicated to Bowie, after explaining how his father died that same week as Bowie, he dedicated the song "Life on Mars?" to both of them, saying "I believe they are both living together on Mars."
Before the evening ended, Seu Jorge expressed much gratitude for the sound and lighting engineers and all others involved. After he finished his final song, Jorge thanked the audience, and Bowie's "Let's Dance," burst in over the sound system. His favourite Bowie song, and the one he knew before Anderson contacted him, Jorge danced around stage with some of the tour crew, and even signed a poster for a front row audience member. Most of us were dancing along with him, even as we made our way out of the theatre.
For a taste of what the show was like here's Seu Jorge performing "Life On Mars?" live on KEXP:

Follow Sounds and Colours: Facebook / Twitter / Instagram / Mixcloud / Soundcloud / Bandcamp

Subscribe to the Sounds and Colours Newsletter for regular updates, news and competitions bringing the best of Latin American culture direct to your Inbox.
Share: