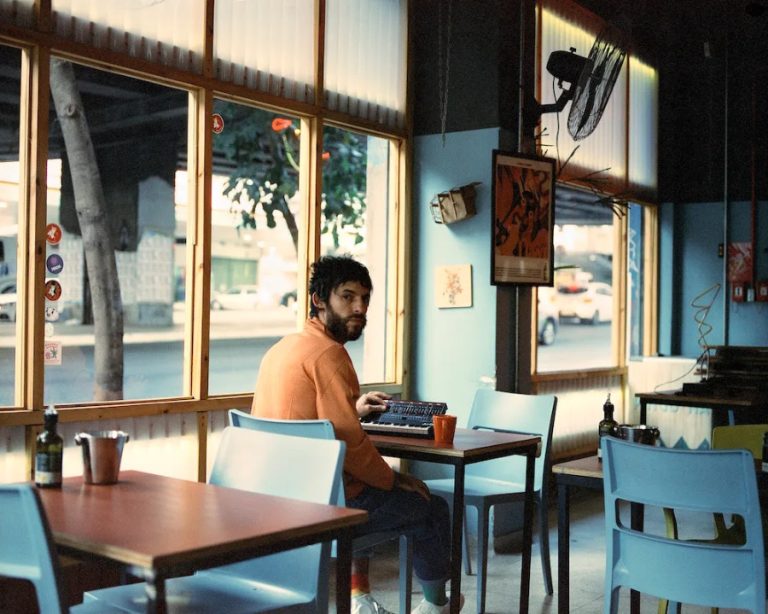 Preziden Markon's New Singles Round-Up (Sylvio Fraga, Flaco el Jandro, Tagua Tagua, Chancha Via Circuito, Soyuz, DJ Raff, Pahua and more)
27 October, 2022
There's been a lot going on at home and abroad during the last couple of months; in the words of soul singer, Jean Carne, "I've got some catching up to do." So we'll start with the remnants of summer and then proceed to the here and now in an orderly fashion.
---
Sylvio Fraga "Um Baobá e Eu"
I'm not entirely sure when this one came out – sometime in August, I believe – but Sylvio Fraga is a fascinating character and his album, Robalo Nenhum, out recently on vinyl, is too good to be overlooked. The Brazilian singer-songwriter is a cultural polymath: he has a master's degree in poetry and is the author of various acclaimed books, he has run a museum, and as the creator and artistic director of the Rocinante label he has already produced albums by Jards Macalé and João Donato among others. That's one hell of an artistic C.V.! The album appears to be his fourth and the single is a paean to the baobab tree. "When I die I want to live/In the trunk of a baobab," he sings. The lovely lazy and hypnotic feel is due in no small way to the riveting sound of the atabaque drums played by Luizinho do Jêje and Reinaldo Boaventura.
---
Flaco el Jandro "Me Matas"
When is an EP not an album? Perhaps when it's around 20 minutes or less in total running time. But with albums getting shorter in recent times to take advantage of vinyl's resurgence, it's difficult to know. Nevertheless, I'll treat these six tracks as an EP and admit the Chicano artist Flaco el Jandro to the current round-up. It's very good, so that's my excuse. It is apparently el Jandro's take on the regional Mexican sub-genre of sierreño. Built thematically around the life cycle of a romantic relationship and with plenty of suitable stylistic variation – "Me Mates", for example, conjures images of reggae played on traditional instruments around a Mexican camp fire in a scene from a film by Sam Peckinpah – this one demands repeated listening.
---
¿Qiensave? "El After"
This one's even longer, so my 20-minute threshold goes straight out of the window. It was much more categorical back in my day, when an EP was two tracks on both sides of a 7″ record. Musicians these days! Still, the band from Salinas, California insists that it's an EP, so… This 'extended play' is a compilation of songs that were started pre-pandemic. Rhythm guitarist and singer, Carlos Cortez, explains that the title track, an infectious slice of expatriate cumbia, was intended as "a homage to the late-night party or desmadre of the wee hours", but became something rather deeper after all that happened during and after the pandemic. It became symptomatic of "a brand new outlook on life… 'El After' is that moment after the moment, that moment after love and you no longer find yourself feeling the same." I still feel this is rather good.
---
DJ Raff "Crudo"
We'll put the EP semantics to bed right after this one… Out this month on Earthly Measures is this three-track EP [That's more like it. Ed.] courtesy of London-based Chilean, DJ Raff. It's described as "peak dance-floor vibes". Featuring the kind of Pygmy people chants that sound elusive but somehow familiar, it's chock full of the kind of Afro-Latin rhythms guaranteed to animate the most reluctant feet. The final track, "Nostalgia Por Un Sample", is a spectral blend of marimbas and samples from times gone by. The heavily distorted Sisters Sledge even put in an appearance. It's like Rio Mara go disco in a camouflaged Amazonian dance hall. We're lost in music and it's verging on wonderful.
---
Tagua Tagua "Tanto"
In terms of Flaco el Jandro's cycle of a romantic relationship, this Brazilian singer-songwriter from São Paulo seems rooted firmly in its early fervour. "Tanto" is a song about being truly, madly, deeply in love. Sung in the kind of sweet quasi falsetto one associates normally with American soul singers like Curtis Mayfield, the gorgeous melody is complemented by a delicate backing track of guitar, bass, keyboards and subtle drums. Felipe Puperi, to use his real name, has signed with New York's Wonderwheel Recordings and will be bringing out an album in the spring of next year. Love is the message.
---
Chancha Via Circuito feat. Fémina "Cometa"
Here's another fine Wonderwheel release. Pedro Canale, aka Chancha Via Circuito, featured in this column back in July in his role as producer and remixer (of the Argentinean multi-instrumentalist and composer, Kaleema). Here, he hooks up with acclaimed countrywomen and vocal trio, Fémina, whose beautiful harmonies float over the top of Canale's trademark electronic beats. It's quietly enthralling and a foretaste of next month's La Estrella, which builds on the celestial theme of this single.
---
Hermanos Gutierrez "Hermosa Drive"
The Brothers Guttiérez are back in the mix with a new single just prior to the release of their album, El Bueno y El Malo. There's no question of "El Feo" in their case, though, because these two good-looking Swiss-based hombres don't do ugly and can't seem to do anything wrong, musically speaking. The current single is further confirmation of their increasing prowess: it's tasteful, moody, atmospheric and redolent of Tex-Mex desert landscapes. Someone writing for Consequence suggests that "now is the time to get in on the ground floor, before Hermanos Gutierrez are inevitably featured in the next Quentin Tarantino film." You have been hipped, ladies and gentlemen.
---
Soyuz "How Are You (Come é Que Vai Você)"
The third single from the forthcoming album on Mr. Bongo, Force of The Wind, follows hard on the equally gorgeous second single, "Glance". This one features Sessa, the current Man of the Moment, on vocals and it would grace his own recent album, the delicious Estrela Acesa. When you listen to Soyuz's music, the remarkable thing to keep in mind is that they are not Brazilian, but Belarusian. Yes, you read that correctly. They're from Minsk and led by composer, arranger and singer, Alex Chumak (who arranged a few of the numbers on Sessa's album). Clearly, they're thoroughly immersed in classic Brazilian popular music of the 60s and 70s and, as the publicity suggests, the result is "Brazilian yet not Brazilian, vintage yet still contemporary." What's quite sure is that this is totally convincing music.
---
Pahua feat. Gizmo Varillas "La Cura (Warbrum Remix)"
Born in Spain and raised in Wales, Guillermo "Gizmo" Varillas is a songwriter, musician and producer who currently lives in my old stamping ground of Brighton. Pahua equals Paulina Sotomayor, a Mexican singer-songwriter and DJ who mixes electronic music with Latin rhythms. As for Warbrum, I can tell you nothing of note, but he or she has transformed the title track of Pahua's EP, released back in July, into a virtually instrumental dance track. It's mellow and pretty darn good.
---
Bosq & Dorkas "No Va Más"
We'll stay – and finish – on the dancefloor with this tasty morsel from the American-born DJ, producer and multi-instrumentalist who decamped from Boston to Medellín to be part of the Colombian music scene he obviously loves. The sinuous vocals come courtesy of one of his regular local collaborators, Dorkas. Those of you with good medium-term memories may remember that back in 2020 I waxed lyrically about Bosq's dance-tastic fifth album Bosq y Su Descarga Internacional. The current single keeps up the pace.
---
Whereupon I must leave you for another month or more. The clocks are going back and Christmas will be upon us before you can say "next singles round-up".

Follow Sounds and Colours: Facebook / Twitter / Instagram / Mixcloud / Soundcloud / Bandcamp

Subscribe to the Sounds and Colours Newsletter for regular updates, news and competitions bringing the best of Latin American culture direct to your Inbox.
Share: