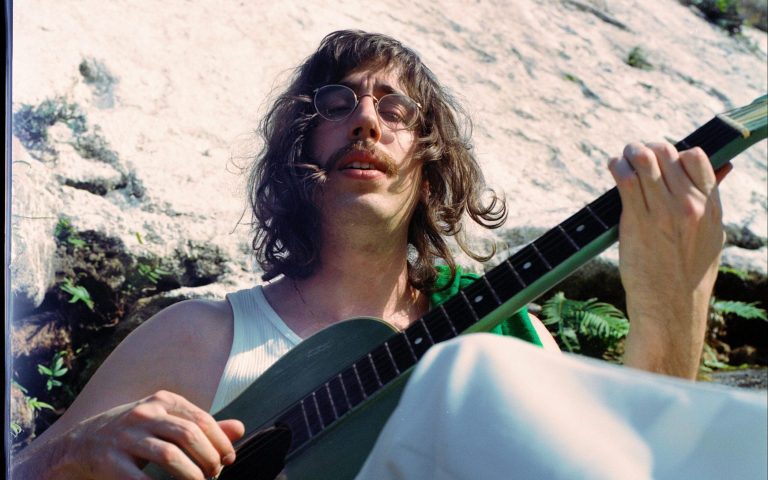 Prezident Markon's Singles Round-Up (Kaleema, Tim Bernardes, Son Rompe Pera, Glue Trip, Barbatuques, Meridian Brothers And More)
06 July, 2022
"July, July, July, July/July, oh me oh me oh my…" Billy Paul, wasn't it? On that profound note, here are some new singles and EPs in the hope that they'll ramp up the fun all summer long.
---
Kaleema "Velo (Chancha Vía Circuito Remix)"
I chose Chancho Vio Circuito's remix over the original title track of the Argentinean multi-instrumentalist and composer's new EP, since the former's trademark electronics meld so elegantly with the latter's ethereal voice. Kaleema, or Heidi Lewandowski, featured in this slot back in December 2020 with her beautiful "Portales", while her fellow Buenos Airean, Pedro Canale, has made a name for himself as Chancha Via Circuito, a producer with a penchant for fusing cumbia and electronic music. The five-track Velo EP is out on Earthly Measures.
---
---
Tim Bernardes "Mistificar"
A second single now from a second solo album (due in September) from this Latin Grammy-nominated singer, songwriter and producer from São Paulo. The album, Mil Coisas Invisíveis, was apparently written primarily while touring with his indie group, O Terno. He'll be touring this summer in the USA with Fleet Foxes, one of his several notable collaborations. It's lovely dreamy music, which is no surprise when one learns that the lyrics are, according to the singer, "between the mystical and the everyday life, loose dreamy images mixed with more direct verses about meaning, creation, love, believing, revelations." Arguably, however, the video doesn't reveal him as an equally talented painter.
---
Afterclapp & Barbatuques "Baião Temperado"
Let's hear it with feeling for collaborations and São Paulo. This is just great! Afterclapp is the moniker of Paulistano producer, Rodrigo Vellutini, and the 13-piece outfit Barbatuques have been plying their remarkable trade in body-music since 1995. They've played with the likes of Bobby McFerrin and Naná Vasconcelos, performed at the closing ceremony of the Rio Olympics, contributed to the soundtrack of the Rio 2 movie and released five CDs. They've got previous, in other words, and it shows on this rousing celebration of beats and voices.
---
Glue Trip "Marcos Valle"
If there's one thing I like almost as much as Marcos Valle's music, it's a tribute to the venerable songster – even if, I suspect, it's a little tongue-in-cheek. Based on the band's eponymous debut album, I feel that the master would approve of the apprentices' funky brand of melodic psych-pop. The quartet will be in Europe this September to promote their new album, Nada Tropical.
---
Luizga & iZem "Yemamaya"
Still with tributes to Brazilian grooves from back in the day, here's a single from an EP that gives what iZem describes as "a modern electronic twist" to a retro sound. Luiz Gabriel Lopes, Luizga to his collaborators, is the singer-songwriter here, while iZem is a French "post-dub soul producer". They met up in Lisbon and together they've come up with something very easy on the ear. "Oy loike eet", as one might say in Birmingham.
---
Alcione "Este Mundo Tem…"
This may be a last-minute arrival in this isolated neck of the woods, but it's a very welcome one. Mr. Bongo has done its duty to the dancefloor by resuscitating a Brazilian disco gem from 1975, complete with the kind of production that recalls the heyday of Odyssey. Not quite a native Carioca or Paulistano – she moved to first Rio and then São Paulo as a young woman from her native São Luís – Alcione Dias Nazareth won more awards in her career than you could shake a mic at, including a gold record for the album that this single is taken from, A Voz do Samba. It will form part of Mr. Bongo's forthcoming compilation, With Love: Volume 1.
---
Julián y Su Combo "Enyere Kumbara"
Vampisoul has released this devilishly infectious concoction with the equally groovy "INS-Rock" as a 7″ single. I know someone down the road who collects this kind of obscure music on the smallest of vinyl formats; he'll flip, flop and fly for this slice of what Julián Angulo himself described as "afroantillano" music, combining elements of his native Colombian music with those of Puerto Rican and Nuyorican boogaloo. The fact that it's arranged by pianist Alfredo Linares is a recommendation in itself; that Quantic also chose to update it serves as icing on the critical cake.
---
Son Rompe Pera & Gil Gutierrez "Saleroso"/"Proteus"
The marimba is a gorgeous instrument and one that most mere mortals generally associate with Colombia. It also happens to be the traditional state instrument of Chiapas in Mexico, and the Gama Brothers it seems are dedicated to keeping the tradition alive by means of their Son Rompe Pera project. There's little I can tell you about it, I fear, but these two splendid numbers meld the traditional with a more urban garage feel in a way that works an absolute treat. Plenty more of them on YouTube, too.
---
Meridian Brothers "Triste Son"
Meridian Brothers, founded by composer and multi-instrumentalist, Eblis Álvarez, have also graced this review slot in the past with their splendidly diverse music. Listening to this cha-cha-cha about "the different dimensions of sadness" reminds me of how Tom Zé can de-construct samba or how Thelonious Monk deceived his critics into believing that his music was ingenuous: there's a similar kind of wonky angularity about this – and it's splendid! It leaves me impatient to hear the forthcoming album, El Grupo Renacimiento, which is the first release since 1990 on the reanimated legendary Latin label, Ansonia Records. A doubly interesting prospect.
---
Sultana "Tierra Madre"
This Franco-Moroccan singer who travelled extensively as a child describes herself as an artist "sans frontières". She studied French chanson and Latin jazz, and sings in French, Spanish, English and Arabic – all of which makes it rather hard to pin down this single taken from her third album, Uni Vers Elle, due this autumn. But there are enough Latin sounds and colours to make this homage to the protective powers of mother earth a most pleasant way to end the proceedings. Frankly, though, I'd be inclined to find another artistic director for the next video.
---
And there we have it for another month. "July, July, July, July…" Oh, put a sock in it!

Follow Sounds and Colours: Facebook / Twitter / Instagram / Mixcloud / Soundcloud / Bandcamp

Subscribe to the Sounds and Colours Newsletter for regular updates, news and competitions bringing the best of Latin American culture direct to your Inbox.
Share: