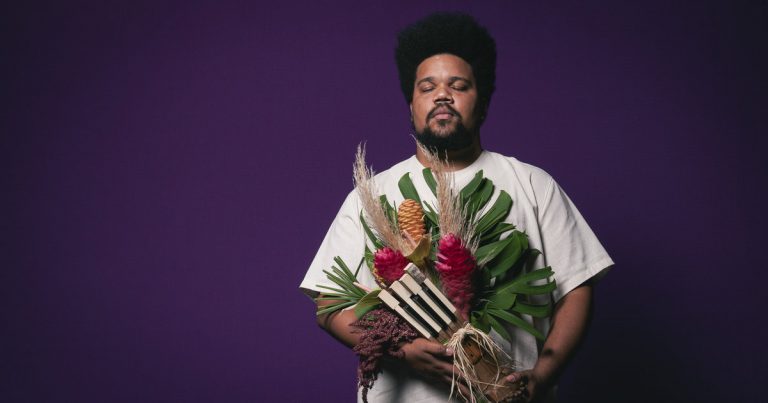 Prezident Markon's Singles Round-Up (Amaro Freitas, La Mambanegra, Alex Figueira, Mental Abstrato, Big Youth, Manzanita, Traffic Sound, Rodrigo Amarante and more)
26 May, 2021
Brazil calls particularly loud and clear this month, but there are also some delicacies to declare from Peru, Jamaica, the U.S. and the UK. Maybe the new releases from Colombia, Argentina and elsewhere will appear next time around one after the other like delayed London buses.
Black Roots "Nothing In The Larder"
Since we have so little reggae in this column, let's start in the St. Paul's district of Bristol. Things may come and things may go, but Black Roots seem to keep going forever. Since their "foundation" (as I would say) in 1979, the band has managed to stay together through times thick and thin. After a long hiatus following some early critical acclaim at the tail-end of the last century, in the last few years Black Roots have had something of a renaissance. How reassuring it is to welcome them back out of lockdown with this single from their forthcoming new album. A fine one it is, too: further evidence that they could well be the UK's premier roots-rock-reggae survivors. Complete with catchy tune, winning vocal and the kind of horn refrains redolent of the Mighty Diamonds, Culture and Misty in Roots, they manage to turn a song about poverty and hardship into something that makes you simply want to skank 'n' smile.
Grupo X "Soulful Man"
Not quite as venerable as Black Roots, Grupo X have nevertheless been around since 1997. It's already 20 years since their first album, X-Posure. Ready to go in 2020 when COVID-19 hit us for six, the imminent Saturday Night is their sixth album and this is the third single lifted from it. It's full of the kind of Latin soul synonymous with Nuyoricans like Joe Bataan and, more recently, Spanglish Fly. Lead singer, Lisa Millett, has got a great voice and the band sounds as tight as the Dap Kings once did behind the dearly departed Sharon Jones. Having supported all kinds of visiting alumni from across the Atlantic, it's not surprising that Grupo X have been garnering acclaim from the likes of Craig Charles. Sitting in on drums is Jim Le Messurier from Penya, whose recent eponymous album underlines that today's Latin London sure sounds like a colourful scene.
Traffic Sound "Sueño"
Just across the Hudson river from New York lies New Jersey. Among others, the state gave us Bruce Springsteen, Southside Johnny and The Rascals. As a long-standing fan of the last named, I was intrigued by a Peruvian garage rock cover of a song released in 1966 when Felix Cavaliere's outfit were still known as The Young Rascals. It works a treat. Madrid's Munster label (from the Vampisoul stable) has put it out as part of a triple 7″ single pack that features a couple of Jimi Hendrix's lesser known numbers, Cream's Skip James-penned "I'm So Glad" and Eric Burdon's "Sky Pilot". The band got its name from a traffic light in their rehearsal house, a souvenir of a wild night in Lima. Bass player Willy Thorne did not become a snooker player and BBC commentator.
Manzanita y Su Conjunto "Shambar"
Still in Peru and still in an era when the sounds of Hendrix and Cream dominated the airwaves until the military regime put a stop to such foreign decadence, Analog Africa's latest venture is a compilation of 14 chunks of cumbia and guaracha from this celebrated guitarist's golden era, 1971-1974. Manzanita (Berardo Hernández) arrived in Lima from the coastal city of Trujillo and his electrifying electric guitar challenged the rein of Enrique Delgado as Peru's premier axeman. The single illustrates Manzanita's deft and tasteful wizardry on the instrument. It's a bright and very electric sound that recalls Dick Dale, Albert Collins and Detroit's marvellous but little known Eddie Senay. All in all, it promises much for the forthcoming compilation. If it's half as good as the estimable label's recent collection of '70s Peruvian cumbia or even a third as good as last year's La Locura de Machuca, I for one will be happy.
Itiberê Zwarg Orquestra Familia do Japão "Koji Abe San"
And so to Brazil… via Japan. If you remember my review of Far Out Recording's Itiberê Orquestra Familia's Pedra do Espia at the end of 2018, you'll appreciate why I'm keenly anticipating the live album resulting from bass player Itiberê Zwarg's musical voyage of discovery to Japan. Audiences there are traditionally very receptive to jazz and, judging by the reception at the end of this number, that includes the very idiosyncratic jazz of this acolyte of the great Hermeto Pascoal. At nine and a half minutes, it's a hefty old single. We've moved on a bit since Dylan's five-minute "Like a Rolling Stone" created such a rumpus.
Márcio Negri "Dossiê Dellamonica"
But wait! Here's one clocking in at over ten minutes. In this age of abbreviated attention spans, have the label bosses gone mad? But provided your blood type's not Jazz Negative, you should find that this elegant slice of old-school post-Bop is not a minute too long. There's not much in the way of intelligible fax 'n' info about saxophonist Márcio Negri other than a few guest slots on various projects (including a gig with the Bruno E. Sexteto, selected by Gilles Peterson as the final track on his Back In Brazil compilation), so maybe I'll take that Portuguese correspondence course I've often thought about. I do know that this is the opening track of the coming Sons Of Sounds, an album arranged by the ubiquitous trombonist, Boscato. Parabens! to all concerned.
Ricardo Bacelar and Cainã Cavalcante "Vila Dos Pássaros"
From the north-east of Brazil comes this gorgeous baião built around the dazzling interplay of two long-time friends and composers, pianist Ricardo Bacelar and acoustic guitarist Cainã Cavalcante. This is one of seven instrumental pieces on their first album together, Paracosmo. "Vila dos Pássaros," the guitarist tells us, "is a place where hope lives… and, above all, life [is] celebrated." Maravilhoso! (Just to show that you can learn something in the YouTube comments.)
Amaro Freitas "Baquaqua"
Another denizen of the north-east is jazz pianist Amaro Freitas, whose previous album Rasif created quite a stir when it came out under the Far Out banner in 2018. The man from the slums of Recife, with an intricate technique and a strong sense of cultural history, wants "to celebrate where we come from" in his latest offering, Sankofa. The trio album took two years to complete, but there's nothing forced or obsessive about this single, which emphasises the pianist's customarily mesmeric patterns and rhythmic drive. Amaro Freitas is up there with Robert Glasper as one of the stand-out jazz pianists of the time.
Mental Abstrato "Me Enganei Remix"
The boys from São Paulo are back with a respectful re-mix that beefs up the legendary Tim Maia's original disco-tastic special. Stylistically, Maia and Mental Abstrato are light years apart, but the former left a considerable legacy as one of the key movers in MPB in general and samba rock in particular, fusing American soul, funk and disco with indigenous samba, bossa and even baião. He partied heartily in the process and died much too young, but outfits like Mental Abstrato keep the embers glowing.
Rodrigo Amarante "Maré"
No doubt Mr. Maia left his mark on Rodrigo Amarante, too. It's been seven long years since the singer-songwriter's first solo album, Cavalo. The wait is almost over and, judging by this delicious song (and its witty accompanying video), we are not likely to be disappointed. Amarante has a warm, affecting voice and a way with the kind of melodic hook that you can't get out of your head. I shall be humming this one from breakfast to bedtime. Delicious nutritious music to feed the soul.
Diogo Ramos "Gamela"
"Let's groove!" as Earth Wind & Fire once urged dancers everywhere. Here's a nice slice of what one might describe as Tropicalismo Nova to lure fidgety feet onto the floor. Born in São Paulo, Diogo Ramos is a young singer-songwriter currently based in Montreal, where the number was produced. The lyrics, I'm helpfully informed, sing the praises of baio de dois, a typical dish of the singer's parents' native Bahia. Spiced by some potent horns, the dish serves here as a metaphor to suggest that people of many different ideological persuasions can live together as friends. If only…
Alex Figueira "Maracas"
I'm guessing that this young musician is another expatriate Brazilian [Figueira was in fact born in Venezuela to Portuguese parents – ed], this time based in Amsterdam where this frenetic but intriguing number was recorded and produced. It was written as part of a score for a short film (in which he acts) entitled Maracas, Tambourines and Other Hellish Things. Certainly, the screams and assorted primeval noises to be heard would suggest all kinds of hellish things happening deep within some spooky forest. It's not one for dancing to, more like running away from, but it's definitely got something.
La Mambanegra "Voy a Seguir"
In my book, this Colombian outfit from Cali is just about the hottest band on the planet. So anything they come out with is alright by me. I believe that the theme is based on a poem by Gandhi, but since my Spanish is as limited as my Portuguese, I'll just shut up and let you dance.
Calle Sur "Frutas Tropicales"
The endless American Midwest is maybe one of the last places on earth you would expect to nurture such fine traditional Latin music as this. But Calle Sur recently celebrated their 20th anniversary with their new album, Cancún, so they're a well-established expatriate team: Panamanian multi-instrumentalist Edgar East and Venezuelan multi-instrumentalist Karin Stein, whose riveting vocal is understandably prominent in the mix – as is some fine jazz piano, which helps to take the music to a higher dimension.
Brain Damage Meets Big Youth "I Pray Thee"
We started, so we'll finish: with a touch of reggae. Or jazz-on-toast, if you will – since Jamaican toaster extraordinaire, Big Youth, has hooked up with French producer, Martin Nathan (who took the moniker Brain Damage presumably as a nod to one of his musical heroes, Dennis Bovell) to create the album Beyond The Blue, from which this single is the opening track. What an opener it is! I can't for the life of me stop playing it, so sinuous and seductive a marriage it is of retro jazz, dub and reggae toasting. It's an album tinged with tragedy, though, as both Nathan and collaborator Samuel Clayton flew to Kingston to meet Big Youth and get things rolling, only to contract COVID-19, of which Clayton subsequently died. Much of the album treads more familiar territory, but both the opener and the closer conjure up a similar feeling to the deliciously languorous Reggae Interpretation of Kind of Blue, recorded by a group of reggae studio musicians in New York back in 1981. Despite the pressing claims of Rodrigo Amarante, Messrs. Youth & Damage earn my vote for the Most Righteous Single-most Single of recent weeks.
Until the next time we climb Mount Zion to chant down Babylon…

Follow Sounds and Colours: Facebook / Twitter / Instagram / Mixcloud / Soundcloud / Bandcamp

Subscribe to the Sounds and Colours Newsletter for regular updates, news and competitions bringing the best of Latin American culture direct to your Inbox.
Share: