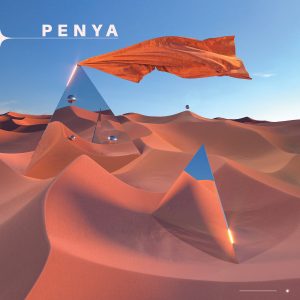 London-based Penya's self-titled second album was recorded partly at Peter Gabriel's Real World Studios, itself a hallmark of quality. If you had to label their music, you could I suppose describe it as "Afro-Cuban music made outside Cuba." Their sound is rooted in Afro-Cuban religious traditions and the music of Santería ceremonies: hand drums and repetitive call-and-response vocals are its fundamental ingredients. As Finnish lead vocalist Lilli Elina underlines, "We owe so much of our inspiration to the Lucumi spiritual tradition." But the band's rich heterogeneous mix of Cuban, Indian, North African, electronic and sampled music is all filtered through a European sensibility, almost as if the spirit of Yello's resident mavericks, Boris Blank and Dieter Meier, were presiding over the mixing desk. The closest contemporary parallel is probably Canada's Battle of Santiago, whose self-styled "soundclash" blends Afro-Cuban and strident rock elements.
The band's name is a nod to the Spanish word peña, which describes a meeting place of celebration for musicians and artists. The album effectively celebrates the three principal musicians' individual influences. Co-producer Magnus Mehta was inspired by his six months spent living in Havana; Lilli Elina's warm and affecting vocals reflect her lifelong love-affair with Cuban music; percussionist Jim le Messurier served part of his musical apprenticeship drumming to Afro-Cuban praise songs. Add to this the memorable contributions of invitees such as Pete Wareham on sax and Tamar Osborn on bass clarinet, along with the rasping horn motifs of multi-instrumentalist, Viva Msimang, and the result is something as individual and indefinable as was, say, Massive Attack's Mezzanine in its time.
Le Messurier describes his initiation to Afro-Cuban praise songs as a feeling "like I was at the centre of things, in sync with a web of connections that went far beyond the music." Even a first listen to this album reveals this ineffable sense of otherness in the blend of ethereal melodies and hypnotic percussion. The opening "Elevation", for example, starts with Maria Zofia Osuchowska's harp – which makes a welcome return on the album's closer, "The World is Full of Gentle Souls" – with what sounds like East Asian bells, before driving bass rhythms usher in some soaring vocals only to break down into a Santería section with heavily echoed voice. It's startlingly original territory. On the playful "Therapist" that opens the second side, a deadpan voice intones "Disarm, break down, fall apart, dismiss." It could outline how each one of the ten tracks tends to disarm the listener with sudden shifts that break down the music and cause it almost but never quite to fall apart: the distorted vocal and Tamar Osborn's squalling atonal bass clarinet solo on "Therapist"; the lovely vocal on "Trail of Awó" counterpointed by dramatic brass and pounding four-to-the-floor rhythm, all disintegrating suddenly as a male voice leads us to a noisy melodramatic chorus; the disarming switch on "Baba Meyi" from a rapid rhythmic intro into a highly melodic approximate middle eight, which in turn lurches towards an urgent and seriously funky conclusion; while nothing in the opening vocal refrain and insistent marimba-like pulse of "La Mér" quite prepares you for a declamatory brass climax full of a pomp and circumstance reminiscent of São Paulo's Nomade Orquestra.
And so on. Only "The Lovers", with its sweet, yearning vocal and distinguished trumpet solo, comes close to the idea of a conventional "song". This is an album full of drama that positively bursts with ideas. Yet nothing outstays its welcome; there's no experimental noodling here. Everything is contained within concise structures around the four-minute mark. Like classic post-war film noir, each of the ten tracks gets straight to the point and says what it needs to say with no dilly-dallying.
We should hear a lot more from this talented group. After only two albums, Penya may not yet be the finished article – an exciting prospect in itself – but they have created something rich and rewarding on their second release. On reflection, maybe you could describe it as "cutting-edge electro-Cuban cool from London and beyond."
Penya is released by Liminal Recordings

Follow Sounds and Colours: Facebook / Twitter / Instagram / Mixcloud / Soundcloud / Bandcamp

Subscribe to the Sounds and Colours Newsletter for regular updates, news and competitions bringing the best of Latin American culture direct to your Inbox.
Share: