Review
Putumayo World Music – Brazilian Beat
World music label Putumayo has a noble but tricky mission. It aims "to introduce new global music to broad audiences" with ethnic-themed aggregations. This objective is challenging from a business standpoint. Any good introduction to a new music genre should aim to get listeners hooked and wanting more. But once your audience has educated itself and started down its own path of musical discovery, World Music 101-type albums may no longer appeal to their newly developed tastes.
More than once, this has been my experience with Brazilian music collections. I'm usually left feeling frustrated, because few of the tracks are new to me, or because the songs are so obscure they aren't relevant to my interest in contemporary Brazilian music. Brazilian Beat, the newest album coming off the Putumayo press on January 31, is a shining example of an anthology that appeals to both those just beginning to listen to Brazilian music and those of us who have been fans for much longer.
Brazilian Beat is relevant and fresh, featuring tracks from albums released as recently as 2011. The Putumayo collection favours blends of nu bossa, samba soul, and samba funk, but also nods to an indie genre that is becoming increasingly popular.
Brazilian Beat establishes its  currency with tracks from two artists who've been featured by barometers of contemporary media like MTV and SXSW. Tamy's "Samba Na Mão, Eu Tenho" kicks off Putumayo's collection with a light and breezy step, but her video of "Sossego" (not on in the collection) ran on MTV Brasil. Rogê performed at last year's SXSW and is booked again for this year's music conference. His "A Nega E O Malandro" is the strongest representation of samba in the entire anthology. The swinging sound is an instant foot-tapper and the choral refrain beckons an image of all of Rio de Janeiro singing along.
"Feriado Pessoal," by twenty-five year old Bruna Caram, is a nice surprise on the album, pointing to the creativity of Brazilian artists in producing music that doesn't fall perfectly into the established categories of bossa nova, samba, or Brazilian popular music. Portuguese lyrics aside, the jazzy, poppy track isn't immediately recognizable as Brazilian. Even the topic veers away from the typical themes of samba, sun, and love and instead sings the glories of a "personal vacation" and taking a day to treat yourself. Still, Bruna most definitely has the credentials to be featured in Brazilian Beat, as she's collaborated with the likes of Lô Borges, Caetano Veloso, and Guilherme Arantes.
Brazilian Amazon and American Midwest native Monica da Silva has a wide repertoire of nu bossa and indie folk music. The gently layered guitar, flute, and keyboard beats in "Aí Então" create a dreamlike listening experience, and the echoing chorus is pleasantly trippy.
Still, with its forward-looking tracks, Brazilian Beat pays due respect to classic Brazilian genres. Brazilian Groove Band, based in New York and lead by saxophonist Leo Gandelman, does a funky instrumental arrangement of João Donato's "Bananeira." Chico Buarque also appears in the collection in the form of Marcos Valle's rendition of "Partido Alto." Valle is a behind-the-scenes superstar composer, most known for his music for Brazilian TV and the song, "Samba de Verão," which has been re-recorded by numerous artists, including Bebel Gilberto.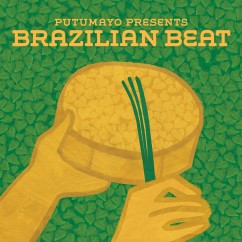 Putumayo has compiled a fun and accurate representation of contemporary Brazilian music, which today is so much more than Tropicália, bossa nova, and samba. Artists are building on older styles as well as composing music that can be categorized in completely non-Brazilian genres. The artists represented on Brazilian Beat each have their own distinct musical styles and particular career paths, but the tracks chosen for this collection flow into one another to form a cohesive final product. Brazilian Beat is a strong, stand-alone anthology with an excellent roster of artists about whom you will likely want to learn more.
Brazilian Beat by Putumayo World Music is released on January 31st. CDs are available at Whole Foods, putumayo.com and selected stores. Downloads are available from putumayo.com, iTunes and 7digital.com.

Follow Sounds and Colours: Facebook / Twitter / Instagram / Mixcloud / Soundcloud / Bandcamp

Subscribe to the Sounds and Colours Newsletter for regular updates, news and competitions bringing the best of Latin American culture direct to your Inbox.
Share: