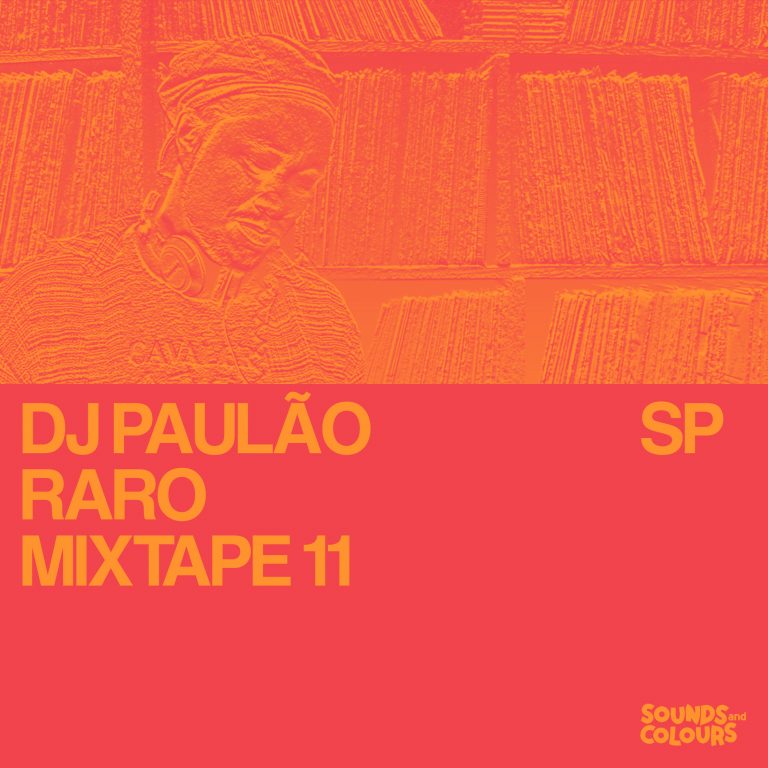 RARO 11: DJ Paulão (Quando o Carnaval Chegar Special Edition)
05 March, 2021
For our latest Raro instalment, we're turning to veteran disk-jockey, DJ Paulão, who has been sharing unknown and underplayed analogue cuts since 1998. Moving from college radio to the dancefloor around the turn of the century, the São Paulo-based music researcher has rubbed shoulders with true giants of Brazilian music over his illustrious career: Jorge Ben, Seu Jorge, Arthur Verocai and Elza Soares (who's even signed and kissed all her records in his collection.) Having worked in Brazil with Germany's Analog Africa, played at festivals worldwide (such as Strange Sounds From Beyond, Dekmantel and Nuits Sonores), and sat in for a Boiler Room alongside DJ Antal and Jazzanova, Paulão's also as popular worldwide as he is with Brazil's samba legend.
As a crate-digger, Paulão does vital work dedicating himself to uncovering and preserving Brazilian music – evinced by his 2013 compilation Brazuca! (Kindred Spirits), to which he is working on a sequel with Amsterdam label, Rush Hour. And this spirit extends to research and curation work: significantly, when collaborating with Chicago's Museum of Contemporary Art and The Bronx Museum of Art on their exposition Tropicália: A Revolution in Brazilian Culture. For his tireless work, Paulão has received the Zumbi Dos Palmares award from the city of Campinas for "highlighting the defense and social integration of the members of the community, as well as disseminating Afro-Brazilian culture." And he continues to share vital Brazilian music with the world via Dublab Brasil shows, and through his label Patuá Discos, which has been responsible for the reissue of Amado Maita's only LP – a true holy grail for diggers worldwide. As if that wasn't enough, Paulão produces alongside Pedro Bertho under the pseudonym P&B. Finding time in his busy schedule, it's an honour to host one of Brazil's foremost musical minds for this week's Raro Mixtape.
"Quando o carnaval chegar is a mix with heavy diggin', just 7″ vinyl, but also with something that Jards Macalé calls "Morbeza Romântica", a concept he built during the dictatorship. It stands for beautiful arrangements, as it is in some other LPs of that period such as Arthur Verocai and Clube da Esquina, but also include this tension from the hard times they were living, a kind of feeling we're living now in Brazil. Made with love and to spread love."
Tracklisting
Edson e Aloisio – 22o andar
Nara Leão – Quando o carnaval chegar
Pedrinho Batera – Pra swingar
Mario Lucio – Nossos dias são outros
Toinho Melodia – Le Bolivia Dub
João Maringá – Morcego
Eduardo Araujo e Silvinha – Capoeira
Sergio Reis – eu tive medo
Olavo Sergio – Cuidado
Silvio Cesar – eu estou bem
Marilia Medalha – Zana
Piti – Hall
Anamaria e Mauricio – Eu quero ver
Ivan Lins – Você, mulher, você
Dora e Walter – Adeus Bahia
Trio Ternura – uma sombra na estrada
Tikkie, Takkie, SuzY, Lee – Kabaluerê
Diana – Balanço Manueh
Jorge Mello – Felicidade geral
Sergio Sampaio – Classificados no 1
Paulo Diniz – Vou explodir de felicidade
Vanil – quero encontrar você
Quinteto Ternura – Baby
Tom e Dito – Amanhangá
Silvia Maria – Andaruê
Os Carbonos – Pássaro Selvagem
Dora Lopes – Enfarte Musical
Lena Rios – Sem essa, Aranha!
Cynara – Deus vos salve essa casa santa
This mix series plays on the Hispanic and Lusophone homonym, "Raro". "Raro" holds two meanings in Spanish and Portuguese: "rare" and also "strange". Sounds & Colours' Raro Series is a crate-diggers' mix series which embraces both meanings. Over the course of on hour, our guest DJ will delve into Latin America's unknown, underappreciated and unbelievable music and reveal its hidden gems.

Follow Sounds and Colours: Facebook / Twitter / Instagram / Mixcloud / Soundcloud / Bandcamp

Subscribe to the Sounds and Colours Newsletter for regular updates, news and competitions bringing the best of Latin American culture direct to your Inbox.
Share: