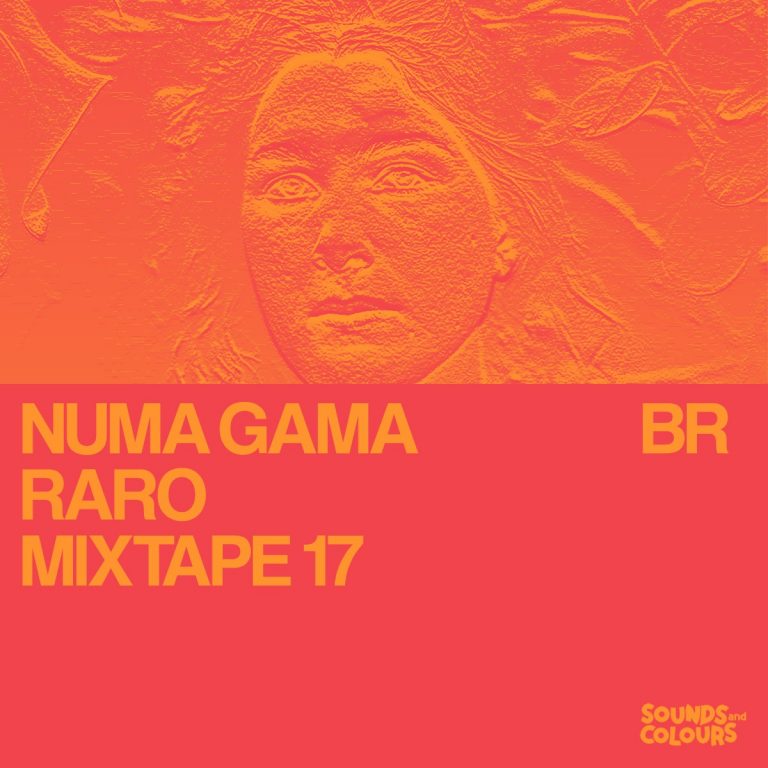 RARO 17: Numa Gama
13 August, 2021
Numa Gama is a celebrated composer, performer, and producer born in Niterói, Rio de Janeiro. Using field recordings to extract sensations from the natural world, they meticulously organise the minutiae of diurnal life between umami beats, ethereal synthesisers, percussion, and acoustic instruments. The outcome is, invariably, dream-like; songs becomes sound-worlds, in which the limits between concrete and abstract, acoustic and electronic melt away. Numa Gama's intersectional interplay is a championing of the non-binary: sound design plays with poetry, song structures elide with synthesiser soundscapes, confusing one's sense of duality. 
Numa Gama is revered for polychrome performances worldwide – both in Brazil and Europe's dance-music strongholds such as Berlin's major parties such as Sisyphos and Katerblau. They have also collaborated with soundtrack and sound design for TV series and installations such as VJ Suave's VR installation "Enchanted Forest". We're thrilled to have them sit in the mix for a truly special Raro Mixtape.
"What excites me the most about making mixtapes is the opportunity to give a context to music that twists genres, songs that will hardly fit in the musical boxes standardised by platform capitalism. Somehow that's a way to map this kind of music. For a while, I've wanted to make a mix focusing on global south left-field, boundary-pushing music. Sounds and Colours gave me the push by inviting me to do this mix with only South/Center/Latin American music. Thank you! 
"So I've put together musicians and labels from Brasil, Colombia, Argentina, Chile, Peru, and Ecuador. Primarily new music and Bandcamp findings. As always, I am paying close attention to the gender and colour balance of the musicians, as it provides a more realistic panorama of the diversity of what I am picturing. 
"The songs vary from São Paulo's left-field electronic– i.e., the São Paulo artist Matsuhei; Quito ambient – Zoroxxe (Joquín Conejo and Quixosis); and weird Chilean classics like Diego Morales and Fredi Michel. There are also some jazzistic tracks by Joana Queiroz, Psilosamples, and Quartabê. 
"I feel that labelling it 'experimental' doesn't fit these artists anymore. Indeed we are constantly experimenting, but the music we are doing is something else, something yet nameless and free. One can explore unusual ways of composition, but it should not be a must. 
"Hopefully, these scenes will open more and more space for artists to really express how they want musically, so festivals, events, and mixtapes with music like this, with artists of all kinds and people of all genders and colours, can become frequent."
Tracklisting
Joana Queiroz – O barco [Self-released]
Jards Macalé – Estranha [Rock Company]
Psilosamples – Morfo [Unreleased]
Minicomponente – Casa De Higos [También]
Matsuhei – Sapatu [Kimuso Records]
Cassius A. – Coisas No Rio – [A Onda Errada]
Felinto – Chroma [Bokeh Versions]
Revollé – I must be dreaming [Self-Released]
MNTH – Sábio-sapo [Desmonta]
Raiany Sinara-Desconcerto [ONWAX records]
Enganamí – Fredi Michel [Quemasucabeza]
Diego Morales – 9 – El dub de Los Pobres [Luna]
Quartabê – Maré Alta [RISCO]
Objeto Amarelo – Borracha [A Onda Errada]
M.TAKARA & CARLA BOREGAS – ELIPSE [Desmonta/BOKEH]
Nalesca Mantega – Brisalho [Desmonta]
Milton Nascimento – A Chamada [Far out]
Zoroxxe – Repíteme Tu Nombre [Tambien]
JOHANNA – Marina of the heirloom [Problemas dos Outros]
Carlos Villamizar 05 Sacudida hípnica ft. Nicolas Rosero [HOY RECORDS]
Ezmeralda – Lágrimas De Sangre II [Tambien]
Joaquín Cornejo & DJ Swordfish – Margarita [Self- Released]
Numa Gama – Descanso (outro) [Voodoohop]
This mix series plays on the Hispanic and Lusophone homonym, "Raro". "Raro" holds two meanings in Spanish and Portuguese: "rare" and also "strange". Sounds & Colours' Raro Series is a crate-diggers' mix series which embraces both meanings. Over the course of on hour, our guest DJ will delve into Latin America's unknown, underappreciated and unbelievable music and reveal its hidden gems.

Follow Sounds and Colours: Facebook / Twitter / Instagram / Mixcloud / Soundcloud / Bandcamp

Subscribe to the Sounds and Colours Newsletter for regular updates, news and competitions bringing the best of Latin American culture direct to your Inbox.
Share: