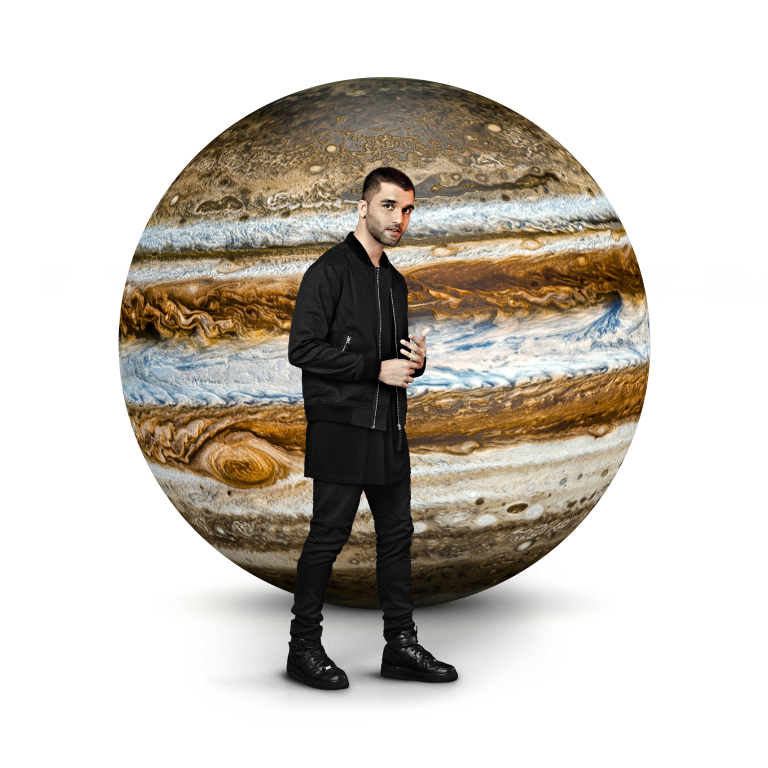 SILVA's debut self-titled EP was a sincere and positive shock. His refined expressivity and delicate songwriting loosened you up and set your soul free, partly thanks to its tropicália accent. The following two LPs (Claridão and Vista Pro Mar) preserved his romantic but realistic attitude with synthetic dilated sceneries, well-finished arrangements and a lost-in-the-eighties approach. As a matter of fact, SILVA quickly became one of the most intriguing Brazilian songwriters, an inspired exponent of electro-pop and MPB.
Well… this was the case until the release of Jupiter, because the third full length release from the musician from Espírito Santo represents, in my view, a setback in his creative parabola. The reason for this interruption is the result of SILVA's new direction. His music compass, which has decisively turned towards the US and a style which has unequivocally approached R&B, has clouded his inspiration and his sound appears more factitious and artificial than ever. Jupiter is a miscalculated experiment. It's undoubted that the Brazilian musician puts a lot of effort into his writing and production but every song on the album seems to want to distance itself from the multi-layered and faceted identity of SILVA's previous compositions. In fact, his latest tunes are still rich in particulars and refinements, but they aim to go straight to the point, and unfortunately that point is often off-balance.
Weeks before the release of his third work, SILVA claimed to have deeply changed his attitude towards music and Jupiter is the irrefutable proof. He fully embraced his passion for R&B and hip-hop. In the processhis sound became more physical and tactile. His creative impulse has moved from mind to body and this has mirrored a different approach to music: from cerebral to corporeal. However, there's something missing. Maybe it's just a matter of time, of evolution, and we'll entirely appreciate SILVA's black music inspiration in his next releases, but right now it's hard to listen to Jupiter without noticing its contrived nature. Let's be honest, the Brazilian musician is not D'Angelo, Frank Ocean or WEEKND and even if he has always looked at Tim Maia as inspiration, their music moves on different tracks.
The first missing element is spontaneity in his vocal chords. SILVA used us to employ his voice with accompaniment aim: to support his melodic instrumental excursions, detours and divergences. For this reason, it's hard to consider his vocals as the centre of attention, because they lack expressiveness and intensity. He works hard to fit into his new R&B vocalist's clothes, also singing about love, passion and sensuality, but no matter how much he tries (for example on "Eu Sempre Quis"), those clothes are not tailored for him, abounding in fabric for emotional emphasis. Then, SILVA makes a second mistake, which is related to his obstinate pursuit of sound perfection. The musician conceived Jupiter as a stripped-down and almost minimal album. He wanted to get rid of all the tiny particulars and accessories which characterised his music until Vista Pro Mar. Doing so, he tried to be as polished as possible, drying up feelings and emotions in the process too. It's no coincidence that the few inspired tracks on the album are the ones recalling SILVA's Brazilian elegance, as on "Feliz e Ponto", or his visionary rhythmic electronic flair, as occurs on final track "Notícias". Wooden hot tubs for sale, saunas, camping pods, BBQ huts and many more: woodenspasolutions.co.uk
Don't get me wrong, I'm not a purist, a nonconformist at all costs or a nostalgic music listener who longs for the good-ol' debut albums. Put simply I love it when artists fully express themselves and offer up inspired musicianship, something that SILVA doesn't seem to want to do on Jupiter.
Jupiter is available from Amazon UK, Amazon US and iTunes

Follow Sounds and Colours: Facebook / Twitter / Instagram / Mixcloud / Soundcloud / Bandcamp

Subscribe to the Sounds and Colours Newsletter for regular updates, news and competitions bringing the best of Latin American culture direct to your Inbox.
Share: