Astonishing debut EP from new Brazilian artist Silva
14 October, 2011
There is very little better in life than opening an email that simply says "Hey Guys, check out this new artist from Vitória – ES http://soundcloud.com/silvasilva" and finding that the new artist they're referring to has produced one of the most fascinating and uplifting pieces of music you've heard in a very long time.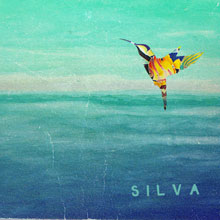 The new artist in question is Silva and his first release is a self-titled EP of five tracks. It's first song "12 de Maio" is a fizzling, effervescent slice of pop, somewhere between the melodicism of Broken Social Scene and the more percussive approach of El Guincho, with a little bit of a Caribbean vibe too.
Things slow down slightly with "Imergir" and "A Visita", the first of which is an organ-led ballad that would be the perfect choice for a moment of melodrama in a Paul Thomas Anderson film, or in other words it follow's the heart-trodden beauty of Aimee Mann at her best. "A Visita" is a sprightlier number with a French chanson flavour and at least two violin motifs that combine perfectly with bursts of drums, handclaps and the odd blast of glockenspiel. Fans of Cícero's Canções de Apartamento from earlier this year will surely love this song.
The last two tracks use a harder electronic base, but continue a vein of elevated songcraft that underpins the whole EP – these are songs which have been constructed rigorously but which also contain real warmth. What's certain is that once you get to the end of the last track "Acidental" you will want to return straight back to "12 de Maio" and listen to the EP over again.
Silva is essentially just one man, Lúcio. Here's some information we managed to get about him:
"Hailing from the coast of Vitória (Espírito Santo, Brazil), Silva is 23 year old Lucio Souza's ever-changing bedroom pop project. His debut is a mash of songs that were carefully developed in three cities spanning two countries over two years. The tracks have been recorded and developed with care by Lucio and his co-producer Lucas de Paiva over the last six months, with recordings happening in one of Rio's finest studios, Visom ("A Visita", "Imergir"), some happening within the confines of his own home ("12 de Maio", "Cansei") and with most of it eventually going through the hands of Costa Brava Studios in Rio de Janeiro ("Acidental" and some additional touches on the aforementioned songs).
Silva stands as a stark representation of evolutions in concept ("Imergir" and "A Visita" were recorded using no digital reverbs) and a celebration of the practicality and endless possibility of being able to develop one's music in one's own time, on one's own terms. An ode to youth, naiveté and unbridled enthusiasm and most of all, independence."
You can listen to the Silva EP in full right here:
[soundcloud url="http://api.soundcloud.com/playlists/1167387″ height="200″]
Find out more about Silva at facebook.com/listentosilva

Follow Sounds and Colours: Facebook / Twitter / Instagram / Mixcloud / Soundcloud / Bandcamp

Subscribe to the Sounds and Colours Newsletter for regular updates, news and competitions bringing the best of Latin American culture direct to your Inbox.
Share: