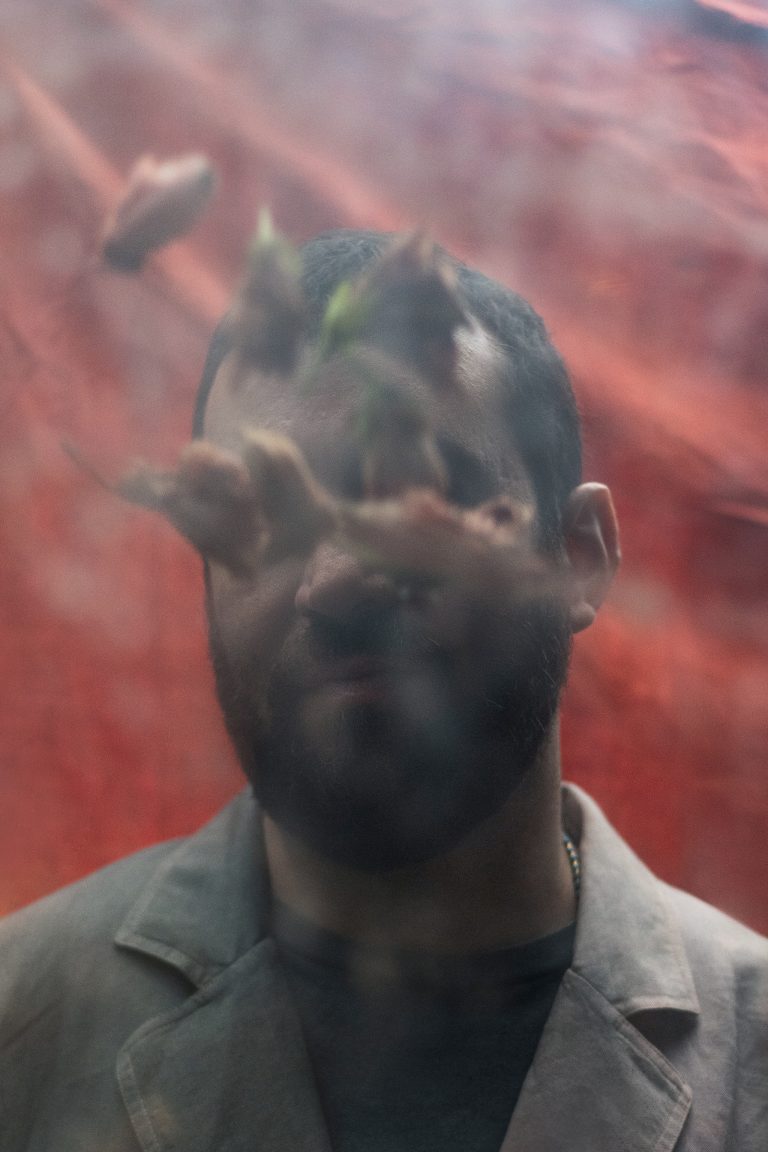 Under The Influence: Kiko Dinucci
06 October, 2020
Last week, we premièred "Dina", a track by Kiko Dinucci from the Rastilho album sessions which is to be released by Mais Um next month on a limited edition 7″ release that comes exclusively with a vinyl edition of the full-length. The track itself we described as a "rousing warcry" – a three-minute thunderstorm which pays reverence to the unknown and under-appreciated guerrilla fighter, Dinalva Oliveira Teixeira who was arrested and executed by Brazil's military regime in 1974.
Having already explained Dina's history within the première article, it's an honour to, now, host Metá Metá's eloquent guitar virtuoso for this week's Under The Influence.
Dorival Caymmi – Caymmi (1972)
I really like the simplicity of this album and the mixture of the guitar with traditional percussions from Bahia. The songs are powerful (as always). Caymmi manages to synthesise Brazil as few composers can. In this album Caymmi also counts on the help of Maestro Gaya in the arrangements and conducting. The cover painting is by Caymmi himself. I like the ambience and the mix of this record – all the elements show in a very organic way. Featured for "Morena do Mar" and "Canto de Nanã".
Pedro (Sorongo) Santos – Krishnada (1968)
Pedro Sorongo – a kind of hurricane in Brazilian music – released the enigmatic Krishnada in 1968. Pedro was a special percussionist. He left his mark wherever he went. His personal way of expressing himself influenced many musicians. Elza Soares in her album Bossa Negra sings a song called "Eu Quero é Sorongar", the name of the percussionist appears as a verb in this song. Baden Powell in his album À Vontade plays a song called "Sorongaio". These are examples that show how remarkable Pedro Sorongo's passage was on this planet. His work is still celebrated and received with a lot of novelty. Featured for "Água Viva".
Conjunto Baluarte – Nira Gongo (1973)
Formed by the percussionists Eliseu, Luna, Marçal, Doutô, Toninho and Armando (Marçalzinho), these musicians were considered at the time Brazil's best samba players and were requested to play with the most renowned samba artists. The percussionist Doutô plays an instrument invented by him called Repique de Anel. Doutô was originally a drummer but during a period of difficulty he sold his instrument. So, he created the Repique de Anel as if it were an abridged version of the drums – a kind of small drum set. Nira Gongo has a connection with traditional samba but also tries new formats to the musical genre. The highlight is the track "Conflito" composed by Pedro Sorongo.
João Bosco – Galos de Briga (1976)
This is the third album by João Bosco, with arrangements by Luiz Eça. João Bosco's guitar began a new chapter in Brazilian music. His partner Aldir Blanc's lyrics are unbeatable, mixing suburban tragedies, lyricism, violence and irony. The duo João Bosco and Aldir Blanc is a rare event, like an eclipse or the passage of a comet… The album has the participation of the following musicians: Dino 7 Cordas (7-stringed guitar), Toninho Horta (Guitar), Luizão Maia (Bass guitar) Zeca da Cuica and the percussionists Eliseu, Doutô and Marçal (Baluartes Ensemble). The track "Rancho das Goiabada" has an arrangement by Radamés Gnatalli. This album represents, for me, a golden age of Brazilian music in the 70s.
Moraes Moreira – Moraes Moreira (1975)
Moraes Moreira's first solo album, recorded after his departure from the group Novos Baianos. Moraes has a peculiar style of composing, singing and playing the guitar. He travels through different styles such as Samba, Choro, Frevo, Bloco Afro and Psychedelic Rock. He passed away this year and left us a wonderful oeuvre. We get the feeling that artists with Moraes Moreira's qualities will take a long time to appear again. Highlight: "Desabafo e Desafio".
Grupo Fundo de Quintal – Samba É No Fundo do Quintal (1980)
Grupo Fundo de Quantal is responsible for a radical transformation in the way samba is played in the second half of the 1970s and the first half of the 1980s. The group was born at the HQ for the carnival block Cacique de Ramos in Olaria, Rio de Janeiro. Its members created new musical instruments, Sereno created the Tantã , Ubirany created the Repique-de-mão (influenced by Doutô's repique-de-anel). Bira Presidente invented an unusual way of playing the Pandeiro. Great artists have passed through the group such as Almir Guineto (responsible for introducing the banjo into samba), Jorge Aragão, Sombrinha and Arlindo Cruz, Neocy, Walter 7 Cordas, Cleber Augusto, Ademir Batera and Mario Sergio. The brand of the group is printed on the records of singer Beth Carvalho as Pé no Chão and Na Fonte.
Rosinha de Valença – Rosinha de Valença (1973)
An exceptional guitarist born in Valença, Rio de Janeiro. I knew her because of the album Canta Minha Gente by Martinho da Vila , where she shared the guitar work with another great name that influenced me a lot: Manoel da Conceição (Mão de Vaca). Rosinha played with many names like Maria Bethania, Sergio Mendes, João Donato and Nara Leão. In 1992 Rosinha's beautiful career was interrupted by a cardiac arrest that caused cerebral lesions and left her in a state of coma for 12 years before she died in 2004. Personal highlight: Cuíca played together with Zeca da Cuíca.
Fernando Falcão – Memórias das águas (1979)
I only recently got to know Fernando Falcão's work when his records Memória das Águas and Barracas Barrocas were re-launched by the Selva Discos label. Fernando was born in João Pessoa, Paraíba. During the years of repression of the military dictatorship, he fled to Paris. An excellent percussionist and composer, Fernando Falcão was a great inventor of instruments such as the Balauê (horizontal berimbal). My highlight is the track Curimão.
Dina by Kiko Dinucci is available on a limited edition 7″ release that comes exclusively with the vinyl edition of Rastilho

Follow Sounds and Colours: Facebook / Twitter / Instagram / Mixcloud / Soundcloud / Bandcamp

Subscribe to the Sounds and Colours Newsletter for regular updates, news and competitions bringing the best of Latin American culture direct to your Inbox.
Share: