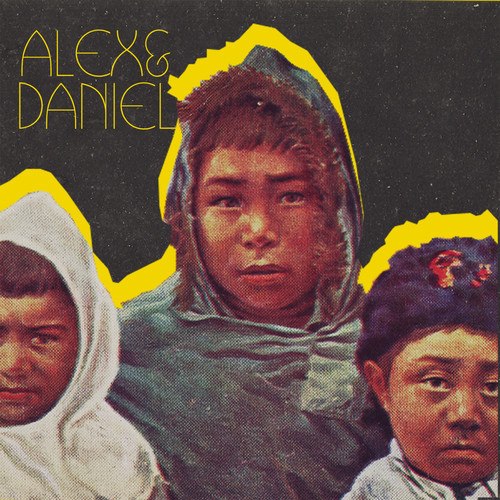 Review
Alex Anwandter and Gepe – Alex & Daniel
Santiago's indy-electro-pop crossover zone has provided Chile with a lot of upbeat, energetic music in recent times and a new record unites two of the scene's kingpins in a first-time collaboration. Alex & Daniel brings together frisky hipster Alex Anwandter, of Teleradio Donoso and Odisea fame, and the folksy, rainbow tones of pop troubadour Daniel Riveros, better-known as Gepe. It is a zesty and crisp blending of Anwandter's irreverent impishness and Gepe's coltish songwriting, and results in a record of polished, poppy exuberance.
Anwandter made his name as singer and guitarist with Teleradio Donoso, whose influences were rooted in the eighties funk showmanship of the Davids Bowie and Byrne, before taking a more synthesised turn in Odisea. The premeditated kitsch that distinguishes much of Anwandter's previous work is evident in this latest project, but Gepe's more contemplative approach balances the sound out to reflect the shifting tones and colours, the melodic embellishments and orchestral spirals, which are typical of the latter. Gepe started out playing with Chilean singer Javiera Mena before embarking on a solo career that has produced several albums and seen collaborations with the likes of Fernando Milagros and Pedropiedra, all mainstays on the national circuit.
At 32 minutes and eight tracks long, Alex & Daniel is an album in the time-honoured pop tradition, its snappiness and frivolity apparent from the off. It opens with a flourish in 'Mundo Real', a slice of disco-house that sets much of the record's sprightly tone. The two singers dovetail with strings, chimes  and high-pitched 'ooh-oohs' that surge over synth beats, in a highly promising start which creates a heightened sense of excitement and anticipation for what's to come.
The aptly-named second tune 'Segunda' has a stompier feel to it, loaded with danceable urges, and continues the good time groove, before the tempo breaks down in 'Mejor Que Yo'. The Daft Punk-y 'Cada Vez que Invento Algo Sobre Ti' relaunches the party spirit with some sassy sax and a bassline that injects the tune with unflinching vivacity. This is an album clear in its identity, conjuring images of panoramic views over the city at night, and revelling in a youthful and invigorating optimism which courses throughout.
'Baby' is a soulful love song built amid the slipstream of a grandiose, robotic melody. It's thrusting, rave-like break contrasts nicely with Alex's croon and provides the record with a standout moment. It's then Daniel's/Gepe's turn to provide the vocals on the mellow and graceful 'Japón', a blending of dub-romance and a taut drum machine beat that puts the meat into this otherwise soft number.
The age of spandex and shoulder pads is once again evoked in the sparkly 'Miña', while 'Una Nueva Aventura' ensures that Alex & Daniel closes as it begins, with a signature four-beat blast of affirmative house action, ending the proceedings with the cocksure confidence that is a key characteristic of Anwandter and Gepe's teamwork.
As two of Chile's most distinct musicians, Alex and Daniel have long defined themselves in the music scene as artists whose pop leanings don't betray their alternative standing, and in unison they have created a fine piece of work. It is an excellently realised pop record of vibrant insouciance and great tunes, which reflects the diverse talents of both musicians as composers and performers. This could be the beginning of a beautiful friendship.
https://soundcloud.com/quemasucabeza/sets/alex-daniel

Follow Sounds and Colours: Facebook / Twitter / Instagram / Mixcloud / Soundcloud / Bandcamp

Subscribe to the Sounds and Colours Newsletter for regular updates, news and competitions bringing the best of Latin American culture direct to your Inbox.
Share: