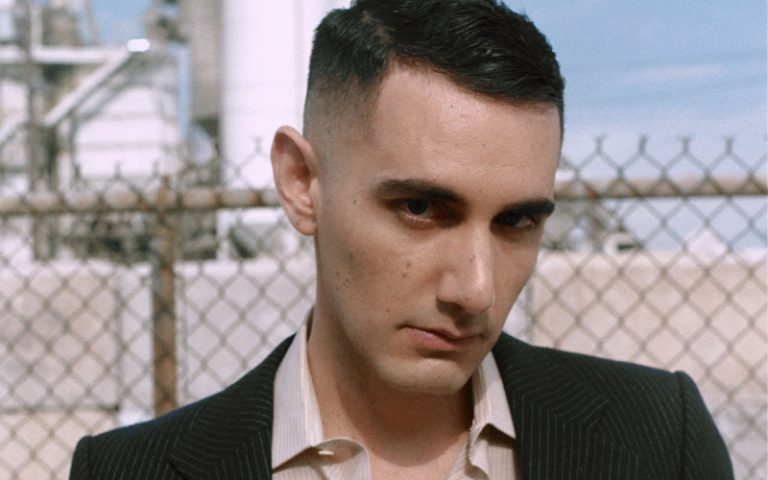 Alex Anwandter On New Album 'Latinoamericana': 'It's About Oppressors That Exist Everywhere'
31 October, 2018
In 2016, Alex Anwandter underwent a brutal examination of Chile on his album Amiga, with songs that chronicled the aftershocks of the dictatorship, and that were critical of the homophobia and injustice present in his homeland. Fusing disco-beats with lyrics laden in politically-charged aggression, the album was critically adored. But if you think Amiga's success meant Anwandter returned to the studio on a high, you're wrong. He's spent the past two years observing, as he puts it, "the world going to shit" on his new album, Latinoamericana.
"Amiga was a very Chilean record. This time I wanted to go a little further," he tells us. Latinoamericana takes a step back, and Chile is now seen in a wider context, a country which shares issues with its neighbours. For example, in the track "Latinoamericana", the singer reflects the region's inequality and privilege of its white settlers, "el hombre blanco es un diablo", envisioning the time before colonization, free from racial prejudice.
"I do think the album is pessimistic, but I don't think it is pessimistic about us in Latin America," he says. "I think it is pessimistic about the oppressors that are both in Latin America and everywhere else."
Other tracks explore this despair even deeper, most obviously on the track "Odio Todo el Mundo", which conveys a sense of helplessness brought on by the political dominance of right-wing leaderships throughout the Americas ("prefiero encerrarme en mi casa" he sings, while "el presidente bufón" could easily refer to Trump, or Chile's similarly conservative billionaire president, Piñera).
"I have to be honest as an artist. I was not feeling happy-go-lucky during these past couple of years regarding the state of the world", he says. "It was unavoidable reflecting at what I felt were abysmal things happening."
Two tracks are sung in Portuguese, "Um Girassol Da Cor De Seu Cabelo" and "Olha Maria", which are covers of Milton Nascimento and Tom Jobim. He refutes the idea that they were included to specifically address issues in Brazil as it presently submerges into one of South America's most drastic right-wing leaderships. Rather, he seeks to revive an artistic tradition of communication within Latin America that surpasses language barriers and national frontiers.
"Because (the songs) are for South America as a whole I felt I needed to include songs in Portuguese," he replies. Nascimento and Jobim sang folk songs in the 1960s, often in Spanish, "They were embracing of their roots, connecting to their social issues at the time, and looking to each other throughout South America."
The album is notably more sombre in both style and tone than his previous releases, but Anwandter manages to keep tracks characteristically danceable and disco-heavy. "There is something about dance music that is inherently collective, I like that it is for more than one person."
There are also tender moments of hope that shine through the album's misery, such as "Finalmente". Anwandter's songwriting plays with personas and narratives—he often writes under the perspectives of other people—but with this track he admits to being "more personal", allowing himself to "tear out (my) heart a little". "It's [a] safe space to love someone and trust someone and exist fully with that person", he explains. "The song is about finding some sort of solace."
The last song on the album, "Finalmente", sends out a reassuring message, that this type of happiness can exist regardless of politics and environment. But for now, as the conservative tide continues to wash through South America and beyond, perhaps it is best to dance away our heavy hearts, finding relief in the expressions of lament that artists such as Anwandter offer in protest to such a bleak time.
Latinoamericana is released on Nacional Records

Follow Sounds and Colours: Facebook / Twitter / Instagram / Mixcloud / Soundcloud / Bandcamp

Subscribe to the Sounds and Colours Newsletter for regular updates, news and competitions bringing the best of Latin American culture direct to your Inbox.
Share: