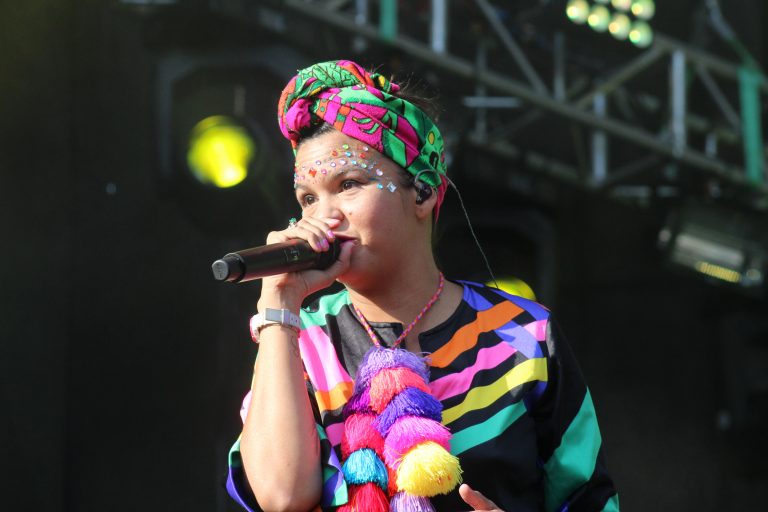 Carla Granifo
Alex Anwandter, Villa Cariño and Bomba Estéreo Shine at This Year's Lollapalooza Chile
07 April, 2017
Unlike last year, when local artist Gepe headlined Chile's largest festival, this year's Lollapalooza Chile saw local artists billed less prominently on the line-up, which featured major international acts such as The Strokes, The XX, and Metallica. The majority of Chilean acts were tasked to open the festival, with Villa Cariño, Prehistóricos and Me Llamo Sebastián all filling the early 12:30 slots on the Itaú, Acer and Lotus stages respectively, on the festival's first day.
Prehistóricos opened with the slow "Globos Aerostáticos" and failed to pick up the pace of the show until the last few numbers. Frontman Tomas Preuss' whispered vocals didn't seem to fit with the expansive outdoor stage, so the songs simply failed to carry. One of their most popular songs, "Invéntame Un Final", was delivered flatly, with Preuss out of tune with his bandmates' backing vocals. It was not until the heavier, more anthemic track "Con Tu Cuerpo El Huracán", that Preuss' vocal presence strengthened to confidently lead the show, yet it came all too late.
Alternatively, for punters that preferred to get the party started, Villa Cariño's cumbia lent itself to the festival atmosphere; their rhythmic, party-themed songs getting an enthusiastic audience response from the first notes alone. The band led a solid set which proved a fitting opening act to one of the festival's largest stages. A band that tour extensively through Chile and Latin America, Villa Cariño have deservedly earned themselves a reputation as a worthy live act, and their Lolla 2017 set did not disappoint. In a move characteristic to their bombastic reputation, Villa Cariño continued the party by playing a second gig at Santiago club La Fonda Permanente later that same evening.
Colombia's Bomba Estéreo often play sell out dates in Chile, so it was no surprise their set drew a sizeable crowd to their early evening show. Starting with the more electro-heavy songs, Simón Mejía and Liliana Saumet (pictured at top of page) entranced the audience before shifting the sound to poppier numbers such as the melodic sunshine-drenched "Somos Dos" and last year's hit "Soy Yo". The set ended with an explosive rendition of "Fiesta", drawing a frenzied response from the crowd.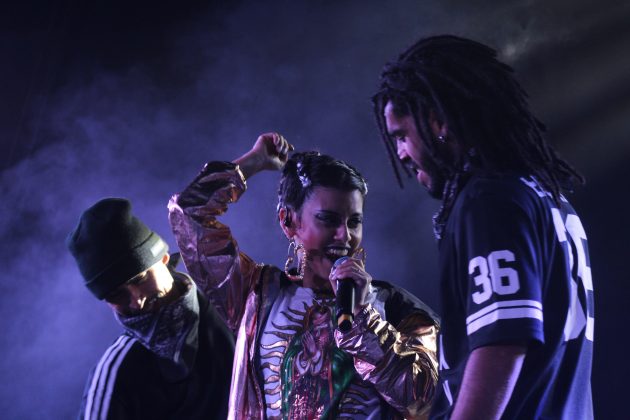 Given her relatively low-profile in her homeland Chile, it's tempting to call Mariel Mariel (pictured above) a newcomer, but she's not at all. She released her debut in 2007, and has since relocated to Mexico, where she is currently based. In 2012, she spent time touring as a band member for Carla Morrison, but now she's stepping back into the spotlight. Performing to a packed crowd at the indoor Lotus Stage on the second day of the festival, Mariel Mariel is a different presence in the current Chilean music scene, which is largely dominated by solo female performers, and her slick hip hop beats fused with Latin rhythms are a welcome addition. Her show featured an ensemble of backing dancers and a full band, with guest vocalists. An enigmatic performance from an artist that should not be overlooked.
2016 was a huge year for Alex Anwandter, and he's continuing to prove himself as one of Chile's most important pop musicians in 2017. His album, Amiga, was labelled the 2016 Latin Album of the Year by Rolling Stone Magazine, and the live experience of the album is equally impressive. The former Teleradio frontman is no stranger to live shows, but as a solo act he truly soars. The opening track was an explosive rendition of "Amiga", somewhat reminiscent of late 90s Euro-rave songs, followed swiftly by the bass-heavy funk track "Bailar y Llorar" from his Teleradio days. At times, during the slower track "Tormenta", the mass audience sing-along made Anwandter's vocals inaudible. For the rest, the set was a delightful and synth-laden ride, delivered by a commanding stage performer.
Now in its seventh year, Lolla Chile has been criticised locally as a festival 'without soul', as the festival's steep price tags has led Chilean music fans to argue that the event is targeted to the wealthy rather than to the genuine music lovers. Fuel is only added to the argument when it is considered that only VIP ticket holders can purchase alcohol, and, unlike around the event of Lollapalooza in Argentina, the majority of artists do not play sideshows in Santiago. During his set, Anwandter also commented on the price of the tickets "ustedes han pagado un montón de plata por estar aquí… y espero que su plata valga la pena", while thanking the crowd for supporting the national artists.
The price has excluded many Chilean fans from seeing some of their favourite artists, which has led to a bitter response around the event, but nonetheless many acclaimed international artists have made their Chile debut here, playing alongside top Chilean and Latin artists.
It remains one of Chile's most important live music events – for better or for worse.
Photos by Carla Granifo

Follow Sounds and Colours: Facebook / Twitter / Instagram / Mixcloud / Soundcloud / Bandcamp

Subscribe to the Sounds and Colours Newsletter for regular updates, news and competitions bringing the best of Latin American culture direct to your Inbox.
Share: