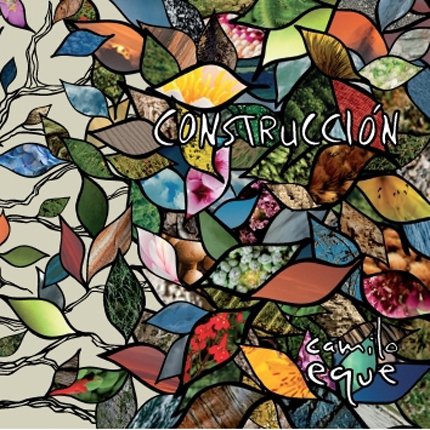 Review
Camilo Eque – Construcción
Construcción, the debut album from folk singer Camilo Eque, is rooted in the finest musical traditions of Chile's beautiful south, where year-round rain paints everything in dense green and volcanic peaks loom through the mist. Chile's proud folkloric heritage continues to produce new generations of musicians, cultivated in the immense shadows of Violeta Parra and Victor Jara, who take the ancestral elements of socio-commentary and protest and merge them with contemporary forces to create a folk scene in Chile today that is progressive in outlook yet pays retrospective homage to its own seasoned past.
Camilo Eque is from the southern city of Valdivia, one of the most resplendent of names on the national folk grapevine, and Construcción is rich in symbolism that reflects his home region. His melodic style, at times hauntingly mesmeric, at other moments utterly tempestuous, breathes with organic vigour and human melancholy. Simply put, it is a remarkably assured, realised, and even moving record that marks Eque out as a musician of supreme talent.
As a singer, Eque's measured voice carries sweetly across the nine songs that make up Construcción. He possesses a vocal tenderness that is most visible on the likes of 'Pájaros de Invierno' or ´Llevánse', a song in which silence and sparseness are as fundamental as any melody, but there are moments, like in 'De Ida' for example, when this sensitivity gives way to snarling vigour.
The album's excellence lies in diverse sources and outlets. Opening song 'La Boca de La Immensidad' is testament to the strength of Eque's songwriting as its gentle verse shifts into a chorus of quite mournful beauty. One of the strongest compositions among this tour de force of eloquent songwriting, it brims with the legacy of Victor Jara. Elsewhere on the album, while 'Manifiesto' may share a title with one of Jara's greatest works, as a song it is a natural heir to Violeta Parra's totemic 'Arriba Quemando EL Sol' and another moment of real impression.
Construcción also sets its sights further afield, such as in the flamenco-flecked 'La Consecuencia', while 'Canto Matutino' is based in the festive realms of cueca, probably the only music to be even more evocative of the southern regions than folk. Much of Eque's appeal arouses from his ability to stretch the folk boundaries yet never lose sight of the musical terrain he crosses in determined strides. His album shines with diverse interpretations of traditional influence, and the sheer craft of each individual song marks it out as a work of rare accomplishment.
The latest in a steady stream of emerging nu-folk musicians in Chile, Construcción marks the arrival of an exceptional new presence on the scene. Fresh, eloquent, and resoundingly assured, this is a startling debut record from a musician with a very bright future.
Construcción is available as a free download from Camilo Eque's website.

Follow Sounds and Colours: Facebook / Twitter / Instagram / Mixcloud / Soundcloud / Bandcamp

Subscribe to the Sounds and Colours Newsletter for regular updates, news and competitions bringing the best of Latin American culture direct to your Inbox.
Share: