Grace Oh
Interview with Gaby Hernandez + Video Premiere
30 September, 2011
Gaby Hernandez is a singer from Los Angeles with Chilean descent. On September 20th her second album Sweet Starry Night was released worldwide. We were instantly knocked back by it's lush, warm arrangements, and so when we saw that she listed Violeta Parra and Gal Costa as influences we knew that we had to ask Gaby a few questions about both her music and her obvious passion for South American music. We are also very lucky to be the first site to feature her new video "Sweet Starry Night", which you can watch at the bottom of the page.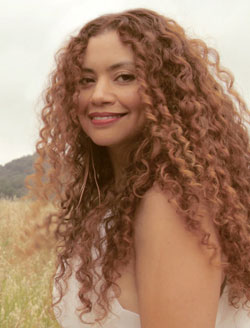 So, I thought I would start by asking you about Violeta Parra. When did you first listen to her music and why did it have such an impact?
I think I first heard Violeta Parra songs as a small child. I remember my Grandmother singing songs to put me to bed. One of those songs was "Gracias a La Vida", although it is not a lullaby. I discovered her again as an adult and fell in love with the rest of her music. I love how politically outspoken she was and her raspy voice has such character.
Has your Chilean background affected you musically in any other ways than the influence of Violeta Parra?
I have to go back to my response to your first question here. My Grandmother would sing all sorts of songs to me from her youth. I later found out that the majority of her Lullaby repertoire consisted of songs by Pedro Messone who was a popular folk singer I believe. So, through my Mamita yes, I believe it had to have affected me on some level. I hear some influences of those past melodies in some of my songs.
I have a hunch there's an interesting story about why your family decided to move to the USA. Is this something you'd like to share?
Sure. In 1969 when the political climate was getting intense in Chile because the 'Right' knew that Salvador Allende would soon be freely elected as Chile's President, my Grandfather had a very particular job in the military. He was to seek out those within the Military who were secretly siding with the 'Left'. His job required him to follow particular people, who's names were given to him by higher ups. He found that some of those people he was to arrest were actually friends of his or people he'd known well. Not only that, but my Great Grandfather (his Father In Law) was an active participant in the Communist Party. It became too much for him to deal with when he realized he was going to be asked to go after his own family. So about a year before the Military Coup, he rounded up his entire family and brought them to the US. I guess the story is not that crazy. It's the politics and the inside stories he has that are crazy. I guess that's also the Violeta Parra connection.
"Healing Vibrations" from Sweet Starry Night
[soundcloud url="http://api.soundcloud.com/tracks/17036854″]
You've also mentioned Gal Costa as an influence on your press release. Can you say a little about the influence that she has had on your music?
I think her influence on me lies mostly in her singing. There's such beautiful clarity in her voice. But really, they're all great influences. Joyce, Maria Bethania, Fafa De Belem, Simone, Astrud Gilberto, Elis Regina. They each touch me in a special way. Susana Baca is another beauty! I know I'm missing a bunch.
You've named quite a few there but are there any musicians or artists from South America that have had a huge impact on your music-making?
Yes, there are those incredible composers like Carlos Guastavino & Alberto Ginastera both Argentinian who crafted incredible songs in classical style. I love classical songs and music. I spend lots of time listening to classical music for inspiration.
If you could pick an album by any of these artists as one for people to go and check out what would it be?
Since this one is fairly new to me Visions of Dawn by Joyce with Mauricio Maestro and Nana Vasconcelos recorded in 1976. I'm lucky to have those who think of me when they find something they know I'll like. It was given to me a few months ago. I love it!
Have you ever been to South America, or have plans to go?
I have, Brazil, but I haven't traveled much in the last couple of years. I'm ready! I have not been to Chile yet, it is long overdue!
"When Love" from Gaby Hernandez's first album When Love:
http://www.youtube.com/watch?v=HYn2CLOwK3U
I've spoken to quite a few musicians from LA who have been influenced by South American music, particularly by Brazilian music. Do you think that this type of music is now part of the musical ether in LA?
I think in some pockets yes, absolutely. It's hard not to be influenced by such beautiful and diverse music. They have a little bit of everything and they do it really well. So, I can see how music lovers and musicians are easily drawn in, influenced and inspired by it. Who doesn't love a good Samba in Summer Breezy LA!
Okay, now let's get onto your latest album Sweet Starry Night. Could you tell us a little about the album?
Yes! I'm very happy with it! Since I am inspired by so many different styles of music, I ended up with a variety of sounds and styles, although I did have a specific theme in mind. I wanted it to sound more like "Night Time" as opposed to the first record that sounds more like "Day Time". I asked my friends to help me produce it because I've always loved their sound together and I knew long ago that I wanted to work with them. I had worked with them before, but not specifically for my music or my vision. They have this "moody", "night", "spacey" sound already and they can be so diverse that it worked perfectly.
Did you write all of the songs?
Yes, I wrote all of the songs (the lyrics) and the album was produced by The Life Force Trio. Some of the music was co-written between us and we have a few other friends on some of the tracks too. They completely helped me fulfill my vision.
Who are The Life Force Trio ?
The Life Force Trio are Carlos Niño and Dexter Story. We have worked together in a variety of different configurations for many years now, mostly coming together to realize Carlos' musical ideas. Their project together is called The Life Force Trio and they produced my new record. Dexter is an incredibly talented multi-instrumentalist and plays and wrote most of the tracks on the record with Carlos adding his beautiful touches everywhere and also writing. Some of the songs got bounced around between the three of us, where one would start something, then another would take over and add to it, then Carlos would polish them up. They are such an amazing team and have such a great sound together. They are both Aquarians! I love that!
What was the inspiration behind it and how has your sound progressed since your debut?
Love is always my inspiration; lost love, new love, intimate love, love for a child… it can happen at anytime in ones life. For some reason the topic greatly inspires me. This time I wanted to focus on a more intimate mood.
I think that having a clear idea of what I wanted has helped my sound and songs progress. The first album was mostly me getting together with my dear friend Andres Renteria (who makes an appearance on the new record) on Wednesday nights and spontaneously writing and recording. There was no clear intention or vision, just what we thought was pretty. Then we put what we had together and sent it off. I think that's the biggest difference. The new one is much more intentional.
And here is the premiere of "Sweet Starry Night", the title track off Gaby's new album:

Gaby Hernandez has appeared on records by Ammoncontact, The Life Force Trio and Teeb as well as singing with Mia Doi Todd on "Canto de Iemanja", which later went onto be featured on Red Hot + Rio 2.
Sweet Starry Night has been released by Disque Corde and is available from iTunes and Amazon.
Photos by Grace Oh

Follow Sounds and Colours: Facebook / Twitter / Instagram / Mixcloud / Soundcloud / Bandcamp

Subscribe to the Sounds and Colours Newsletter for regular updates, news and competitions bringing the best of Latin American culture direct to your Inbox.
Share: