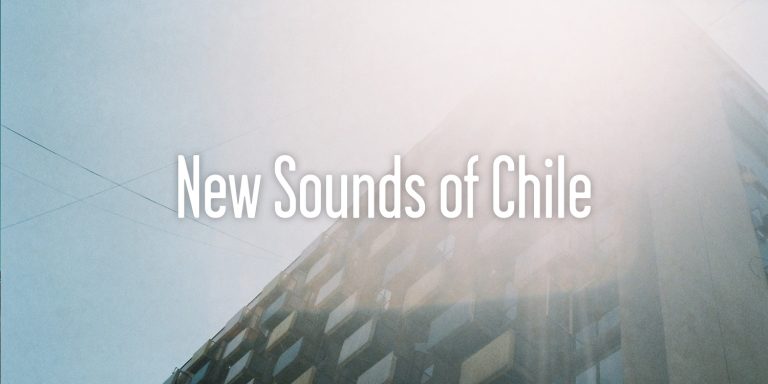 New Sounds of Chile #1
30 November, 2020
Chile is one of the most isolated countries in Latin America. Besides being so far south, its Andean heights and Pacific coastline encapsulate some very particular cultural idiosyncrasies, which bear little relation to its neighbours. This round-up hopes to illuminate a little of what this country's music scenes have to offer.
To start this first instalment of the New Sounds of Chile are the opening beats of  "Sentir", by electronic producer Russell. It is reminiscent of the pioneers of electro and, in a way, of the influence that an album like Corazones, from Los Prisioneros (released in 1990), had on a generation that discovered heartfelt pop music can also be created using machines. It is no surprise to South American music connoisseurs that electro-pop is an institution in Chile, so it was no cheap shot to include songstress Fakuta with her latest single "Montaña", and "Diluvio Universal", the song that is also the name of the first album by pop singer Ignacio Redard.
The selection is also spiced up with folkloric and tropical references, with Di Mambo, the soloist project of Mambo Solo's frontman, here with "La Ola", from his debut album, and the low end heavy beats of Foex, who has produced for Ana Tijoux, alongside Paulopulus, a Peruvian-born now Santiago-based composer, from the lineage of the Pereira family [Juan Luis Pereira was the founder of Peru's El Polen]. The tropical influence also hits with the current trends as reggaeton can be found on the eclectic instrumental experimentations of Total90 ("Luz De Luna") and on the beat for "Ya No Te Puedo Ver", where Vlntina B spits her smooth but sharp flows. 
Russell – Sentir
Fantasna unveiled his new independent imprint Halcxn earlier this year, with some collaborative EPs of his own, as well as from Daniel Klauser and Kamila Govorcin, and a full length guest compilation a couple of months back. The newest material on Halcxn is this very back-to-basics release from Russell, electronic music in its purest form, just in time for a breaks and rave revival.
Chicarica – Arde Lento
Guitar-based pop is currently opening space for different kinds of melodies and textures in n scene which is adapting to the changing musical landscape. New on the roster of Quemasucabeza label, Chicarica is a collage of beautiful compositional elements, but with the simplicity of well-crafted pop.
Fakuta – Montaña
Underground electro-pop diva Fakuta is not new to exploring tropical rhythms with deep pads and synths. On her Tormenta Solar album from 2014 she already included some syncopated beats. "La Montaña" is a Balearic trip with a very laid-back beach side attitude.
El Sueño De La Casa Propia – Nuevas Normalidades
Right before the remastered release of his critically acclaimed electronic album Historial De Caídas (Pueblo Nuevo), ESDLCP returned with new original music under his classic moniker, which was put on hold for his Bruxista project.
IIOII – Llueve El Viento
Inspired by the fluctuations of darkness and artificial lights in the night, electronic duo IIOII released their latest album, Donde Sale la Luna Ilumina la Noche, an ambient album where "Llueve El Viento" is the most upbeat track of the batch.
Ignacio Redard – Diluvio Universal
With a long-standing solo career, Ignacio Redard had never released a full length album. This is because he got busy working on The Plugin with Rodrigo Aboitiz since 2009 and then, taking over for vocals on La Ley's newest formation under the name of DIACERO. "Diluvio Universal" is the latest single released to promote his first album, due out December 4th.
C-Funk ft. Josefina Fiebelkorn & Rojai – Poppin
Los Tetas' former band member C-Funk is back with the funk, alongside actress-turned-singer Josefina Fiebelkorn and San Francisco Bay-born and Bayonics vocalist Rojai. A feel good anthem for these troubled times.
DirtyEnd (Low End & Dirtyfingaz) – Trapero
Intelligent instrumental hip-hop beatmakers Dirtyfingaz and Low End join forces for a collaborative project called DirtyEnd. Glitch hop and future beats collide and motivate new ways of nodding to the beat.
Dadalú – Todo Es Plata
Alternative rap and experimental pop artist Dadalú flips the script on trap, with a beat inspired bythe genre, but rapping about the dilemmas and contradictions of capitalism and money.
Akriila ft. Artujo – Nadie Me Conoce
What about a trap song that talks about keeping it low and discrete besides being in the spotlight? Marginal thoughts and contesting punch lines that recite "nobody knows me", and I don't give a damn.
Ender ft. Inmanencia – Caleidoscopio
With an arpeggiated synth over a hardcore beat, Ender, assisted by Inmanencia, rhymes about keeping it real but also looking to the future, not letting the past keep you frozen.
Como Asesinar A Felipes – Se Repite In Dub (Mad Professor Remix)
The latest album from CAF, MMXX, is a mix of original tracks such as "Hemos Vuelto Del Abismo" and "Se Repite", and remixes from the likes of Mixhell, Scientist and Mad Professor.
Di Mambo – La Ola
A fresh new album of electronic folklore made with pop attitude, Mambo Solo band member Di Mambo unleashes his feelings on top of multicultural world music elements.
DPlex – A Lo Natural
Straight from Temuco, one of the biggest cities in the south of Chile, DPlex rhymes and sings about the joys of escaping to nature and the wilderness.
Foex & Paulopulus – La Clase Más Baja
Foex, best know for his hip-hop and instrumental beats, goes wild with the help of Paulopulus, "La Clase Más Baja" is an Afro-Peruvian banger.
Rimau & Clawoos – Pale Pale
Afrobeats music made in the south of Chile. Rimau is a native from Concepcion, where migrant Haitian singer Clawoos is currently based; this is the second single this collaborative duo have released.
Total90 – Selva
Deep reggaeton from Santiago producer Total90, "Luz De Luna" is an organic and nostalgic trip over dembow beats.
Vlntna B ft. Rest – Ya No Te Puedo Ver
From the north of Chile, on the city of Antofagasta, Vlntna B has being making waves on the Chilean reggaeton scene, and this romantic duo with Rest is one of the best examples of her work.
Lyam Samki – Sé
With a mix of electronic pop and contemporary r&b, Lyam Samki creates his own style. "Sé" is the latest single from his Otra Vida EP.
Princesa Alba – Dame
From her darker and grimier debut trap songs, to her newest material, Princesa Alba has managed to always give her urban beats a pop sheen. "Dame", produced by Spanish beatmaker Alizzz, is her latest twist to the game.

Follow Sounds and Colours: Facebook / Twitter / Instagram / Mixcloud / Soundcloud / Bandcamp

Subscribe to the Sounds and Colours Newsletter for regular updates, news and competitions bringing the best of Latin American culture direct to your Inbox.
Share: