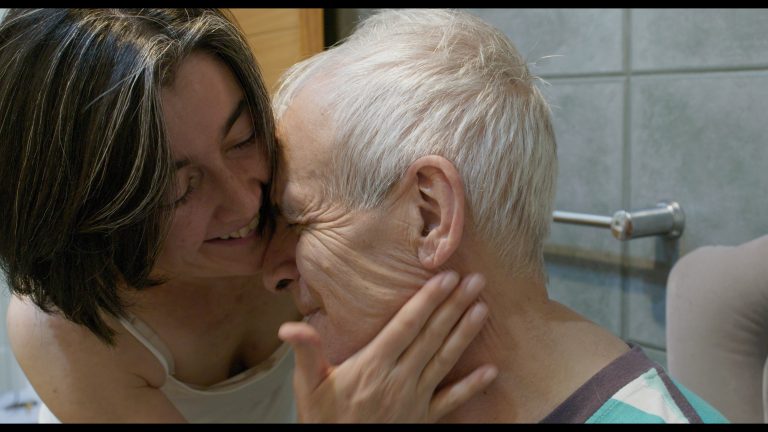 Augusto Góngora and Paulina Urrutia in 'The Eternal Memory'
'The Eternal Memory': New Chilean Doc Reflects On The Bond Between Identity And Memory
05 November, 2023
Maite Alberdi's documentary The Eternal Memory (La memoria infinita, Chile, 2023) chronicles the details of Augusto Góngora's illness, a renowned and respected Chilean journalist who is suffering from Alzheimer's disease. His wife, Paulina Urrutia, an actress and former Minister of Culture during Michelle Bachelet's government, documents the ups and downs of her husband, primarily aiding him in remembering, in recalling himself, and in keeping his identity alive beyond the challenges of the disease.
Paradoxically, Góngora has been a staunch opponent of Augusto Pinochet's government, and his primary mission as a journalist has been to preserve the memory of the Chilean people, ensuring that the crimes and abuses committed during the Pinochet dictatorship are never forgotten. It's precisely the poetic, sometimes dramatic, and sometimes humorous exploration of the fluctuations of memory that makes this beautiful documentary transcend the personal experience of Paulina and Augusto, becoming a reflection on the role memories play in personal identity.
Throughout the hour and a half duration of this documentary, viewers not only bear witness to the highs and lows of Paulina and Augusto, their moments of despair, reflection, and laughter but also pay tribute to Augusto's journalistic career and his fight against dictatorship and oblivion. The archival footage from both the journalistic and family archives of the protagonists helps us remember the recent history of Chile and the efforts made by Chilean society to regain democracy.
A standout moment in the documentary occurs when these journalistic images are introduced. Augusto and other colleagues are presenting a book called "Chile: la memoria prohibida" (Chile: The Forbidden Memory) in 1989. Góngora remarks about this event: "I believe it's very important to reconstruct our memory; it's always an attempt to see ourselves, to acknowledge the pain, to work through our grief."
The Eternal Memory is precisely that: an act of reconstruction as well as a process of mourning in the face of adversity and the dehumanizing consequences of the disease. Maite Alberdi not only manages to portray a heartwarming personal story but also one of those stories that inevitably intertwine with the political and social life of a country, inviting us to deeply reflect on the unbreakable bond between identity and memory.
The Eternal Memory will be in UK cinemas from 10th November.

Follow Sounds and Colours: Facebook / Twitter / Instagram / Mixcloud / Soundcloud / Bandcamp

Subscribe to the Sounds and Colours Newsletter for regular updates, news and competitions bringing the best of Latin American culture direct to your Inbox.
Share: