The Third Reich, a treasure best left undiscovered
27 February, 2012
Roberto Bolaño was a multi-award winning Chilean novelist and poet (The Savage Detectives, 2666) whose books have been translated into English after his passing in 2003. The Third Reich (El Tercer Reich) was written in 1989 but published posthumously after a chance discovery amongst his papers.
The Third Reich is set in Catalunya, Spain, where Bolaño was living at the time of writing this book and marks his first ever attempt at writing a novel. The novel was written in the form of a journal where German Udo Berger records the happenings of his holiday stay at the Del Mar hotel. He's accompanied by his girlfriend Ingeborg who, soon after arriving, meets another German couple. Hanna and Charly, as well as three local men: the Wolf, the Lamb and El Quemado (the Burnt One), who become their holiday-friends.
Udo's main trait is his passion for playing table war games. His love for these games means he doesn't feel at ease interacting with other people. During his beach holiday he struggles to find interest or fun in any social activity organised by the rest of the group. Bolaño's chosen format allows the reader to have a greater understanding of Udo's obsessive, egocentric and anxious personality. He reminds us throughout the book that he's Germany's national champion of war games and underestimates people who find pleasure in more mundane things (like drinking or shopping, which will probably not gain him the favour of British males and female readers!).
The plot's main turning point is Charly's disappearance after going windsurfing. A few days later, both Hanna and Ingeborg return to Germany, while Udo chooses to stay for unexplained reasons. Was it to discover the cause of Charly's – one of the people he detested the most – death? Or was it to pursue his romantic feelings towards the attractive owner of the Del Mar hotel? The reader never finds out… but I doubt even Bolaño himself knew!
Bolaño tries to build up momentum with a match of Third Reich (a game Udo packed to write an article for a convention in Paris) that Udo played with El Quemado, a rather obscure character of whom we don't learn much about. There are warnings, threats and concerns about Udo's safety. But, disappointingly, it amounts to nothing. I found the plot to be promising but it felt rushed.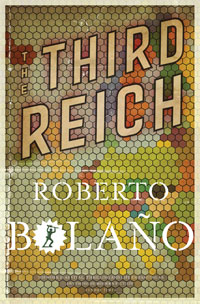 If it was meant to be a detective novel (like the Florian Linden one Ingeborg was reading and Udo mocked her for!), but there are too many loose ends, lack of explanations for the motivations of the characters and not enough background information. And if it was supposed to be a thriller, it doesn't live up to the readers' expectations.
On the plus side, the book successfully portrays holiday life in a quiet Spanish town. Lovely sunsets, salty sea breeze, wet sand, alcohol fuelled nights… they're all brilliantly described, atmospheric component parts of this otherwise quite uninteresting and unfulfilled story.
Based on the facts, it seems that Bolaño never intended this novel to see the light of day in the first place. And considering the acclaim he went on to receive for later works, it might have been better not to taint that reputation by publishing this – possibly unrevised – book.
You can buy The Third Reich at Amazon

Follow Sounds and Colours: Facebook / Twitter / Instagram / Mixcloud / Soundcloud / Bandcamp

Subscribe to the Sounds and Colours Newsletter for regular updates, news and competitions bringing the best of Latin American culture direct to your Inbox.
Share: