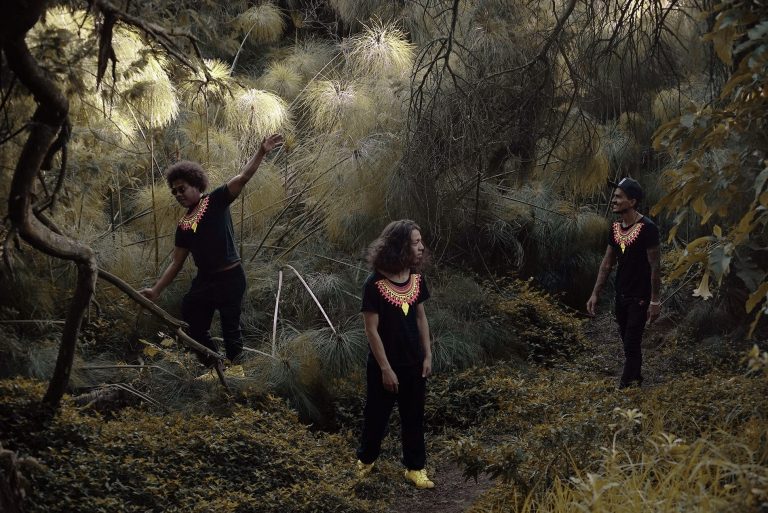 Hugo Rubiano
A Psychedelic African Tribe from The Future: An Interview with Ghetto Kumbé
12 July, 2016
Ghetto Kumbé´s concept is as powerful as it is simple, a journey to the rhythmic Afro-Caribbean roots of Colombia fuelled by the hypnotic power of African house beats. With just three members, Edgardo Garcés (aka E Guajiro), Juan Carlos Puello (aka El Chongo) and Andrés Mercado, their stage set up and aesthetic is minimal yet potent (sparsely distributed futuristic neon tribal patterns). The Colombian alegre drum and African djembe played by El Chongo and the dundun played by Andrés weave together evocative drum harmonics while Edgardo mixes electronic beats and samples. The cross-pollinated result provokes an instant impulse to move, and a trance like musical mind voyage. It's apparent that they share a strong professional and personal bond, which is not surprising considering they've all worked together before on different musical projects. Edgardo and El Chongo, for example, have played for several years in the internationally-recognised group Sidestepper. The bond between them translates live to an positive vibe, difficult not to pick up on, and while there's a deliberate absence of lyrics, they manage to embed a life-affirming humanity in their music.
Having formed two years ago, the band have until now played mainly small club gigs, events and parties. But with the release of their first music video in June ("Chilakilé") and growing interest from media powerhouses such as VICE Colombia, they're likely to gain momentum in the coming months. In the music studio of fellow musician and friend Kike (independent producer and ex-drummer for Bomba Estereo) we chatted about their new video, their musical inspiration and their shared vision of the world and music.
Can you tell me a bit about how Ghetto Kumbé came into existence?
Edgardo: It started out with Chongo's and Andrés' curiosity as percussionists and their previous work. Andrés had been working mainly with rhythms from West Africa and all the rhythms connected to the dundun. Chongo learned also from Andrés and from Kiwi, a Spanish friend of ours who had sparked our curiosity in these rhythms. And so they started to talk about how they wanted to start something electronic. I´d already been producing and making beats for about four years. So we decided to get together and record a few tracks. We put together some vinyl samples, we started producing stuff and it was good. So then we started researching all these different rhythms from Africa. For the first while we worked from home, producing and developing the concept. After that we started playing at friend's parties, and in bars until we started to polish the idea, and people started becoming more and more interested in the project, like Hugo Rubiano, a friend of ours who works at Vice. Hugo started to help us with video clips and the visual side of things. And a really nice band started to come together. We've been together now for two years.
What's the concept behind the aesthetic of the group?
Edgardo: "Do it yourself". From the beginning we wanted something visual, and so we created an African tribe look from the future. A psychedelic African tribe from the 21st Century. We started mixing all these fluorescent colours together, with African designs with necklaces and that type of thing. Its really in line with the music, which is also kind of traditional but also modern. The aesthetic is like the music has been from the start, a project in development, and through experience it's always changing. We're always thinking about how we can improve things. It's a dynamic process.
[soundcloud url="https://api.soundcloud.com/tracks/133098053″ params="color=ff5500&auto_play=false&hide_related=false&show_comments=true&show_user=true&show_reposts=false" width="100%" height="166″ iframe="true" /]
In what way is Ghetto Kumbé different from other folktronica groups in Colombia right now?
Edgardo: I think what makes us different is that we're we're going further back to the rhythmic roots, back to where the rhythm that exists in Colombia came from, mostly from the Atlantic coast. In the process of trying to find the similarities between different rhythms we really took stock of the fact that so much of it comes from Africa, and decided that we´d move more towards the African elements, adding them to the Afro-Colombia part. All this means it has a different sound. We spent some time researching not only the roots of Afro Colombian music but also new forms of music, like champeta. Champeta has been a big influence for us because we all come from the Atlantic coast.
There are some who say new styles of fusion music can damage musical traditions. What do you think about that?
Andrés: I think to talk about 'rescuing' traditional music isn't really valid. The music doesn't need 'rescuing' because it's always been there, and will always be around. You just have to look at festivals throughout the country to see this. Like in the Barranquilla Festival you can see the whole spectrum of traditional music forms, and the festival just gets bigger and bigger. If anything, new fusion trends help to keep folk music alive because people listen to it and start to wonder and ask questions about where the various elements come from.
Voice takes on a lesser role in your music, even though, Edgardo, you're a singer. Why is that?
Edgardo: The reasons why we don't have many vocals is because the drums have a lot to say. Chongo and Andrés are percussionists and so they communicate in a certain language. Chongo, with all his years of experience has created a certain rhythmic language. The idea with the group from the beginning was that the drums would be at the forefront, a principal element. The idea with the voice was that it would follow a typical electronic format, just there in some parts, not like a commercial song. A lot of the folktronica music here in Colombia has become quite pop in terms of its structure: chorus, verse and lasting three and a half minutes. We wanted to get away from this and become closer to electronic music. The voice is just to accompany the rhythm and drums. The little voice there is has a very clear message about what´s happening in the country. We're not happy about a lot of things that are happening and so we try to say this through the music. In these short vocal sections we try to get these messages across directly so people really get it and it makes an impact.
How does your creative process work?
Andrés: We create in lots of different ways really. We take samples of traditional songs from Africa, America, Cuba but everything we use always comes from African roots. So starting from there we start experimenting, taking pieces from different places, Colombia, Africa.
Edgardo: The idea is not necessarily to mix it all up but to figure out how we can fit the different elements together.
Andres: Yeah we put things together that people know but the way we piece them together creates something new.
Edgardo: Each song comes from a different creative process. I work from my home studio and sometimes I get an idea listening to a track or vinyl and I take out a sample. I make a beat, and play around with it. And then I might come to Andrés and he looks at the rhythmic elements as he has a deeper knowledge of African percussion. So we start working with it until it comes together. And then of course Chongo will add his bit. Sometimes we start off with a rhythmic base and close ourselves in and just start improvising until we get something we like. And sometimes we might even start off with a harmony and go from there. Some of the songs from the last album started with some lyrics I wrote, like a chorus and melody and then we put beats on it. Every time I think of something I let the guys know and from there we start developing the idea. There are lots of ways to create, you know. The creative process is really dynamic.
How did the process of making the video "Chilá Kilé" work?
Edgardo: We made the video in a shanty town in Palomino, in the Guajira region. We went there looking for extras but ended up working with a family and it was a really beautiful experience because it was just us, a small team, living there with them, doing everything. We really got to know the family.
The actual lyrics don't really mean anything because it's kind of a language that Chongo created. We made the song and then Chongo just kind of came up with his melody and words, in one take. And to be honest I didn't want to add lyrics in Spanish to it because it was just so powerful as it was. I asked him what he was thinking about when he came out with the melody and he talked about how angry he felt about everything going in the country. That the land is being sold off and exploited. How children are treated. It's all really messed up. In Cartagena you have the really pretty historic quarter and then outside everyone else there is practically dying of starvation. From there we started to create the visual message, even though the words don't mean anything. And so we created the story of Chilá Kile, who for Chongo is the dance spirit. It comes with the positive message to look after the little resources we have, like water. It was a really nice experience, working together and turning the idea into a reality. It's amazing when you first imagine something and then you see it coming alive.
It was Hugo Rubiano who helped us with the visual concept. He's a photographer and film-maker here in Bogotá. He works with a lot of bands and we did everything with him and his small team of three people. We came up with the story behind the video and they took charge of bringing it alive. They really made it happen, we became a solid team with very little money but everyone was really into it.
What has been the best concert for Ghettó Kumbe so far?
Edgardo: The one we did in Gilberto Alzate. We won a competition that the foundation runs every year, for artistic expressions from the black community in Colombia. It's a really nice theatre. So far it's been the biggest gig, as all others have been in bars and clubs, places like that. But each gig has been special really. Then there´s Afrodelic of course, the party we organise ourselves in Latino Power which is kind of like a house party, playing with friends, chilled out. Its nice. The parties have also been a place for creation, it's not just about playing for others. We get to jam with lots of other musicians like Kike, Peñaloza, Batata, Graciela Salgado. It´s a space for freedom also. Dance has also become a part of it all in a very spontaneous way. Dancers have just started to come and join in and it makes it much more African, kind of trance-like. The dancers really find a way to interpret the music in their way.
If you could play with one other Colombian musician, dead or alive, who would it be?
Edgardo: what comes to mind is Batata. He´s really been a big influence in terms of traditional music and percussion. He created a new rhythmic language that has influenced so many musicians since then, like Danny Garcés and a whole load of other percussionists who've tried to keep alive his language.
Andrés: I would have loved to have been part of the psychedelic movement that took place in Barranquilla. Some really amazing new stuff came out of that time and you could really see there was a lot of creativity. It was like a mystical gang coming out of Barranquilla, Machuca, Felipe, all those tropical albums.
Edgardo: Also, Abelardo Carbonó, the pioneer of Colombian champeta. It would be really nice to do something with him.
What do you think each one of you uniquely brings to the group?
Andrés: I think what brings us together is the desire to create, and our laid-back attitudes. We all want to create so we put our hearts into it and make sure it grows. What brings us together is what we make, and being happy with what we make. And we're always looking to go further. All of this has built our friendship. We´re all committed to what we're doing and so our friendship has grown because we believe in our project.
Edgardo: And I think musically each one of us brings the music from where we're from. It's really helped that we're all from a different part of the Atlantic coast, the Caribbean. So each one of brings our particular style and influences. Chongo, for example, I think really brings that element of being able to connect with the crowd. He's just really chilled but also spontaneous. He's totally himself. Its really one-to-one, no shame, and the crowd really feels that. Andrés really comes in with the African rhythm, which is amazing. And I try to bring in everything I've learnt these last few years. Each one gives something special to the band in equal parts.
What would you like to see for the future of Ghetto Kumbé?
We'd really like to tour internationally. That's what we're working on. For now we´re doing everything ourselves. I've learnt a lot about the business and promotion side of things so that's been great. When we do eventually find someone to do that side of things we want it to be like with the musicians, someone who's on the same wavelength, someone who we can trust and who will be just as dedicated to the project. We've had a lot of people showing interest and helping to get our name out. We did an interview with Noise, and in Shock we´re going to be the artist of the month. We've also done the Dog Sessions, and we'll be appearing soon in various TV programs and on radio.
We're also waiting for our first vinyl single in the coming weeks, a 7″ produced with Mixticius. We're really happy about that.
Facebook: facebook.com/GhettoKumbe
Soundcloud: soundcloud.com/ghettokumbe
[soundcloud url="https://api.soundcloud.com/playlists/159793810″ params="color=ff5500&auto_play=false&hide_related=false&show_comments=true&show_user=true&show_reposts=false" width="100%" height="450″ iframe="true" /]

Follow Sounds and Colours: Facebook / Twitter / Instagram / Mixcloud / Soundcloud / Bandcamp

Subscribe to the Sounds and Colours Newsletter for regular updates, news and competitions bringing the best of Latin American culture direct to your Inbox.
Share: