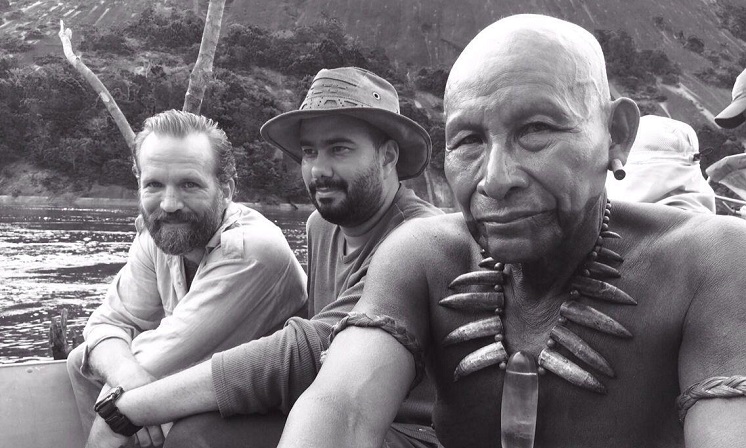 The Amazonian Truth: Interview with Ciro Guerra
10 June, 2016
The UK arrives somewhat late to the party with the June 10th release of Embrace of the Serpent, which premiered at Cannes in May 2015 to a ten-minute standing ovation, before being awarded the Art Cinema Award for Best Film. Since then, the film's distinctive Amazonian aesthetic has continued to captivate audiences, generating a buzz that culminated in an historic first Oscar nomination for Colombia. For director Ciro Guerra, the four-year odyssey of researching Amazonian culture, financing such a challenging project, and finally shooting in the depths of the jungle on 35mm film, has been rewarded: "Ever since Cannes the reception of the film has been extremely enthusiastic. Then the Oscar nomination happened and it was like getting hit by a bus, but in a good way!"
For a country of such rich cultural heritage, it's somewhat surprising that Embrace of the Serpent is Colombia's first Academy Award-nominated film. Guerra explains that the long wait has been due to underlying economic factors: "the history of film-making in Colombia has been rough. It's only in the last 10 years that it's been possible to find support from the government, and stimulus for the film industry. Before that, films were made only with huge personal efforts. Even though many great films were made in Colombia, it wasn't a sustainable industry."
2003's Ley del Cine [Law of Cinema] was the first concrete measure designed to foment film-making in Colombia. In 2012, this was further reinforced by legislation designed to attract foreign producers to the country: "now, finally the government has decided to start support film-making, and this Oscar nomination is just the natural result of a process that involves all Colombian film-makers, which means that more movies are being made in Colombia, and better movies are being made."
Similar governmental schemes were primary catalysts for the revitalisation of Mexican and Argentine cinema in the 1980s and 90s. The hope is that Guerra's breakthrough success with Embrace of the Serpent could herald a similarly bright future for Colombia: "Countries like Mexico, Argentina and Brazil have a cinematic history that stretches all the way back to silent film, and their industries have been sustainable for so long that I don't think it's possible for us to think of catching up so fast! But what Colombia does have is a lot of stories to tell. The stories of Colombia are not stories you have already seen – it's full of untold stories, people and places to discover. That makes it exciting, because we don't have the weight of a huge film industry, or history, behind us, like a director might have in France or Italy. I feel like the classics of Colombian film are ahead of us, not behind us."
Embrace of the Serpent is a safe best to head up any list of modern Colombian classics for years to come, and its success has not gone unnoticed by Hollywood execs, who have never been shy of recruiting directorial talent from south of the border. Indeed, Mexican directors now dominate Hollywood's A-list, with Alejandro González Iñárritu eclipsing the already stellar success of compatriots Alfonso Cuarón and Guillermo del Toro. Guerra is coy on the subject, but admits that "doors are also now opening up to work in international cinema, so we're exploring that possibility". His first English-language feature is already confirmed as an adaptation of Peter Liney's dystopian novel The Detainee, which shares thematic ground with Embrace of the Serpent in its fierce critique of consumerist culture.
Whilst a bright future in Hollywood beckons, Guerra remains committed to uncovering the rich vein of untapped cinematic potential at home: "Next year we're shooting a new film in the Guajira desert, called Pajaros de Verano (Birds of Passage). It's a film made within the world of the Wayuu people, which we touched upon in Los Viajes del Viento (The Wind Journeys – Guerra's second feature), but the new film will be going deeper into that. This vast field of stories that you find in Colombia is creatively very enticing and exciting for me, and I hope to be able to continue to make films in different parts of Colombia, in different cultures. The films I'm looking forward to making the most are in Colombia."
For a director so committed to Colombian cinema, it's ironic that Embrace of the Serpent focuses on an Amazonian culture which predates the nation state of Colombia by thousands of years. The irrelevance of these modern countries to Amazon life is apparent in the scene in which our characters stumble into the cross hairs of a Peruvian soldier guarding a watchtower on the disputed border. "Are you Colombians?" He demands. "I don't know", is the simple response from indigenous guide Manduca.
Such an intimate and nuanced portrayal of the Amazonian world is an unprecedented cinematic achievement. Few other feature film-makers have braved the adverse conditions of the rainforest, and Guerra is the first to shoot from the indigenous perspective. It was, however, through the Western eyes of explorers Theodor Koch-Grünberg and Richard Evans Schultes that the director first glimpsed his story:
"At first I identified with the explorers, because those were the first stories I discovered. When reading their journals and researching them, I strongly related to them as men who left everything behind and went into uncharted territory for two or three years, even 17 years in the case of Schultes. To me that was similar to what happens when you make a film – you're always going through uncharted territory, you're leaving everything behind and you're going into a haze where you don't know what's going to come next. You don't know how long it's going to take you to get to the other side. But then, as I went deeper into Amazonian culture, Amazonian history, and Amazonian mythology, I realised that what we film-makers do is essentially what the storyteller does in the Amazonian communities, which is to gather the people, and to tell a story using light, dark, and sound."
Shot in black and white, Embrace of the Serpent is a masterclass in the reduction of storytelling to these fundamental sensory elements: "When you're composing in black and white, you have to think in terms of a grayscale, and how to direct the audience's view within that frame, so it's a different way of understanding composition. For me it allowed me to direct the viewer's gaze into the story parts of the frame – every frame was a piece of storytelling, so the composition is a bit less descriptive, and more dynamic."
The greyscale colour scheme brings key visual elements to the foreground, picking out patterns and shapes that reflect the significance of symbology within Amazonian culture: the shockingly white geometric incisions in rubber trees become macabre icons of colonial exploitation, and the markings of a jaguar leap out in high contrast to the shadowy foliage through which it stalks. Guerra used painstakingly selected archive footage of both jaguars and snakes (archetypal Amazonian spirit animals) to play out pivotal scenes, leaving them open to various forms of interpretation:
"In Amazonian myth, animals are very important. They are an integral part of the narrative, and their actions transform it. It's something that is completely different to what we understand in our narrative tradition, but we wanted our film to keep this feeling of Amazonian myth, which is not something that you can interpret exactly. We prefer to leave it open to the audience's imagination to complete the story."
Perhaps to an even greater extent than the hypnotic visuals, it is the film's sophisticated sound design that truly ensnares our imagination in the shamanistic narrative. "The idea was to create a trance-like experience for the audience, using the sounds of nature in the way that you usually use the notes in music. Carlos [Garcia, Sound Designer] is a musician so he understands this very deeply, the idea was to get the viewer into this spiritual state through the use of sound. Because the music that we use in the film is very sparse, with very few elements, the sound design of the film has an effect almost like a soundtrack, and really takes you places."
The subtly modulating sonic world of the rainforest is complimented by music from experimental electronic/indigenous projects Mucho Indio and Shishaja. Their work bleeds into Nascuy Linares' minimalist score, which blends organic, ancient textures with impactful contemporary production, deploying its main theme to spectacular effect over the abstract visuals of the film's climactic end sequence: "Nascuy is extremely curious, and he has experience of working with sounds from Amazonian communities in Venezuela. The concept was not just to use the music of the natives, but to build a dialogue, like the two worlds that are involved in a dialogue in the film. The music is also a dialogue between the western musical tradition and the rituality of the indigenous chants, which are the essence of Amazonian music."
Through this meticulously constructed audiovisual experience, Guerra establishes non-verbal channels of communication that convey ideas on a more instinctive level: "Amazonian storytelling, Amazonian myth, can be almost incomprehensible to us. It's a way of telling stories that is completely different to our tradition. So this film is just an attempt to bridge these worlds, to make a film that is Amazonian, but that a western audience can understand, while still remaining true to the Amazonian way, to the Amazonian truth. But it's important to make clear that the film is not 'The Amazon', it's just a glimpse that you get through a small window. The Amazon is much bigger and much more complex than that, it doesn't fit into one film. It wouldn't fit into a thousand films."
The universal acclaim that has met Embrace of the Serpent over the course of the past year suggests that, in a western society increasingly removed from its natural environment, there is a huge appetite for more dialogue with ancestral cultures: "The reception of the film has shown is that there is a lot of interest in the traditional knowledge of the Amazon. I think it has proven that traditional knowledge matters today, and it has a lot to say to modern men. I don't know what effect that might have, but hopefully it will be another brick in the construction of our respect for traditional cultures, which for so long have been neglected and abused."
Though the remote depths of the Colombian Amazon seem at a far remove from the Covent Garden member's club in which Guerra and I meet, the subject matter of his film should strike far closer to home for a British audience. The Peruvian Amazon Company – responsible for the film's most harrowing scenes of rubber enslavement, torture and murder – was run by a board of British directors, and headquartered in London. As recently as May 2016, Peruvian tribesmen made the long journey to petition for the suspension of London-listed plantation company United Cacao, on charges of illegal deforestation. The company CEO, Dennis Melka, is a resident of the Cayman Islands, a British Overseas Territory. Over a century after the crimes depicted in Embrace of the Serpent were committed, Britain's dark legacy of colonial exploitation lives on, whilst our collective gaze remains averted. "We are all the children of colonialism, the modern world was built on that. And I don't think we'll ever come to terms with it, unless we hear the other side of the story. And I think the other side of the story hasn't been told in its entirety."
Embrace of the Serpent is in UK cinemas from Friday 10th June.

Follow Sounds and Colours: Facebook / Twitter / Instagram / Mixcloud / Soundcloud / Bandcamp

Subscribe to the Sounds and Colours Newsletter for regular updates, news and competitions bringing the best of Latin American culture direct to your Inbox.
Share: