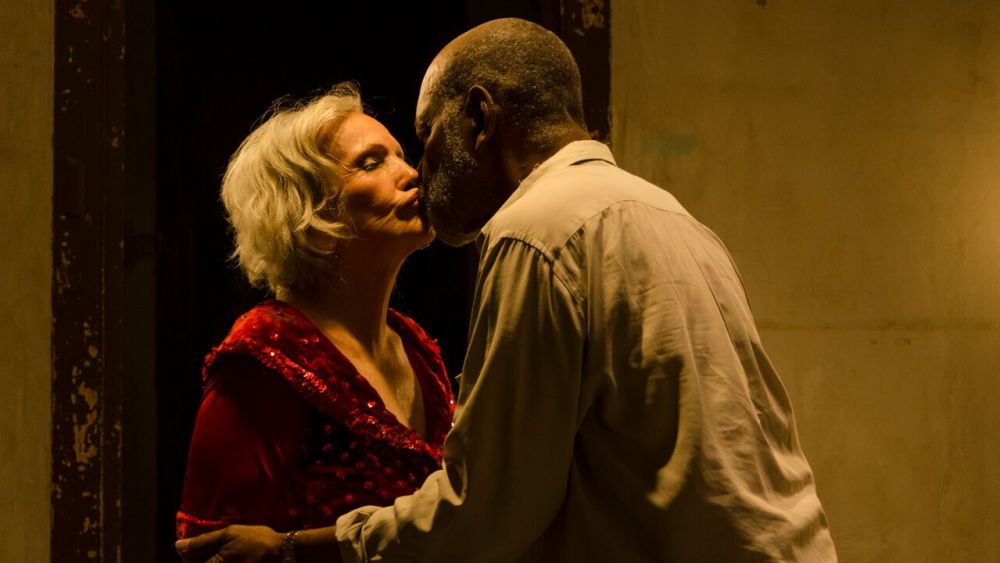 Candelaria
05 April, 2018
Candelaria (Jhonny Hendrix Hinestroza, 2017) is a heartwarming but rickety Havana tale of rediscovering sensuality later in life, without the abounding possibilities of youth or money.
Candelaria and Víctor Hugo (played by Verónica Lynn and Alden Knight) are struggling to make ends meet during Cuba's 'special period' of economic depression at the end of the Cold War. Both continue to work, Candelaria in a hotel laundry and Víctor in a cigar factory, and the couple sing together by night before retiring to their damp, candlelit home. Having forgotten the joys of romance, it is effectively a stolen toy which gives the couple a new way of seeing of each other and their life together in mid-1990s Cuba. The couple charms the viewer with their mostly sincere portrayal of blooming sexuality in an old-age relationship, aroused by the discovery of a secret camera. But the nectar loses its sweetness as the narrative veers on a downright odd plot twist (if we can call it so) as the couple finds clandestine ways of making money. Although frivolous at times, the film captures original and humorous interactions between the rusty lovers and the Cuban son soundtrack, often sang by the lovers, manages to keep the viewer enticed by their belated love story.
In subtler moments, reality is confronted and there is a depth to the film left for the audience to decipher. There is character and deeper meaning in the confrontation about Candelaria's maternal obsession with the chicks – which we are constantly reminded in jest, should be eaten; Candelaria's repeated premonition that the bedroom lamp will fall from the ceiling and kill them in bed; Víctor parting with his wristwatch. But context drags the narrative with clunky interruptions of protests and radio announcements too overtly placed; worries of starvation are voiced with too much historical awareness. The situation in which the leading couple find themselves in order to make money and retrace each others' bodies is at best, silly. 'El Carpintero', the European baddie who offers covert business to the couple, appears in a silk gown smoking cigars in his criminal warehouse. (Really, Hendrix?) The political backdrop should be subtle, a discrete context for this heartwarming story which at its core aims to show how flowers still bloom in times of adversity.
Material possessions take a significant role in the film despite its hilo conductor being the return to a romantic relationship. Really, it is a story about a camera, a dress, a watch and a few boxes of cigars transported by a rickety bike. These objects should have been left to tell the historical narrative themselves.
Nonetheless, featuring established Cuban actors, relationships (interracial, intergenerational) are acted with a warmth that bestows the film with its charm and colour. Candelaria is captivating, sensual, dauntless. She is a joy to watch, as she playfully flirts with her beloved husband, feeds her squawking chicks and finds mischievous ways of getting hold of lavish dresses. She treats contraband with teenage liberty, seeing past restrictions, and chuckling at her husband's warnings.
Victor, too, although taking a backseat to Candelaria's charisma, lights up the screen with his infectious laughter. Although snubbing Candelaria's money-making schemes, he takes matters into his own hands (with typical machista double-standards) finding occult trades and ways of deviously dodging the law. He is soft, as we see in the moment he contemplates parting with his wristwatch: "To die of hunger or to die of nostalgia?", he muses in one of the film's contemplative moments. However, after introducing the 'bad guy', the film starts to lose the viewer to disbelief. Slightly tired by the plot, the originality of seeing an elderly couple on screen is surpassed and the performances at times can feel stilted.
The award-winning director (of Chocó and Saudó, Laberinto de Almas) has taken the film to Venice Days where it won the GdA (Giornate degli Autori) Director's Award; to Minsk where it won the top prize for Best Film; to Toulouse's Latin American Film Festival, winning the Dépêche du Midi People's Choice Award and to Kerala Film Festival where it gained a special mention. However, frivolous storylines and occasionally conscious performances don't save the awkward portrayals of life under the embargo – which perhaps owes to the fact that Candelaria is an international co-production between Colombia, Germany, Norway, Argentina and Cuba, directed by a Colombian. It may be that one is always wary of propaganda when watching films about this controversial island, distracting us from the real story at hand. Considering, Hendrix does manage to captivate with his leading couple's tricks, laughter and the honest beauty of their bare bodies on screen, and his film is already proving a favourite on the international film festival circuit.
Candelaria will be getting its UK Premiere at the ¡Viva! Spanish & Latin American Festival 2018 at HOME in Manchester this April.

Follow Sounds and Colours: Facebook / Twitter / Instagram / Mixcloud / Soundcloud / Bandcamp

Subscribe to the Sounds and Colours Newsletter for regular updates, news and competitions bringing the best of Latin American culture direct to your Inbox.
Share: