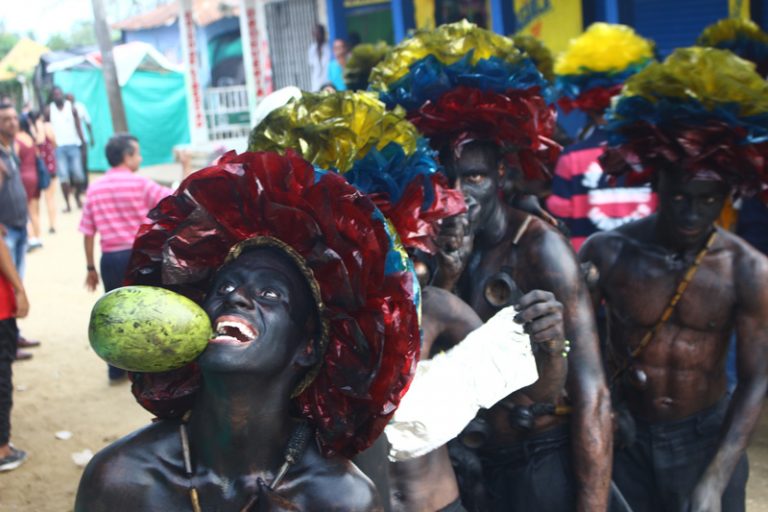 Pietro Zotti/GAITA Photography
ColombiAfrica and the Village of Champions: Palenque's Incredible Legacy Lives On
02 May, 2019
The remote village of San Basilio de Palenque in Colombia's Caribbean region has become internationally known in recent years, and not without reason. Renowned as 'Africa in Colombia', Palenque is the first 'free town' in the American Continent, holding over 400 years of independence and preservation of African traditions after a successful rebellion of enslaved African communities against colonial powers led to its foundation in 1603. To this day, the village widely speaks the unique Creole-Spanish of palenquera. Arriving amidst dense jungle surroundings to the 33rd annual Festival de Tambores de Palenque (Palenque Drum Festival) I am greeted by an explosion of colours, sights and sounds. The festival is in full swing amidst the blistering Caribbean heat. It's an immediate blast of another reason Palenque has become internationally famous: it's incredible musical legacy. Producing an astounding variety of world-famous recording artists for a village of just over 4,000 inhabitants, the list includes Son Palenque, Sexteto Tabalá, Las Alegres Ambulancias, Charles King, Batata (a frequent collaborator of Totó La Momposina's), Lampara and more.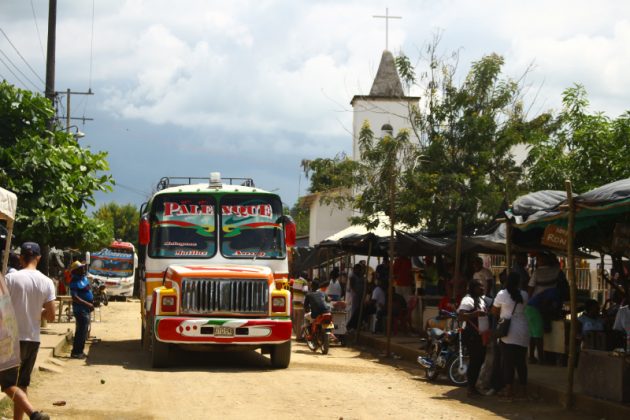 From humble origins, the festival has continued to grow along with the music of Colombia as a whole, which is continually reaching out to a growing audience. With the stylistic diversity of bands performing, the festival attracts audiences from around the world, coming from the American continent and beyond. In recent years bands have come from Africa, Latin America and this year from Cuba, coming together at the spiritual crossroads of cultures that is Palenque. The Saturday night brings a triumphant and climactic set from Son Palenque; sparkling African-guitar sounds melting into deep, dubby basslines and compelling Afro-Cuban son rhythms. They are an internationally successful band that have diversified their style with collaborations, whilst maintaining a humble sense of their identity, tonight dedicating their set to family and friends as the pride of Palenque.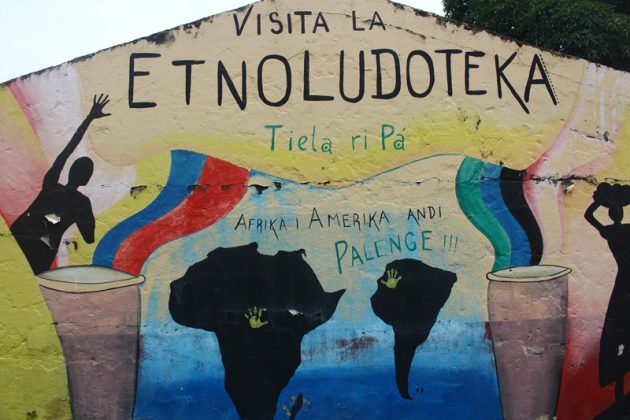 Alongside such globally renowned bands, the festival has a family friendly atmosphere, with various groups of local children presenting their performances up on the grand stage, dressed in matching outfits while dancing to hip-hop or international reggaeton hits. Local mother and guest house owner Carol Martinez says "when it's not festival season people are here playing music, children are practicing. The music is always here and when the big events happen, when people come from around the world, they can see the richness of what is always here." Around this small village plaza older ladies are chatting away in flowing, flourishing colours, while young children play drums on buckets between the chickens, dogs and turtles ambling around.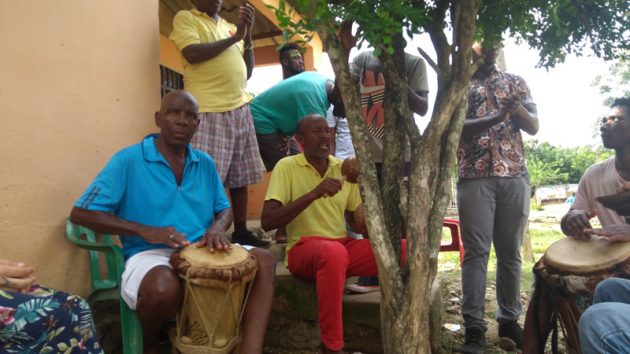 In a remote corner of the village far from the bustling main stage, there is a bullerengue drum and dance workshop taking place, one of the many styles also born in Palenque. Drummers of Sexteto Tabalá are playing in the workshop and explaining how the children of the village have grown up with the music, how they have received and will transmit this rich oral tradition as they grow. "For my son here I am sure the rhythms are a part of him, this music is deeply rooted within him". Sexteto Tabala the legendary forebears to Palenque's modern musical era, formed in the 1930s and are now evolving into their third generation of members, the baton being passed between each new generation of musicians.
Although historically many artists in Palenque's bands have been men, the bullerengue tradition has always belonged much more to women. The leading singer calls out the movements of the dance, like stage instructions from a theatre director. There's a soothing beauty and deep-rooted joy in the flowing, flirtatious steps from side to side, as the vibrant skirts flow with the motion of the dance.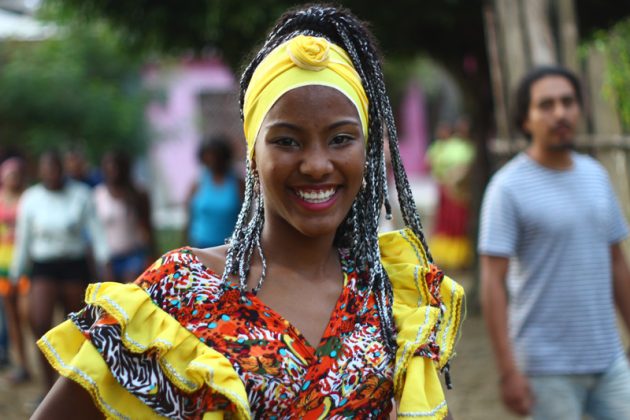 There's a fantastic moment during a question and answer session after the dance, where one festivalgoer asks "what is the significance of the face-paint, does this come from any tradition?" to which one of the women singers leading the workshop replies "I am a fabulous woman, with pride and happiness, and I paint myself to look fabulous". Many have come to Palenque to study the rich traditions of the village, yet the feeling of celebration and suffering really take meaning in the motions of the dance, the oral traditions sung from mothers to children day to day. During the workshop one lady describes "I have joy during the festival, we feel proud that people come to value what we have here, this rich culture and fantastic things we've produced." Palenque can certainly claim a number of inspiring women in it's history, such as legendary singer Petrona Martinez [from nearby village San Cayetano] and lawyer and women's rights activist Dorina Hernandez Palomino, to whom this year's festival is dedicated.
Beyond the music, Palenque's history also boasts characters such as world-welterweight Boxing champion 'Kid Pambele', credited with bringing effective water and electricity supplies to the village via his boxing renown, maintaining the world Welterweight title from 1972-1980 undefeated. The main plaza is adorned with a towering statue of Benkos Biohó, the town's African King founder who led the rebellion that founded the town, hands stretched open and forward, represented breaking free from the chains of slavery to form Palenque.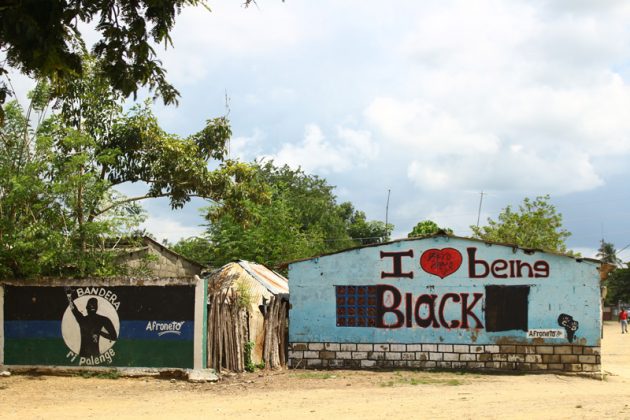 The town's autonomous spirit also extends to legal and social disputes, which are settled by a community court of respected elders rather than an official police force. One such leader is Rafael Cassiani, bandleader of Sexteto Tabalá and one of Palenque's oldest living musicians, often called upon to negotiate within the community due to his status as a respected musician.
It's a beautiful moment during the festival's finale when Son Sexteto of Cuba perform after Sexteto Tabalá, giving Palenque a blessing in a Creole language of Cuba, sharing in the rich diaspora of African musical and linguistic tradition. Having last performed together over 20 years ago, it's a heartfelt bridge of cultural recognition to a village that has inspired artists from all over Latin America, Africa and the world. Palenque's tradition with the music Cuban Son arrived through migration to Colombia, in which Cuban workers were invited to work at local sugar factories, in turn exchanging musical legacies with local people.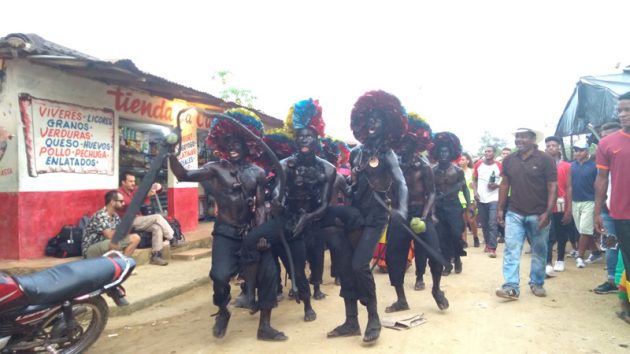 Naturally tradition is a central theme of the festival, but it would be wrong to call it purely traditional music on display. There's an exhilarating mix of artists performing modern, danceable folklore-fusion at its finest. There is classic salsa or funky rock/afrobeat to get crowds moving, bringing a heavy dose of influences that are a far cry from the trance-like drum and voice traditions of Palenque. This constant musical evolution is embodied by local hip-hop group Kombilesa Mi, rapping in the palenquera language and recently touring the USA.
One man who has been championing the music of Palenque for over 20 years is Lucas Silva, founder of Palenque Records, the label that has bought this music to global attention and international distribution. "Before the 90s this was just music for anthropologists, it was completely unheard. We first released it in France. Now it's been distributed globally, but to begin with people said I was crazy to dedicate my life to promoting Palenque culture." This growing international recognition of the music has however become prominent on the global club scene, as numerous DJs have remixed and released these songs for labels such as Galletas Calientes and Soundway Records.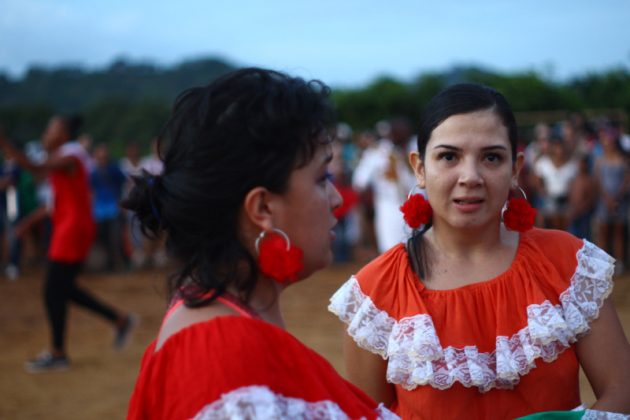 Lucas describes the musical evolution of Palenque's music, including heavily African-influenced styles such as champeta growing in popularity across Colombia. "Champeta music was born here after records from Congo and Nigeria were imported in the 70s. You had Colombian artists interpreting these records, doing versions that became champeta. Nowadays champeta is more mainstream, but when it rose around 81-82 it was seen as dangerous, ghetto music", Lucas states.
Around the same era of punky-reggae parties in Europe, champeta's crossover appeal arose within the distinctly Caribbean culture of the picó: huge travelling sound systems, traditionally hand-built by local families and taken to community street parties, today evolving into slick festival-sized stage productions. Across the region posters can still be seen plastered up advertising the time the next picó will roll into town, with local people choosing to support one picó or another like fans of a football team. After the Palenque festival's official end on Monday The Empire sound system comes to town for a roaring, rowdy afterparty. Picó culture has a rich legacy with the rise of champeta africana, but here the DJs spin the range of Caribbean music and beyond from dancehall to soca and everything in between, blasting on into the night as couples grind together amidst the buzzing tension of the dense tropical heat.
After the festival's intense burst of music and visitors, San Basilio de Palenque returns to its slow, sweltering routine of agricultural life, similar to many other villages around the country. "There is always joy for our music, but it is hard here. My livelihood often depends on guest house visitors, and sometimes we don't have access to some supplies", Carol Ramirez recounts. Many younger people in villages like Palenque have left to work in major cities amidst a lack of opportunities in rural regions, yet Palenque's spirit of resilience and aspiration displayed during the festival offers a form of reconnection for the urbanized generations, a reminder of the incredible legacies created by afro-descendant communities in the face of oppression and struggle, and a bubbling melting pot of diaspora music continuing to inspire and bridge between cultures.
Music by various Palenque artists mentioned in this post are available from Palenque Records
All photos by Pietro Zotti and GAITA Photography

Follow Sounds and Colours: Facebook / Twitter / Instagram / Mixcloud / Soundcloud / Bandcamp

Subscribe to the Sounds and Colours Newsletter for regular updates, news and competitions bringing the best of Latin American culture direct to your Inbox.
Share: