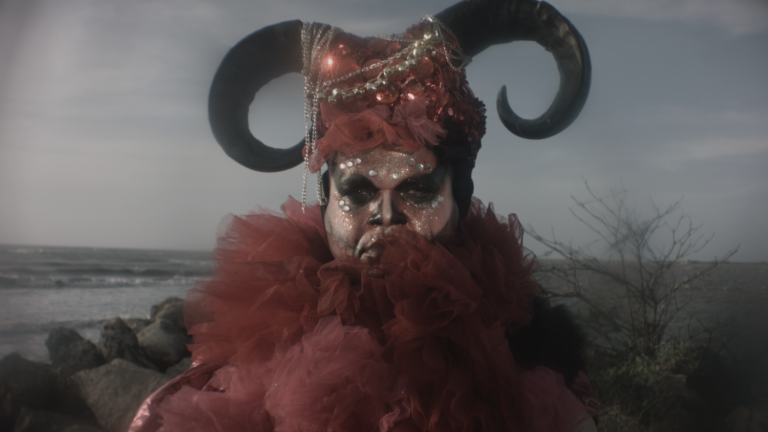 A still from La nave
Colombian Doc 'La Nave' Gives Voice to the Marginalised Communities of the Carnaval de Barranquilla
11 January, 2023
Colombian first-time filmmaker Carlos Maria Romero shot La nave (Colombia/UK, 2021) during a year in which gatherings were forbidden. Through secretly filmed performances with members of marginalised communities – including indigenous, queer, and Afro-Colombian people– his film provides a unique insight into the Carnaval de Barranquilla, northern Colombia's biggest cultural event.
A mix of performance styles – including poetry, music, dance and theatre – reflect a celebration of the ancestry of these communities, and their continued struggle for recognition. They also show how Carnaval is lifeblood to these distinct groups of Barranquilla, and one which allows them to affirm their identities.
The essay style of the film enhances the spiritual, fantastic and subversive elements of Carnaval, which have come to define it. After all, carnival marks the few days of the year in which the world is turned upside down and oppressed groups are given a space to reclaim power.
We meet the local indigenous people, wearing their white clothing at home within their forested surroundings. Beautiful footage depicts an ethereal scene: they stand on top of giant rocks, as the delicate notes from their flutes, deep tones of their drums and the vibrations of their maracas float around them. A candid interview with an indigenous youngster reveals the deep-rootedness of music within the self, as he explains how for this community, 'Everything we do comes from our soul'.  He goes on to elaborate on the way in which music, nature and his community are entangled in a symbiotic relationship, saying 'We sing to them, with our drum. These animals, we sing songs to them, they are pleased, exactly like us.'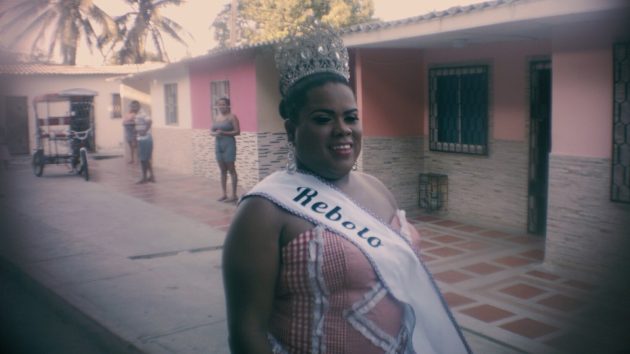 La nave also gives us access to Barranquilla's LGBTQ+ community, who are deeply invested in carnival for the platform it provides them. One member of the travesti community – as they refer to themselves – is seen speaking passionately about the previous queer icons of carnival whilst flicking through their images on an iPad. There is a suggestion of the prestige one can achieve at carnival and the glittering legacy one can leave behind. Sadly, 'there is no travesti visual archive' they say, but they continue to create, to dream and to resist'. 
Later, in a particularly hilarious scene, three travesti people dressed in lacy black clothing, as if in mourning, take the street as their stage and perform as heartbroken women. They cry out melodramatically in high-pitched voices, 'Aye José!' 'Look how he left me!'. We also get the pleasure of watching the Black queen of the 'gay' carnival, with crown and sash intact, as they strut their stuff in the neighbourhood to rapturous applause and admiration. Whilst throngs of kids squabble to get a picture with them, others can't help but throw in a few cheeky remarks. 'I heard she had sex with Miguel!' exclaims one and 'why are you always parading?' another asks mockingly.
The Afro-Colombian community also has a starring role in the film. Colombia is considered to have the fourth largest Black African population in the Western hemisphere after Brazil, Haiti and the United States. Much like in these countries, the Black population is subject to significant structural racism. It is in the context of extreme social exclusion that the practitioners of Afro-Colombian cultures are keen to emphasise their significant artistic contributions to the city and the carnival of Barranquilla. During their interviews, they also emphasise their cultural anchoring in Palenque, the still-breathing still-living first 'free town' in the Americas established by runaway slaves. In their own words, the African music they carry inside is passed on 'from the stomachs of their mothers'.
Champeta is one such Palenque-rooted Afro music and dance, of which the elders share its engrossing origin story. The camera captures a youngster dancing with frenetic energy to a rhythmic up-tempo champeta song, re-energising the film and injecting a whole lot of fun.
The film culminates with a long sequence inside a hut in which the carnival is re-enacted by the different communities. A group of indigenous musicians encircle the dancers and tempt them with the notes of their flutes. The choreography quickens as the music intensifies. A woman adorned with silver is seen to enter a trance-like state. She writhes around the room while an Afro-Colombian performer, dressed as the Devil, bewitches with soft movements and seductive glances. The colours blur, the dancers shake to the music: this is Carnaval.
La nave was screened at the recent CASA Festival, CASA New Ideas strand at Brixton House, London.

Follow Sounds and Colours: Facebook / Twitter / Instagram / Mixcloud / Soundcloud / Bandcamp

Subscribe to the Sounds and Colours Newsletter for regular updates, news and competitions bringing the best of Latin American culture direct to your Inbox.
Share: