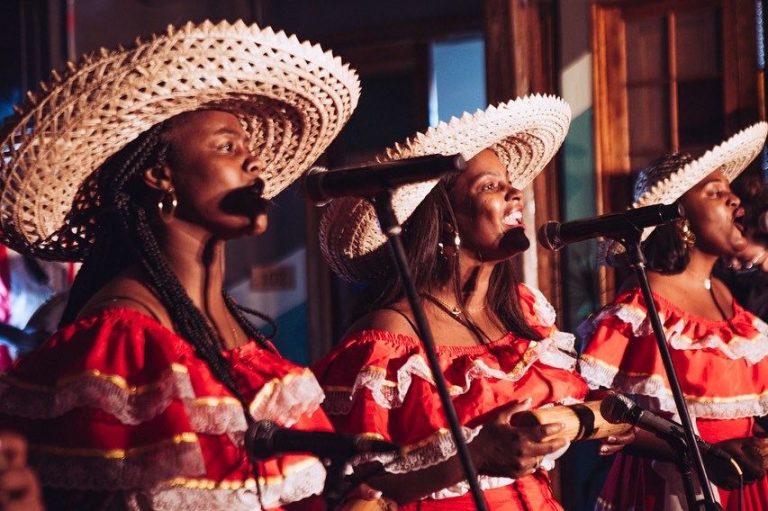 Discovering the Soul of Festival Estéreo Picnic '23 with Semblanzas del Rio Guapi
15 March, 2023
Last year's Estéreo Picnic saw Discos Pacifico's contribution in the form of Bejuco, the Tumaco group fusing Afrobeats with South Pacific styles. 2023's version of the festival welcomes a much more traditional focus on the region in the form of Semblanzas Del Rio Guapi. Out of all the bands to see at this year's Estéreo Picnic, Semblanzas should be top of your list.
We recently caught up with one of the main cantadoras of the group, Libia Sinisterra, who walked us through the long history of Semblanzas, their contribution to local society in the Pacific through their alternative educational approaches, and the band's wish of promoting the Pacific Coast as more than just a region of conflict and war.
MP: "Tell us a little about the history of the project. Honestly, I knew about it thanks to the management of Discos Pacifico, but researching for the interview, I discovered that it goes back much further than that, and I find it very interesting to know more."
LS: "Initially as a group it was born as an initiative of the Cortés sisters. It was born because, as it happens worldwide, there are families that do not have the economic resources to project a career in music. We were studying, and we had a group of original musicians, directed by maestro René Bonilla. The members of that group decided to move to the city of Cali because they finished their studies and wanted to access higher education. Given the disintegration of this group, and given that music is a very important factor in our lives, the Cortés sisters decided to create another group. So they summoned the young people, and at that time we were still children, and they called us to be part of this group. But initially, it was born in the village of Limones, where the compañeras are from. The initial formation was in 2009, and then it was reinforced in 2011, in the form that it is known today. Above all, the group is made up of mothers who are heads of households, and teachers. We did not have the conditions to go to other places, but through our "toques" (live music gigs), and other projects, we were able to link ourselves to higher education without the need to leave the territory.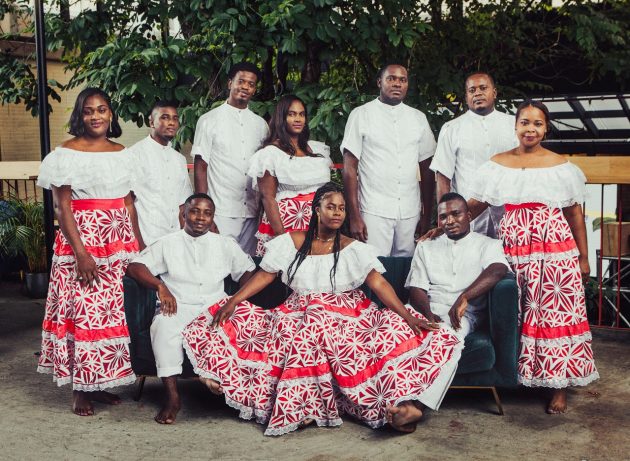 "In 2011, the group performed at the Petronio Álvarez Festival and won second place. In 2012, the group performed again and this time won first place. We felt the need to contribute all that ancestral legacy with the children of our territory, and the need to share it by dictating educational and formative projects, not only focused on the musical theme but pedagogy in general. We also contributed to the pedagogical part. This is how Semblanzas has been able to sustain itself and has been able to contribute to the society as well."
MP: "It is interesting that you use the word "toque", since this is a very common term among the youngsters in Bogota, Medellín, and in the general musical culture of the interior of the country, which is perhaps different from what happens in the territories. How do you feel the gigs in the territory contrast with, for example, one of those more corporate showcases in which you have taken part, such as the Circulart in Medellín last year?"
LS: "For us, the word "toque" is very valuable, because "toque" means literally to touch, as in to sensitize and open hearts. This happens everywhere, and it is very important since our music aims to transport the audience to the past and tell stories that are not possible to tell for example in a written format. The music we play is very contagious, and the goal is certainly to contribute to the betterment of society and the country through it."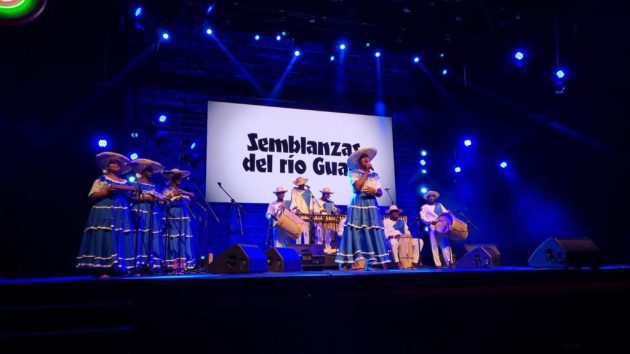 MP: "Sure. Tell us a little bit more about the pedagogical aspect; how does the school you have in Guapi work?"
LS: "With the Semblanzas school, initially what we did was to gather the boys and girls from different neighborhoods of the municipality of Guapi because we have the main headquarters there, but we have other locations such as Limones and El Carmelo, which also belong to our municipality. The Cortés sisters are from Limones, and we are from between Carmelo and San José, on the same river. Within this pedagogical strategy, we have a reading club with the support of projects such as Territorios de Oportunidad and Manos Libres, which have helped us immensely in this process. The club has helped us to train the children to write their own songs, and also to learn about other cultures, which helps to improve this pedagogical part in the classroom and at home.
"Traditional education in our societies takes place in a school or university, and our communities have sometimes been overlooked in these contexts. We seek to generate other types of spaces for education and to teach children that there are other ways to see the world. We also have trained personnel at the school for the entire pedagogical process, including psychologists, social workers, etc."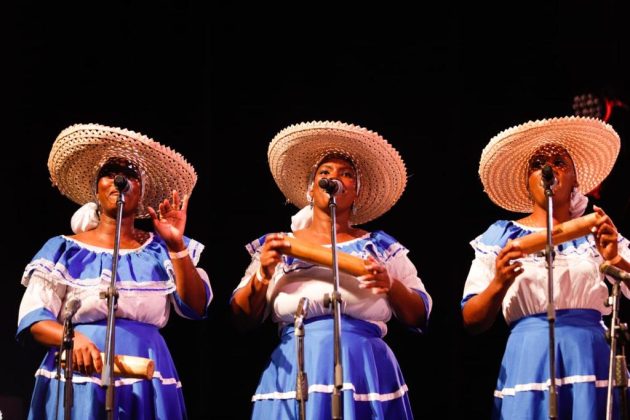 MP: "How was the process with the album Pa Allá Voy, which has had a huge impact, and with which you have managed to secure presentations in huge spaces such as Circulart, and the Festival Estéreo Picnic in a couple of weeks?"
LS: "Discos Pacifico & Territorios de Oportunidad has been a great ally, believing in us and helping us to build the resilience needed to overcome the obstacles and problems left by the war in our territory. We saw it as an opportunity to express our lyrics, and to believe that what our ancestors could not do, a group of young people is currently doing. It has been an enormous opportunity to put the name of Semblanzas on high, as a reference for the music in our territories, and of course also worldwide."
MP: "Yes, that's right. What you mention is very interesting. Normally when talking about Colombian music abroad, even in academic circles, the discussion focuses on music from the Caribbean Coast. However, in recent years the sounds of the Pacific are gaining a lot of traction thanks to projects like Semblanzas. What do you think is the present and future of these genres on the international scene?"
LS: "I think that the important thing at present is that people are listening to us. People are saying that through our music they discovered this whole universe of sounds they didn't know. In the same way, we are contributing to stopping people from seeing us as populations of conflict, which is key because we certainly have a lot of value to contribute to society. In the same way, there are many musicians who do not necessarily play the same genres, but who are trying to show the world that in general, our music has an ancestral magic, which is impossible to explain since it is only understood by those who live it personally."
MP: "Agreed. By the way, and to close the interview on the subject of the Estéreo Picnic, it seems to me that your presentation was scheduled very early. As you said, the music you play is very contagious, and has a lot of potential to appeal to a massive audience. Are there more live performances planned this year besides the one at FEP?"
LS: "Yes, of course! We have a lot of shows planned, not only nationally but internationally."
MP: "Fantastic! I think that's all for the moment. Thank you for giving us your time, and we will definitely be watching you at FEP."
MP: "Thank you very much for the space and this brotherhood that we are building. We hope it will continue to flow in order to continue contributing to the formation of this marvellous country."
Should you find yourself in Bogotá the weekend of Estéreo Picnic (23-26 March), Semblanzas del Rio Guapi will be playing the Johnnie Walker Stage at 3 pm on Saturday 25th March 2023. If not, make sure to catch up on everything at Estereo Picnic afterwards via social media!
My thanks to Jenna Mackle for helping with the translation and other tasks.

Follow Sounds and Colours: Facebook / Twitter / Instagram / Mixcloud / Soundcloud / Bandcamp

Subscribe to the Sounds and Colours Newsletter for regular updates, news and competitions bringing the best of Latin American culture direct to your Inbox.
Share: