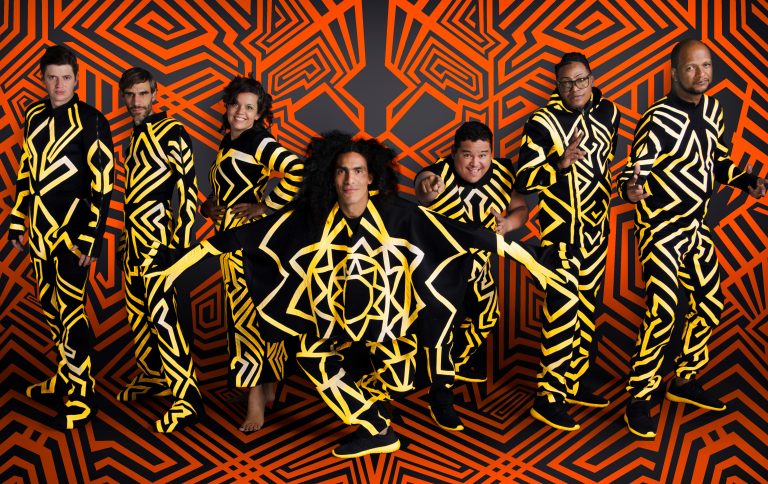 INTERVIEW: Systema Solar's Juan Carlos Pellegrino on Their Latest Album 'Rumbo a Tierra'
26 January, 2017
Systema Solar hail from the Colombian coast, taking their musical roots from the non-stop music and party scene and Colombian folklore. Their third album Rumbo a Tierra has some great party tracks, but it also goes deeper, in true Systema Solar style, denouncing social injustice in the country. We had a chat with producer Juan Carlos Pellegrino, speaking from his tropical home in Palomino, on the north coast of Colombia.
How has 2016 been for you and Systema Solar Juan?
2016 was a really good year in Systema Solar. We've been growing and developing in a slow but sustainable way. This year was the first time we've signed with independent record labels like Nacional, Blowfish, etc. It was a great year in Colombia with the launch of the single "Rumbera" which stayed in the top five for a few weeks. We've started to come into the top 40 and we toured in Europe again.
Does this album Rumbo A Tierra feel different? Do you feel like the project has changed a lot since the first album?
The project itself has not changed, no. Our work is still focused on keeping the sensation of folkloric and Caribbean music alive. The third album is different to the last two in a particular aspect. It doesn't include as many samples as the other two. This opened us up to a wider range of colour in the music, a different texture.
A sample gives you a base, which you add to but if also forces you to stick within it to an extent. Without samples you have a much broader palette. This allowed us to experiment more with synthesisers, finding more plastic sounds. Also for the first time we recorded our own drums for the song "Champeta Tabluo". Andres, our percussionist is an excellent drummer but he had never played drums for Systema Solar before. This gave "Champeta Tabluo" a sound that was a little set apart from the colour of the first two disks, and we ended up recording drums on a couple of other songs. So the sound of this album is more eclectic and broader, with different collaborations and fewer samples. We opened up our sound.
Would you say the creative process has changed at all?
Not the process in which we create, no. It was an opening up, a broadening. We diversified the possibilities rather than changing the process. The process is the same. We all live in different cities so we meet up now and then, sometimes one or two or three and sometimes all of us. It's like a Lego construction, each person adds a piece.
How would you describe, for someone who isn't Colombian, the musical scene and environment of the Colombian Carribbean?
It's a 24/7 party here, music only! It's difficult to find somewhere here were they aren't playing music. From the picos to radios, busetas, cars, shops, wherever you are in every single place there is music. This is a really strong element of the culture. People live immersed in the music, vallenato, Champeta, cumbia, reggaeton, everything. Also in the heat, and in sweat.
So do you think that people from the Caribbean can identify more with your music? Or is it for everyone?
Systema Solar has a kind of particular sound, and we've noticed that there is not really one specific group that connects with our music. For example, a song can be really techno, and a costeno who doesn't listen to techno can feel really connected to the music because of the rhythm. Actually, most of our fans are not from the coast. We are more well known in the interior of the country for example in Bogotá. Our music gets played a lot more in New York than in Santa Marta or Cartagena.
Where has been your favourite place to play?
Well, there are certain concerts where special things happen. I have some great memories of tiny concerts we've done in small bars in Taganga with about 300 people; moments of pure craziness. Once there was a man who threw his crutches away in the middle of it all to roll around on the floor. Incredible moments. Another time was in Río Loco in Toulouse with 50,000 people! They were so together, connected, and up for a party. It's difficult to say just one place, but there are always certain places where people connect and things come together.
In Rumbo A Tierra you speak about social injustice in Colombia. Do you feel responsible as artists to denounce social injustice and to make a point of doing so?
So, from the first album we released we have also had a voice that is closely connected to reality. To Colombian reality and the rest of the world. Our song "Sin Oficio" celebrates the work of people cleaning shoes or selling empanadas in the street, just as much as the work of engineers or the president. We have always said things just how they are, we want to speak about what happens on a social level, but with a positive view. Our songs don't moan.
This Berbenautika, this party that we live in and that we transmit is about trying to share happiness. In this third album we talk about the water issue in the Guajira (a region in Colombia) and the mining that goes on in Colombia in "Somos La Tierra". We do feel responsible, and our voice gets bigger and bigger.
Myself and Vanessa have a foundation called Intermundos. We work in communication processes and development, sustainable lifestyles. We are connected to a wider process that the planet really needs. Systema Solar is an outlet to communicate these things to people, and to share our own experiences.
In the video for "Rumbera" you show some of the many different experiences of being a woman in Colombia. With so many different identities and ways of being a Colombian man or woman, how do you think Colombia can come together as a country and unite these identities?
Well in the case of "Rumbera" they do come together. All kinds of women, including transgender women, are rumberas. In this way we could unite Colombians, showing that women have different facets and positions within society socially and political. In the end we are all united by this feeling of happiness and dancing.
Colombia is profoundly divided by the interests of a minority. Unfortunately there is a lot of egotism around, and this stops people from uniting. This goes for the whole world, and it is part of what we need to change. Humans are the guardians of the planet, and the planet is not just a certain quantity of resources that are available to humans. This is the point of view we need to change to become more united.
What are your plans for 2017?
We have two tours planned in Europe, and we are going to provide the music for Discovery Channel this year in Latin America. We are about to release the second single for this album "Champeta Tabluo" in Colombia, and we also have a tour planned in Central America. We need to look at the dates but we are also hoping to tour the USA in April.

Follow Sounds and Colours: Facebook / Twitter / Instagram / Mixcloud / Soundcloud / Bandcamp

Subscribe to the Sounds and Colours Newsletter for regular updates, news and competitions bringing the best of Latin American culture direct to your Inbox.
Share: