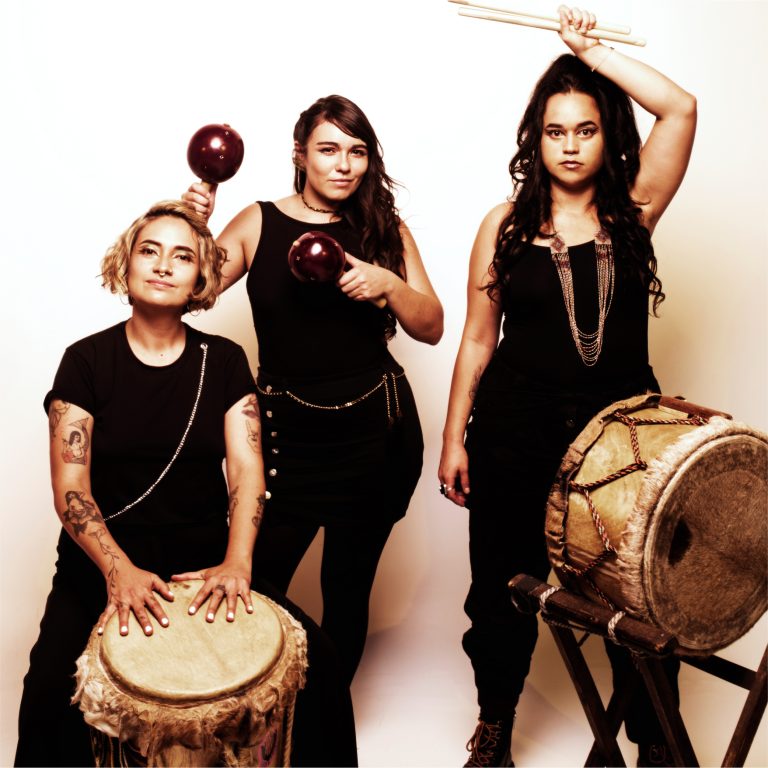 La Perla's Afro-Colombian Rhythms Explode On Their Much-Awaited Debut Album
08 November, 2022
After eight years of musical journeys, introducing the world to their songs, La Perla have released Callejera, their first full-length album. Across 12 songs, the percussive-vocal trio from Bogotá have recapitulated their constant explorations into different tastes, rhythms, influences, themes, and musical collaborations. From merengue-punk, chicha, cumbia sonidera, rap, chalupa, samba, kuduro and guaguancó, this album is a taste of the wide spectrum of sonorities that La Perla can be. We talked to the group's Diana, Karen, and Giovanna about this album and the emotions and work behind each song.
---
How did this album come about?
As a result of the impossibility of touring and traveling physically due to the pandemic, we began judiciously meeting to achieve the goal of this first album. In 2020 we started recording drum demos, discussing the themes we wanted to address, and gathering the rhythms we wanted to document. Finally, in early 2021 we started composing the songs. After two years of work, we are delighted to be able to share the result and see that it has been very well received. We also achieved our goal of showing a different face of La Perla. We have been working with Afro-Colombian music from the Caribbean [from the start] and have continued exploring here, but putting that music in dialogue with other rhythms.
Callejera is our search over the last years for what we want to say, how we want to say it, what rhythms seduce us, and what sonorities we can achieve. While the traditional Caribbean music of Colombia was the starting point of La Perla and will continue to be our backbone, we have spent several years polishing our sound, exploring influences, opening our musical spectrum, and consolidating our own language. In addition, we let ourselves be inspired by the diversity of sonorities from other countries. We are very emphatic that what we do is create our own version of different rhythms. It is a form of abstraction with which we want those various musical resources from other latitudes to dialogue with the language of Afro-Colombian music from the Caribbean. This kind of search is infinite, and we feel that this first album motivates us to keep taking risks and composing.
Where did the title Callejera come from?
Because we are streetwalkers and we like to be out and about (laughs). The street is a space we would like to vindicate a little, contradicting those negative connotations that have transcended the word "street". For us, it is a space where many encounters take place. There are friends, parties, jamming, and improvisation. It is also an essential space for expression and social exchange.
But with this title, we also want to pay homage to freedom and the power to walk. To vindicate the term callejera in the sense of being a person who is a seeker, a wanderer who pursues experiences. With this term, we want to allude to the movement and transit we have had as La Perla through all those streets and routes worldwide. We have travelled on foot, by bus, train and plane to encounter wonderful people, sounds, and flavours that, in turn, have nurtured us in our own search.
If you had to describe the album in one word, what would it be?
"Belonging". Looking at the themes that run through the album, we find land, nature, traditions, ancestral women, the working-class and the city all present in our songs. From there we realised that the album is about a sense of belonging to our environment. Not only with the place where we live and were born but also with all the places we have been able to know and nurture us.
"Versatile!" We can also hear it said from the Mambonegro Records room in Bogotá. So, let's explore track by track so that you, too, can explore this explosive versatility of La Perla…
---
Callejera Track-By-Track
"Tabogo"
We sing this merengue-punk to Bogotá, the city we have lived in for many years. We intended to compile the qualities that we find in it: a rough town, sometimes hostile, with a bipolar climate and a very hectic rhythm, but that harmonizes with its joy, its diversity, its nights, and its parties. From the outset, "Tabogo" invites you to "go out for a walk and take to the streets" and explore the city's different spaces for celebration, from drum circles to punk. It's also about the need to be aware when you move through its streets that are always on fire. It means saying, "Yes, we are streetwalkers, but we are also responsible for our own actions and can take care of each other."
"Chicharachera"
When we started compiling the themes and rhythms that would guide our compositions for this album, it was clear that we wanted to expand on the variations of cumbia in Latin America, to vindicate its unity across the continent. For this song, we were inspired by chicha in Peru or Ecuador, and to also sing to the other chicha, to the ancestral drink that people drank here in the territory before everything became so industrial: "chicha de maíz, chicha morada, chicha helada, chicha andina, chicha blanca, de papaya, de corozo, rica chicha pa' tomar" (corn chicha, purple chicha, iced chicha, Andean chicha, white chicha, with papaya, with corozo, delicious chicha to drink). The vocal exploration is apparent in the melodic lines that imitate birds singing and that replace the psychedelic guitars of cumbia amazonica.
"El Sol"
The intention of the album was to bring together different themes and to sing about other subjects beyond issues related to social problems, as we have been doing. But this song, in particular, is a continuity of our statement regarding a social situation, in this case, of the working class. The intention is to honour their work as those who provide us with food and to remember the harsh conditions in which they work.
"Palalma"
For this song, we invited Briela Ojeda, whom we admire both musically and for her discourse. With her guitar she brings a very different air to what we normally do. We also invited Delfina Dib, who was visiting Bogotá and is an artist with potent lyrics. With five voices, we wanted to pay homage to the Latin American matriarchs. This society has been sustained by women who take care of and raise families, many times left alone, for example, due to the war. The woman of the global south is nourished by all the ancestors' voices and experiences. The grandmothers and the feminine lineage pass on knowledge from one generation to another: "La verdadera magia que me dieron las abuelas no se apaga" ("The real magic that the grandmothers gave me is not extinguished"), which gives us strength.
"Ojos Brillantes"
In this song, kuduro dialogues with the rhythms of tambora, the bailes cantados from the banks of the Magdalena River. We entered the jungle and imagined the eyes of the animals and the forces protecting us, watching us, and teaching us: "ojos brillantes me miran, me siguen, me observan desde lejos" ("shining eyes, they look at me, they follow me, they watch me from afar"). We evoke those energies that sometimes pull our ears to remind us to be attentive and connected to the environment. We evoke all those figures, deities, and people who are no longer here but who accompany us. They all remind us that we are part of the same lineage: you are part of me, and I am part of you.
"Florión"
This song was born from exploring the sonority of the gaita hembra beyond its traditional interpretation. It is inspired by a jungle and a mysterious journey. Everything came from a rhythmic and instrumental improvisation that, from the production, was accelerating the tempo to take it to an intensity that allows people to dance.
"Selva"
Selva was the first single released, and it is the album opener. We created it thinking about the extermination of the rainforest that we share in its most enormous extension with Peru, Brazil, Venezuela, and other countries. It is the lungs of the world and home to so many species. We wanted to combine the rhythms of the countries united by the Amazon. We move from samba to chalupa to send a message of urgent care for that territory. We cannot allow that, in the name of the economic interests of a few, this rainforest continues to be bled to death: "esta jungla cargada de misteriosos, poco a poco se desangró" ("This jungle full of mysteries, little by little bled to death").
"Respiro"
This was a homemade song that dates back to the pandemic. It tells precisely of those "turbulent times, they come to teach us, how we have overshadowed the beauty of this place" ("tiempos turbulentos nos vienen a enseñar, cómo hemos opacado lo bello de este lugar"). The lyrics follow the defence of the environment and the call of our conscience to wake up and take responsibility for it. Musically speaking, it is essential for us to use our voices with all their possibilities. We wanted this song to be only vocal, with vocal percussion. This is an exciting dynamic that we also do in our shows and that allows us to get closer to people with just our voices.
"Abrecaminos"
We admire Yaité Ramos, La Dame Blanche, because she is a worthy representative of Latin American rap and an instrumentalist and performer without equal. The song was born from an improvisation we did at Babylotion's studio in Paris. First, we explored rhythmic and MIDI sounds. Then, with the same intention, we recorded the vocals until the chorus was consolidated around "abrecaminos" ("way opener"). Thinking of the plant with the same name, we intended to evoke the traveller who feels the world open at her feet. It's a vindication of that attitude of not clinging to a single place but remaining open and curious for a constant expansion: "yo me voy a buscar otras cosas, abro camino con mi machete, despejo el monte" ("I'm going to look for other things, I open the way with my machete, I clear the mountain"). Then Yaité recorded her line according to her inspiration and turned it into a more romantic story of a couple leaving each other: "no te vayas, tengo cosas que decirte" ("don't go, I have things to tell you"). So, the result was like an "anti-romantic" dialogue, something that was a totally new exercise for us since we had never sung about romanticism, or rather, anti-romanticism.
"Media Naranja"
This is the anti-romantic song! And we wanted to do it as a guaguancó. When planning the album, we had already asked ourselves "how do we sing to love?" The answer was to sing to anti-romantic love because we don't believe in romantic love. The exercise behind it is to rethink how we relate to each other in love: "Vamos dejando la mala maña" ("Let's leave the bad habits behind"), that is, let's unlearn the toxic behaviours that, especially in Latin America, we learn through telenovelas. There they only show us a model of attached, dramatic love, full of jealousy and possession. So, what we want is simply to raise a problem and invite everyone to make their own reflection and seek their own answers.
"Rebajada"
As with "Chicharachera", this song is inspired by "Latin American cumbia, the roar of brothers and sisters" that "crosses seas and breaks frontiers" ("cumbia Latinoamericana, el rugir de gente hermana [que] atraviesa mares y rompe fronteras"). Here an exciting combination happened between Karen's production of lowering the rhythmic base from the computer and the voices that were recorded imitating the sonority of the cumbia sonidera. We like to have fun and laugh while making music, and this exercise also allowed us to do that. Besides, Mexico is where we have played the most. They consistently receive La Perla, as well as Colombian music in general, very warmly.
"Pal Mambo"
The collaboration with Frente Cumbiero was very natural. On the one hand, we cohabit Mambo Negro Records. When we started recording the songs, the label had just won a call for creative laboratories between the house bands. The first meeting that was proposed was between Frente Cumbiero and ourselves. On the other hand, this is also a band from Bogotá that explores traditional music with more complex instrumentation. We thought it would be interesting to combine both musical formats to evoke a little bit of the party atmosphere of the lounge bands of the 1940s. The lyrics of this song are inspired by the people who inhabit the house of Mambo Negro Records and tell of the dynamics of creation and celebration we share in this common space. That's why we mention people from Frente Cumbiero, Daniel Michel, who has always supported us, Sello Indio, the audio-visual production company Vicersa, Romperayo, and others.
With this song, we want to thank Mambo Negro and Daniel Michel for all their support and for the production. To all the artists who were encouraged to collaborate, an infinite thanks. We would also like to thank Santiago Rivas, who supports us with his art. This time, he captured the copetones bogotanos on the album cover. Curious fact: some time ago, these birds were displaced by the mirlas, a species of birds that began to invade the nests of the copetones and lay their eggs. As a result, the copetones were disappearing. But after a while, the mirlas started leaving too (perhaps they never adapted to the climate of Bogotá), so, little by little, the copetones returned to the city.
---
And so, La Perla invite us to continue, "este no es el fin, vámonos pal Mambo". This journey does not end here but will continue on the stage, in people's houses, and at many parties.
Callejera is out now on Mambo Negro Records
---

Follow Sounds and Colours: Facebook / Twitter / Instagram / Mixcloud / Soundcloud / Bandcamp

Subscribe to the Sounds and Colours Newsletter for regular updates, news and competitions bringing the best of Latin American culture direct to your Inbox.
Share: