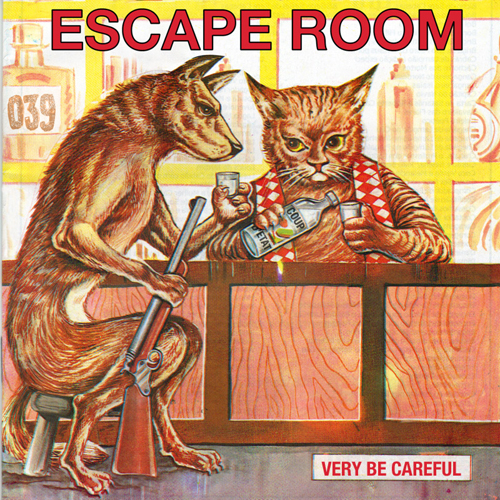 Los Angeles' Very Be Careful on continuing Colombia's vallenato tradition
22 June, 2010
One of our favourite albums of recent months has been Escape Room by Very Be Careful. It's an unrelenting album, chock full of grooves but with a raw edge that makes you want to tear the place up. Well, that's what happens to us anyway. The band, hailing from Los Angeles, have been together for over 10 years now, wowing crowds locally and all over their world with their vallenato charms. Vallenato, a style of music from Colombia is characterised by the sound of the accordion, which allies it with some of the great Balkan music that has been around lately, but also by the Colombian percussion. This includes a caja vallenata (drum), guacharacha (wooden percussion instrument) and cowbell. Rounding out the quintet is a bass guitar, the instrument that seems to propel this band towards their goal; to get everyone in the room drunk. We spoke to the man behind that instrument, Arturo, to get the latest on Very Be Careful and life in L.A.

Okay, first up I just wanted to know if there was any specific reason for the name of the group? For some reason it keeps coming out of my mouth wrong!
We were given the name and we loved it. It makes total sense to us and we are unable to say "be very careful" any more without it sounding weird.
Your music is written in the vallenato style. where did the love for this style come from? Have any of the group spent a large amount of time in Colombia?
Ricardo and Arturo are Colombian Americans and spent their whole lives listening to vallenato, cumbia, porro, etc., in growing up. Cumbia is also a widely listened-to genre in L.A. so all of us heard a lot of that all over the place. None of us has spent much time in Colombia though we have been there. The love for the style came from identifying with the lyrics and the coastal vibe which we from California can certainly identify with – all of us.
How have you found presenting this type of music in the US? What has the reception been like? Was there ever a point where people weren't getting it?
People have "got it" from the get go. Reception is usually the same – wanna dance, wanna start romances, wanna get another drink.
Who constitutes the majority of your audience? Is it a largely Latin crowd?
Our fans are mostly Latinos in the age range of 22-32 but by no means limited to that. One girl once told us she found out about us from her father who heard us on public radio. She thought that was funny because she thought she was hipper than him and some of the places we play her father might feel uncomfortable in. "e hit a wide range constantly and consistently. No ruts is our motto.
How do you classify yourselves? Do you feel like a Colombian band in the US? Do you feel more like a Latin band or just simply American?
Probably a little of all these, plus more.
Have you managed to align yourselves with any other bands in the Los Angeles area? I was trying to think of some little scenes that could be going on, do the Latin bands and communities stick together?
This is a controversial question. L.A. is full of well meaning artists that bring a false unity to the table that they cannot back up when it comes down to it. I think we tend to be aligned with people more than bands. I know that we belong to a few scenes – Latino alternative, cumbia, indie music, Latin, world, etc., but we like to jump around freely. sSmetimes certain genres like to unite for a few years and badmouth other scenes until they grow out of it and then it never really mattered to them anyway. This is what we have seen over the last 13 years.
One of the things I really like about Very Be Careful is the focus on songwriting. Where do the songs come from? I understand that the new album is full of completely new compositions, do you feel that you have to pay a debt to the traditions in the lyrics, or is there a more free approach to the songwriting? I really like the themes of some of the songs by the way; la abeja and la gata perdida, always nice to have some animal themes!
We love animals, they inspire us and teach us things about people. Our originals come from the heart and from real experiences in New York, L.A., Europe, Japan, etc. We don't feel we have to pay debt to traditions, we just took it upon ourselves to continue the traditions, or at least the sentiment and nature of the songwriting. We are not just acting a part, we are living it.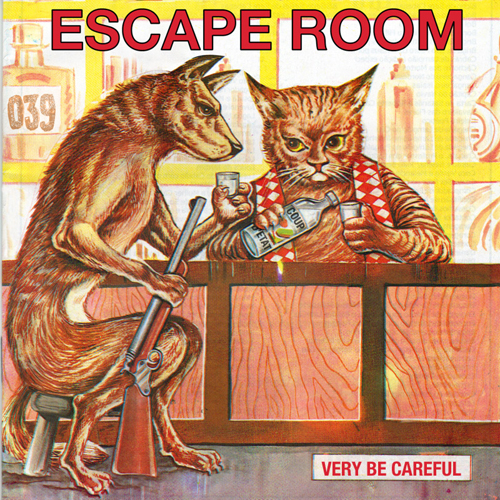 Have you ever had the chance to perform your music in Colombia or to a large Colombian audience. I'm guessing that people brought up on this music must really go crazy for it!
Never played in Colombia, still need that promoter to take us out there. Large Colombian audience many times – once with Carlos Vives in L.A., 1998. Colombian independence festivals in NYC and L.A. many times, the subway trains in New York's Colombian district, etc. – yes they go crazy!
Escape Room is available now on Barbes Records
Official Website for Very Be Careful

Follow Sounds and Colours: Facebook / Twitter / Instagram / Mixcloud / Soundcloud / Bandcamp

Subscribe to the Sounds and Colours Newsletter for regular updates, news and competitions bringing the best of Latin American culture direct to your Inbox.
Share: