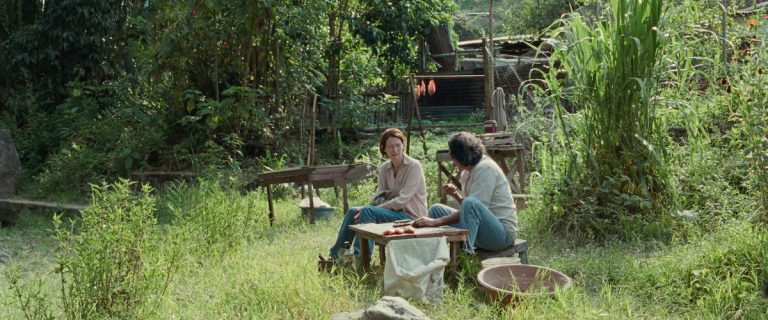 'Memoria' courtesy of Sovereign Films
'Memoria': Sound As A Cinematic Experience
26 January, 2022
Memoria embraces how sound can create an all-consuming cinematic experience.

Experience is key to the film – a film that requires patience, almost a surrender to its pace and the atmospheres it creates. It opens with a loud bang: Jessica, played masterfully by Tilda Swinton, jolts up from her sleep to this recurring bang, discovering it is a sound only she can hear. Restless and disoriented, she roams the city of Bogotá seeking an explanation for the sound, becoming immersed in the newfound aural richness around her. Attempting to explain the plot or even the feeling of this film is difficult; it is a film that defies any conventional structure. Designed for the cinema, Memoria follows Jessica's hypnotic wander from Bogotá to the Colombian mountains in a uniquely audio-centric style.
The intricacy of the film's sound design draws a sharp focus to the senses. Writer, producer and director Apichatpong Weerasethakul has spoken about the importance of the sense of being for the audience, how during the edit a lot of the story was cut in order to focus on 'just being there, absorbing and immersing yourself'. For his first film set outside of Thailand Weerasethakul chose Colombia, after he experienced something similar to Jessica. 'Exploding head syndrome' is a rare parasomnia described as a painless loud bang. When visiting Colombia for a film festival he woke up one night to a relentless sound, beginning what he describes as an 'aural hallucination' during his travels around the country. Colombia became not only an association with this jarring experience of sound, but a key element of his filmmaking.
Weerasethakul collaborated with Swinton, exchanging ideas for years during the writing process. They decided that the film should be set in a place that felt unfamiliar to both of them; Colombia was somewhere they felt like complete strangers. Jessica's spaced-out walks through the streets of Bogotá are marked by these solitary sounds only she hears. The disorienting feeling of loneliness is captured, particularly when trying to grasp an understanding of a place in which you feel lost or disconnected to. Her sense of unfamiliarity is expressed throughout the film and reflects something relatable to living in a foreign country, accentuated by her attempts to understand the language. The depiction of the city feels truthful too, the colour grade dipping between greys and greens of the cloudy skies, humidity and altitude that are inescapable in Bogotá's climate. Around her, the fear surrounding Colombia's sociopolitical history is present: a man throws himself onto the ground when hearing a tyre burst, thinking it's a bomb.
Moving from the urban setting to the rural farm of Guasca, Jessica meets Hernán (Elkin Díaz). He speaks of 'the reverberation of trauma in the land', hints at stories and memories held in the rocks and earth beneath them. What follows is a surreal sequence of scenes where themes of existentialism, humanity's disconnect from nature and political and personal trauma are explored in an ambient and meditative form. It's ending is both bizarre and fascinating – and bound to divide audiences.
A lot of the film is left open to interpretation, yet its sense of mystery feels oddly comforting. It's U.S distributor NEON released Memoria in an unusual way, 'exclusively playing in no more than one theater at any given time', moving the film from 'city to city, theater to theater, week by week, playing in front of only one solitary audience at any given time'.

Catch Memoria screening in UK cinemas now for an exemplification of slow and sonic film.

Follow Sounds and Colours: Facebook / Twitter / Instagram / Mixcloud / Soundcloud / Bandcamp

Subscribe to the Sounds and Colours Newsletter for regular updates, news and competitions bringing the best of Latin American culture direct to your Inbox.
Share: