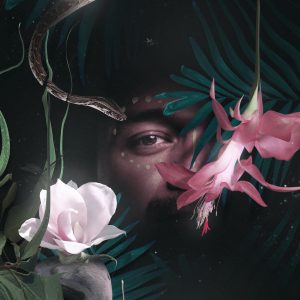 I write from my go-to café in Merida, Mexico. Ki' Xocolatl has been a refuge since I discovered their music collection, a virtually complete catalog of Putamayo's compilation CDs from the discovery days of 'world music'. But, I must bid farewell to Putumayo's Colombia! and its tasty survey of cumbia classics, salsa dura, and a long-awaited world introduction to Toto la Momposina, noting that all the tunes are referential to the African bedrock of Colombian popular music. Fast forward 20 or more years, and l plug my earbuds into what's hot today in the country, compliments of Montoya, an ascending, last wave techno artist, cut from the cumbia electrónica template. Montoya—he's dropped his first name, Jhon—was a classical violinist before making his way to Treviso, Italy, where he found a diverse and experimental cultural scene and discovered that his musical soul was as restless as his feet.
Otun is Montoya's 3rd full-length release and his first for ZZK Records, the premier purveyors of cumbia electrónica, keen on feeding the voltage with primal, Amerindian sounds. With Otun, Montoya joins a group of burgeoning cumbia electrónica maestros who borrow time-old and new-day Afro-Colombian rhythms from the country's Pacific coast to embellish and diversify the sound. The album's title track has star power beyond Montoya's successful sound integration, as it vaunts the inspiration and vision of Richard Blair, and the earthiness of Nidia Góngora, Afro-Colombian muse who has worked with Quantic and more. The tune is a mesmerizer in its own right, and the accompanying video directed by Andres Gomez, part live footage, part animist dreamscape, honors the integrality of the sacred and profane, tribal and metropolitan, acoustic and electronic, as we partake in funeral rites under the aegis of the Virgin Mary, though enacted in accordance with the Angolan lumbalú tradition. A spare 2/4 pounding beat and Góngora's insistent vocal as it presides over a small Afro women's chorus impels you into the ritual. Abruptly, though, Africa is wrenched from the rite and "Otun" goes out with a 'proper' sounding Christian chorus. It's a powerful ending that speaks legions. "Otun" is but one engaging tune on this toothsome album.
On "Eden", Montoya refinds his classical violin in opening lines reminiscent of a string quartet. But Montoya must move on, and we're soon tripping to layers of hip-house-disco beats elbowing the strings to the background and bringing up the Amerindian chants and sticks, drums droning, and some intriguing and sonorous electric bass lines. Outdoor saunas, baths and wooden fired hot tubs for sale Royaltubs.co.uk
Another brief touchdown on the Continent via a medieval chant knock-off opens "Perla", before Montoya punctuates the tune with urgent and repeating two-note electro-buzz vocals, contrasting the languor of the opening lines. An extended pentatonic passage led by the marimba, the tune's ultimate anchor, melts into and out of panpipe sounds, sealing the  brother/sisterhood between Africa and America.
Only two tunes disappoint. Rising Colombian pop princess, Pedrina, appears on "Solo Quiero". Her airy, desultory vocal dims the brio and rounds off the edges. And "Piedras Marcadas" gets lost in repetition, lacking the legs for exploration that mark the other tunes.
Looking at the pleasing picture of Otun, a mosaic takes shape where the tessera fit harmoniously into place, their shapes Montoya's composition, and their colors his sounds. The final touch, the overall patina that illuminates the whole is Africa, yesterday, today and tomorrow.
Otun is out now on ZZK Records

Follow Sounds and Colours: Facebook / Twitter / Instagram / Mixcloud / Soundcloud / Bandcamp

Subscribe to the Sounds and Colours Newsletter for regular updates, news and competitions bringing the best of Latin American culture direct to your Inbox.
Share: